December 2015
Weaving dreams
Local women in Chamoli Garhwal are now able to make a living from processing, spinning and weaving nettle fibre, thanks to the Nettle Fibre Project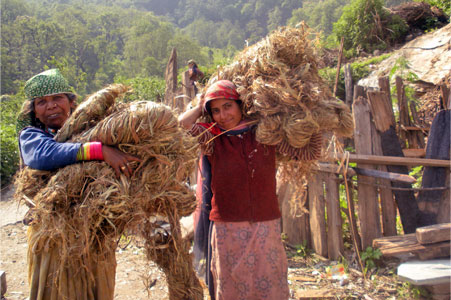 Far away from urban population, the Chamoli Garhwal area had never seen its natural resources as a potential source of income generation. But in 2010, that changed. Himmotthan stepped into the area with the objective of developing a full scale natural product enterprise that was both economically and technically viable. They pitched on the abundantly available Himalayan nettle (Girardinia diversifolia) because of its potential to be made into fibre.

So began the Nettle Fibre Project in three blocks of Chamoli Garhwal. Following the community approach, this micro enterprise also formed and trained fibre user groups for the primary and secondary processing of raw nettle fibre.

Parvati Devi, a scheduled tribe resident of Chhinka village in Chamoli is a seasonal migrant, and a skilled weaver of wool fibre. Having no technical knowledge of measurements or standardisation, and with limited links to the market, it was impossible for her to make a living. But she came into contact with the Nettle Fibre Project's field team and learnt about the possibilities of different fibre products.

Parvati Devi became a member of the fibre user group, and soon, a part of the Self Reliant Cooperative (SRC) — a federation of various fibre user groups, merged with the help of the Himmotthan project team, with a common objective of building a sustainable micro enterprise model. With Himmotthan's assistance, the user groups now have skilled workers who can weave, process fibre, spin and produce nettle fibre and woollen products such as mufflers, shawls, stoles, tweeds, carpets, etc.

Parvati Devi now earns Rs40,000 in approximately three months. Many other women are actively involved in the production of nettle and woollen products. Others are learning to produce natural fibre products, and are being assisted by Himmotthan to develop their skills.

The Natural Fibre Project has had a positive impact on the community and helped develop a sustainable rural enterprise. Now, its focus is develop links to mass production, and to involve more local weavers in the Self Reliant Cooperative. The success of these products in two national exhibitions, with a net scale of Rs4,60,000 has encouraged the project to expand into natural dyeing and diversifying its products. Himmotthan plans to establish nettle fibre as the core medium of income generation, along with other initiatives.