Memtombi Devi, a resident of Ishok village, Bishnupur district, Manipur, weaves clothes for a living. Since her earnings from weaving aren't enough to sustain the household, her family – comprising her husband, Seram Samungou Singh, and their three children – also practice farming. However, there was a big obstacle in their path.
Memtombi's village doesn't have 24x7 electricity supply. Due to this, she was losing out on precious time during the night, which she could have otherwise spent working. The lack of continuous power was a handicap that caused the family of 5 considerable economic distress. And their plight was shared by most other households in the district. As a result, micro and small business ventures in the region suffer greatly. It prevents them from having flexible working structures and forces them to work for fewer hours than is ideal.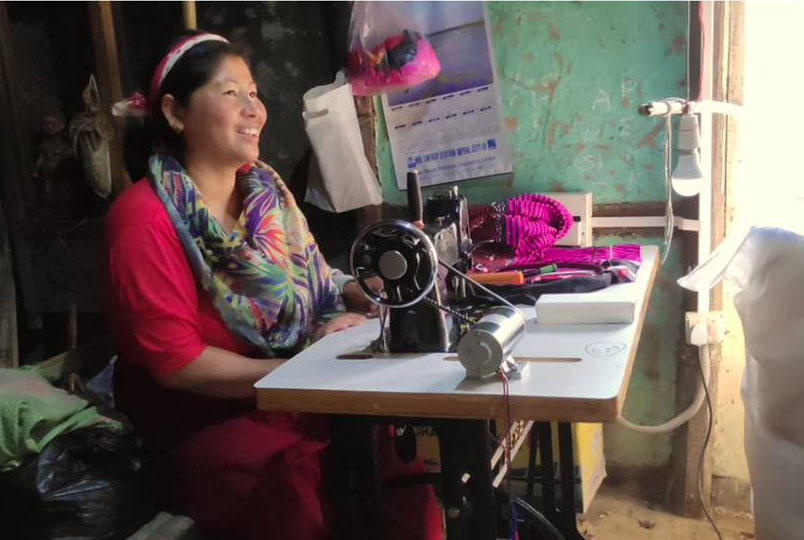 But help arrived in the form of a Tata Trusts initiative that was launched in May 2018 to provide sustainable and affordable financing programmes to underprivileged communities across Manipur. The initiative secures decentralised solar energy solutions to electrify households and areas of income-generation activity such as weaving centres and blacksmith workshops.
Since solar power grids have high upfront costs, the Trusts decided to provide support in the form of grants to institutions and non-governmental organisations (NGOs) providing micro-finance to small businesses in the region. This allows the NGOs to extend loans to beneficiaries at subsidised rates and also to offer customised equated monthly installment (EMI) arrangements for accessing the requisite solar energy resources. Over 180 Manipur villages (across 13 districts) which do not enjoy continuous power have thus been covered under this programme.
During the programme's implementation in Bishnupur district, the team studied Memtombi's household's lighting requirement to gauge the nature of the battery system that would best suit their needs. Working with the Peoples Resource's Development Association (PRDA) and a private partner, SNL Energy Pvt. Ltd., the Trusts team concluded that the household would benefit from installing a 150W solar panel with a 150Ah battery inverter.
This grid system ensures the availability of light for 4-6 extra hours during the night, thereby providing Memtombi's family more time to work and therefore the promise of greater financial returns. Memtombi will own the solar grid once they pay off their loans in three years. Meanwhile, SNL Energy will provide the technical and maintenance assistance needed by families in the village, so that the latter don't have to depend solely on the Tata Trusts. The families are also trained by the Trusts team to access the solar grid and manage the system on a day-to-day basis.
Providing affordable and clean energy for all is one of the sustainable development goals of the United Nations. Solar energy is a crucial source of renewable and clean energy and will help reduce the world's dependence on carbon-based fossil fuels. By taking livelihood-sustaining clean power to underprivileged households, the Trusts aim to unlock the vast economic potential of micro and small businesses in India.
Ms Memtombi is now able to work for longer hours and the increased output has helped her and her family economically. It has also boosted her self-confidence as a weaver. Earlier, she struggled to finish one Ranipihi (a traditional Manipuri wrap-around) in 15 days; now, she can finish it in a matter of 7 days!
"The solar grid has helped me work for longer hours and my 3 children, two boys and a girl, can now study without the fear of losing power," says a grateful Ms Memtombi. For the family, and hundreds of others like them, the long, dark night has finally turned into day.