April 2018
Triggering transformation
Kuwanri Hassa and her husband in Janumpiri, Jharkhand, are 'Lakhpati Kisans' who are inspiring other farmers to adopt scientific agricultural and lac cultivation practices to reap increased profits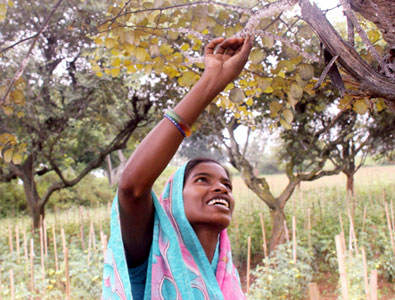 Improved cultivation practices has resulted in many farmers earning the status of a 'Lakhpati Kisan'
In Khunti district of Jharkhand, Janumpiri — home to the Munda tribe — lies a few kilometres away from the site of the tribal icon Birsa Munda's final resistance against the British. Retaining this streak of resistance, the farmers of Janumpiri have toiled hard to change their livelihoods and, as a result, now take great pride in being identified as part of the 'Lakhpati Village' programme in the region. Traditionally, Mundas have been farmers who grow paddy as their main crop along with tapping a forest-based product called lac. However, in face of ever-expanding life choices, it became difficult for them to maintain their livelihoods.

In 2014, Collectives for Integrated Livelihood Initiatives (CInI), a nodal agency of the Trusts, initiated work in Janumpiri with 15 households through the introduction of improved cultivation practices of paddy for food security, black gram for nutrition and tomato as a commercial crop. Initially, around 19 percent of the households earned an average of Rs15,000 from tomato cultivation. As the success story of the increased income spread, around 45 households joined the Mission 2020 programme in 2015.

The farmers undertook cultivation of tomato, paddy and pulses during the kharif, and cabbage and garden pea in the rabi season. They also experimented by cultivating watermelon in summer. Due to bulk production of these commercial crops in the village, traders were attracted to Janumpiri and began pick-ups right at the farm gate. CInI also introduced scientific practices for cultivating lac to enhance income through increase in yields. The successes created a ripple effect, making 55 households in the village a part of the three vibrant community institutions (SHGs) through which the programme is being rolled out. The villagers are now annually earning an average of Rs65,000 from agriculture and Rs40,000 from lac. A lowland seepage well has also been constructed in the village to support irrigation.

In the many stories of Janumpiri, that of Kuwanri Hassa and her husband Dola Hassa stands out. They have earned Rs94,000 from agricultural activities and Rs35,000 from lac cultivation in a year and are now listed as 'Lakhpati Kisans'. Expressing her joy, Kuwanri says, "With the increased income, we have managed to purchase a two-wheeler and a portable pumpset for irrigation." Kuwanri and Dola are two of the change catalysts who have inspired others in their village.

Today, Janumpiri village is driving many of its neighbouring villages to adopt similar dedicated practices ensuring growth. With an uptick in successes, the entire region is being transformed to be in a commanding market position, thereby benefitting the farmers with fair prices for their produce as well as moving towards an irreversible and sustainable change.
This story has been taken from the Sir Ratan Tata Trust and Allied Trusts Annual Report 2016-17.