June 2018
The change within
"If Mahatma Gandhi had his Champaran, then Anjaw was my Champaran," says Badapbiang T Dkhar, whose satyagraha against open defecation changed lives in this remote district of Arunachal Pradesh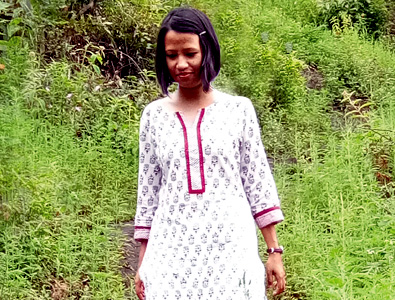 "The rekindled sense of hope among the people of Anjaw has been reward enough for my efforts. I wanted to show the villagers that the country cares for them."
Badapbiang T Dkhar, prerak, Anjaw, Arunachal Pradesh
Anjaw is a remote, yet picturesque district in Arunachal Pradesh with scattered habitation, rich wildlife and vast tracts of open land. The 2011 census ranks it as the second least-populated district in India. Some of Anjaw's villages have as few as four to five households. The terrain is inhospitable with few motorable roads, and the district has only one branch of a bank and one petrol pump. With no access to television, radio, internet, mobile networks or newspapers, most of Anjaw reminds one of a forgotten civilisation.

But as Badapbiang T Dkhar (Badap), 27, would soon learn, when she arrived here in April 2017 under the Zila Swachh Bharat Prerak (ZSBP) programme, these were not the only challenges. After graduating from the National Law University, Jodhpur, Badap spent a year with Lawyers Collective, an NGO in Delhi, where she worked on public policy litigations related to citizens' right to health and access to medicine, and issues of poor sanitation. Enrolling as a prerak in the ZSBP programme was a perfect opportunity for her to contribute towards alleviating these problems.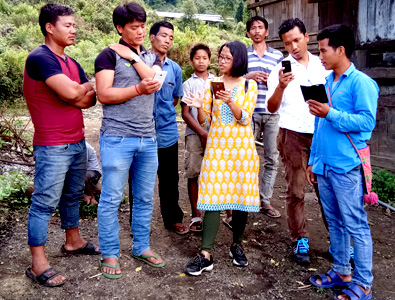 A door-to-door campaign to educate Anjaw's residents about the need for proper toilets yielded results
A rocky start
Most people in Anjaw's villages had been following unsanitary and unsafe defecation practices. With ample land available, people didn't feel the need to construct toilets in their homes. Even if they wanted to, the absence of motorable roads made it difficult and expensive to transport construction material like bricks and cement to the villages.
With the local Swachh Bharat Mission (SBM) team, Badap launched a door-to-door campaign to educate Anjaw's residents about the need for proper toilets. The exercise was an arduous one. "I used to walk for hours and sometimes slept in the jungles and ate at the houses of complete strangers," she recalls. The women were more receptive to the idea of building toilets in their homes as they faced the most difficultly defecating in the open. Badap knew that educating the villagers wasn't enough; connecting with their lives was equally important. The team joined hands with the Anjaw Women's Welfare Association and the Hali Valley Youth Association to roll out IEC (information, education and communication) activities, which included menstrual health and hygiene programmes for girls and women. It helped change people's attitudes towards open defecation, and they began to come forward to build toilets in their homes.
Local solutions
Rather than push for the conventional brick and cement option, the team hit upon the idea of pre-fabricated toilets that were more suited to Anjaw's conditions. These could be quickly assembled using a metal frame and CGI (corrugated galvanised iron) sheets, with locally available stones and rocks used to line the pits. Most importantly, the transportation cost for pre-fabricated components was much lower as they were lighter and more compact to carry up from the plains.
By December, Badap and her team had helped build 984 toilets across the district, achieving 100 percent coverage as per the base line survey, making Anjaw open defecation free. She has since moved on, and is now serving as a volunteer with the Indian Red Cross in Meghalaya where she helps with advocacy and training students on International Humanitarian Law. Meanwhile, the work done by her, with the SBM team, has had a profound impact on the lives of Anjaw's residents. After years of isolation, there is a distinct and positive change in their attitudes towards the government.

Badap says the prerak experience was transformative for her as well. Unlike many youngsters who aspire to accumulate wealth, she believes the rekindled sense of hope among the people of Anjaw has been reward enough for her efforts: "I wanted to show the villagers that the country does care for them".
This story has been taken from Zila Swachh Bharat Preraks – India's New Sanitation Warriors Issue 2