September 2018
Tata Trusts supports the Swachhata Hi Seva campaign
Tata Trusts reiterates support to the Swachhata Hi Seva campaign through cleanliness drives by its teams in various parts of Mumbai
Tata Trusts reaffirmed support to the Government of India's Swachh Bharat Mission (Gramin) by cleanliness campaigns initiated by Tata Trusts employees, along with swachhagrahis (village volunteers) of Maharashtra, as part of the 'We Volunteer' programme.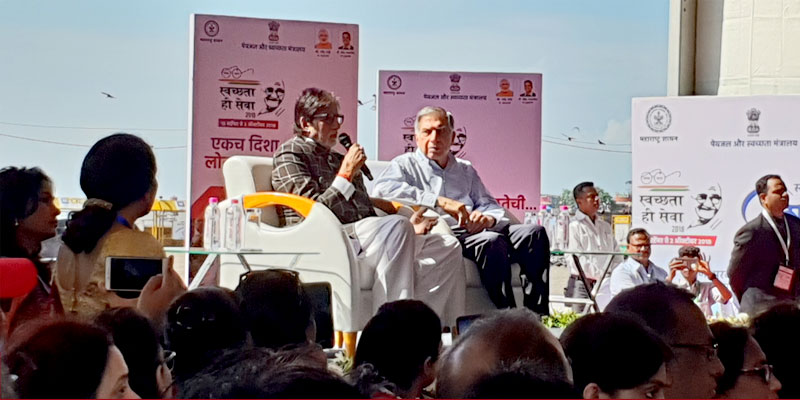 Ratan Tata and Amitabh Bachchan at the Gateway of India on September 15, as part of the 'Swachhata Hi Seva' campaign
Ratan Tata, Chairman, Tata Trusts, along with Amitabh Bachchan, who has also been associated with the Swachh Bharat Mission, interacted with the Prime Minister of India, Narendra Modi, via video conferencing on September 15 at the Gate Way of India as part of the 'Swachhata Hi Seva' campaign.
The Prime Minister said that the 'Swachhata Hi Seva' (cleanliness is true service) movement aims at fulfilling Bapu's dream of a clean India and is a great way to pay tribute to Mahatma Gandhi.
The Tata Trusts' cleanliness drives were organised in three places in South Mumbai with the help of more than 150 volunteers — The Gateway of India, Badhwar Park and Girgaum Chowpatty.
Gateway of India
The clean-up programme started with volunteers picking up brooms and sweeping the roads, while others picked up waste scattered around and threw it into dustbins. The volunteers worked tirelessly for two to three hours to clean up the area.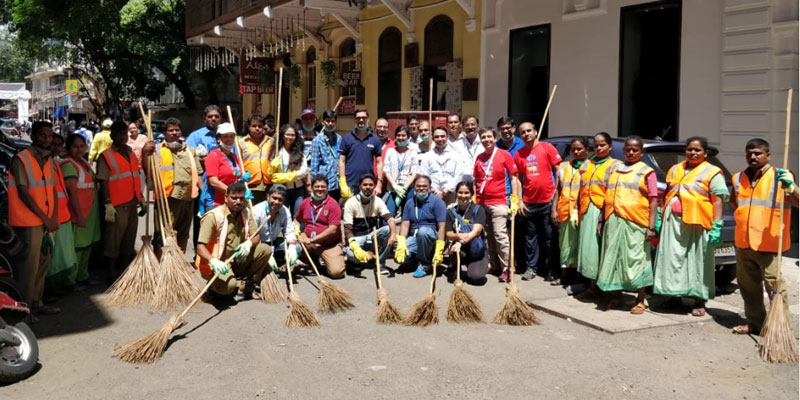 Volunteers on a cleaning spree at the Gateway of India
Girgaum Chowpatty
A team of 50 volunteers armed with face masks, hand gloves, brooms and dustbins enthusiastically got involved in the cleanup drive at Girgaum Chowpatty. The group was divided into five smaller teams of 10 volunteers each, which targeted different areas of the beach. The teams collected trash including clothes, flowers, idol parts made of plaster-of-paris and non-degradable plastic waste.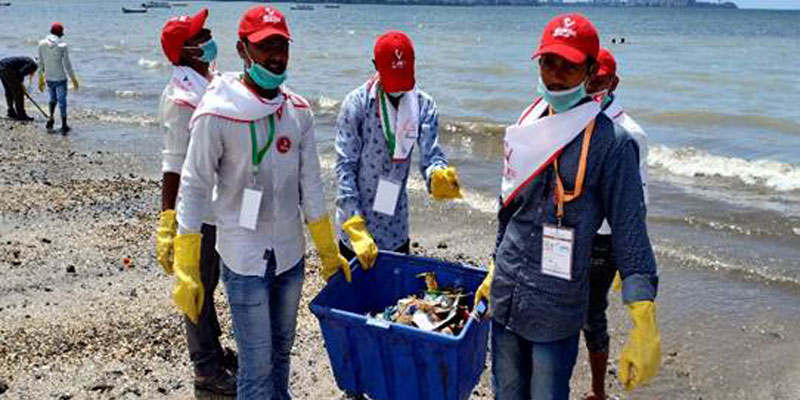 Enthusiastic volunteers participate in the clean-up drive at Girgaum Chowpatty
Badhwar Park
Volunteers swept the beach where the sea washed up garbage that was thrown in over the years, and picked up heaps of trash and used plastic bags.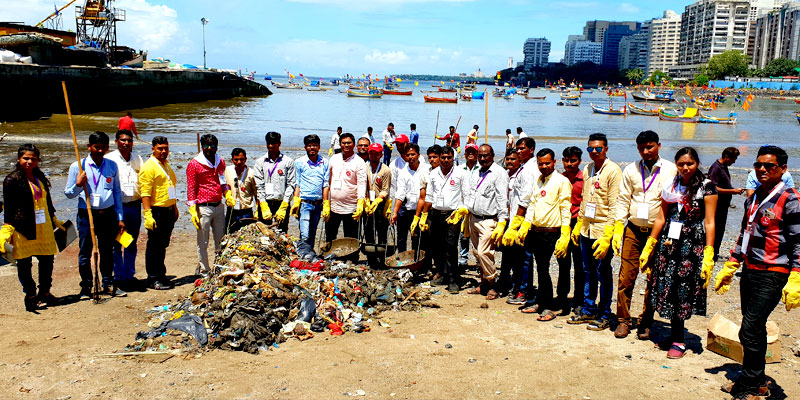 Volunteers with collected garbage at Badhwar Park