A constant struggle
Five years ago, Roz Surtaben Udaisinhbhai lost her husband, leaving her in-charge of a family of 15, including her five daughters and in-laws. This 45-year-old widow is a farmer in Dhamarda village of Dahod district in Gujarat. Despite having a five-acre plot of land, she did not have the capital to purchase seeds to cultivate on it. Moreover, the produce from the land was not enough to feed her family. Owing to the situation, the thought of educating her children took a backseat. She got into a debt trap, taking a loan at a high interest rate of 10 per cent per month in order to grow crops.
Her family had been practising rain-fed traditional mono-cropping on a major part of their land without farm planning. Growing maize and paddy during Kharif and wheat and gram during the Rabi season was their major source of income. However, these would never suffice in sustaining the family due to frequent delays, unreliable monsoons, failing land productivity and increasing cost of cultivation. To deal with the situation, she became a part of the Mission 2020 – Lakhpati Kisan: Smart Villages programme, being implemented by CInI (an associate organisation of the Trusts).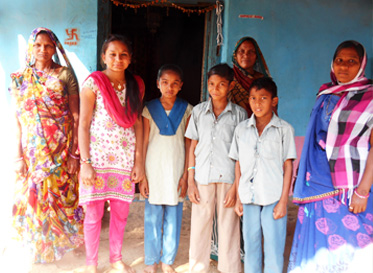 Fighting strong
Under Mission 2020, Surtaben joined a self-help group (SHG) and became associated with Dahod Lift Irrigation Cooperative Federation, an apex community organisation, supported by Tata Trusts. She began receiving technical training and support on various aspects such as varieties, availability and access to quality inputs, best package of practices adherence, farm-specific crop planning, best use of her available resources, along with exposure visits to other successful farmers' plots.
Being an SHG member, besides learning about regular savings and credit practices, she also gained awareness on various government schemes. As a result, she availed a 5 HP diesel engine from the government department as irrigation infrastructure support in order to fetch water from a nearby river. She leased about half of her land in 2017 to meet the educational expenses for her children; yet managed to substantially grow her income in a steady manner.
>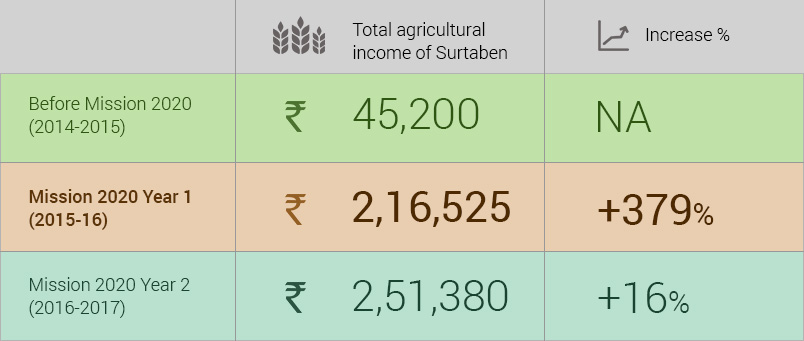 Emerging a winner
Today, with an annual income of over Rs 2,00,000 Surtaben has become an inspiration for her region, catalysing other farmers to also tread the path towards prosperity. With a feeling of contentment, she shares, "I have not had to take a loan from anyone this year for educating my children or for any other purpose. Due to the improved practices, crop productivity on my land has significantly increased. I am glad many farmers are now adhering to the best practices and adopting farm-specific crop planning. The results can be seen in the entire village."