May 2017
No place like home
Himmotthan Pariyojana, a Tata Trusts initiative, has empowered thousands of families in Uttarakhand with a self-reliant and sustainable way of life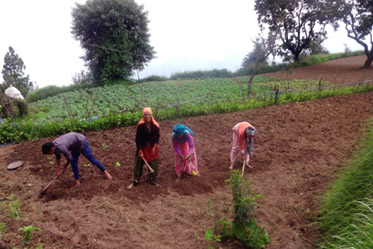 Himmotthan Pariyojana, empowering women to be self-reliant
With her husband away doing odd-jobs in Delhi, and limited means to make ends meet, life was a struggle for Kameshwari Devi and her family. They lived in a remote village in the hilly Camba region in Tehri district of the Indian state of Uttarakhand. Her husband toiled away in the city, and she on the fields at home, but all they managed to make at the end of the month was less than Rs.10,000 a month.
But life took an unexpected turn for the better when Himmotthan Pariyojana, a Tata Trusts' initiative, reached their village. Their hopes of earning a better income with a city job soon turned into a determination to build a better life right where they lived.
Himmotthan Pariyojana established a women's cooperative called Him Vikas Swayatt Sahakarita to support and facilitate better livelihood opportunities in this region. Kameshwari Devi got trained in improved practices related to livestock and horticulture, and due to the benefits of collective working introduced by the cooperative, increased her income and started getting the best price for her produce.
With better livelihood opportunities cropping up, Kameshwari's husband decided to come back to the village. He enrolled for para-vet training conducted by the Uttarakhand Livestock Development Board. With the support of Himmotthan, he started livestock-related services for remotely located rural families and now specialises in artificial insemination of livestock, earning as much as Rs.20,000 per month. Meanwhile, Kameshwari Devi has become the Chairperson of the Jharipani Women Cooperative, set up with assistance from Himmotthan, and helps families from 20 neighbouring villages to live a life of self-reliance. The family's monthly income has now grown to over Rs.30,000 due to their active involvement with the Himmotthan Pariyojana programmes. Their children are studying in a nearby private school.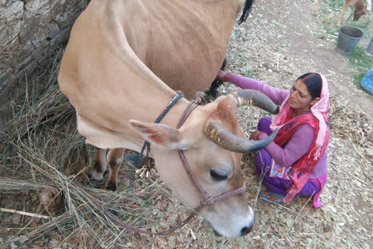 Kameshwari with her livestock
In nearby Chopdiyal village, Kushi Ram Dabral took up training in scientific cultivation of temperate fruits and vegetables with the help of Himmotthan and in a matter of months, the vegetable and fruits grower saw his income double. He used to earn less than Rs.50,000 in a season earlier, but now earns more than Rs.1 lakh.
Where a family usually sold three litres of milk, today it sells 5 litres, earning a monthly income of Rs.4,500. From vegetables such as cabbage, capsicum and peas to fruits like apricots, peaches and apples, the produce from these villages now fetches much better rates in the market, thanks to Himmotthan's support in grading, packaging and marketing.
Kameshwari and Kushi Ram are just a few success stories of Him Vikas Swayatt Sahakarita, one of the 32 cooperatives formed under the Himmotthan Pariyojana in Uttarakhand. This Tata Trusts initiative has presently over 1,400 groups with 13,000 women members, across the nine mountain districts of the state. A state-level producer company Trishulii has also been formed to provide input services and marketing support to the community institutions.
The movement has given a new lease of life to thousands of families, who were up against a challenging situation in the mountain terrain. Over the years, the environmental degradation, deforestation and soil erosion took a toll on agricultural productivity, with changing rainfall further affecting irrigation. People were finding it increasingly difficult to gather basic resources such as food, fuel, fodder and water from traditional sources. As a result, the region witnessed widespread migration, mostly by men in search of employment, leaving the burden of both domestic and agricultural labour on the women.
In order to mitigate the severity of the issue, Himmotthan Pariyojana evolved the concept of Integrated Village Development based on natural resource-based livelihoods. It was executed through a range of relevant projects which enabled holistic and sustainable development. For instance, the education project spreads awareness about the use and conservation of water resources; watershed management provides regular irrigation for agriculture; and the agriculture project provides fodder and feed components for livestock, and so on.
Action plans were developed jointly with farmers and experts were brought in to recommend best practices for increasing production. Market access was improved with the help of technology. The backbone of the project, however, was the women's self-help groups and cooperatives which were set up.
There is an increase in crop productivity through resource development and capacity building and the institutional system has encouraged women to become entrepreneurs, and be financially independent.
As a result of such interventions spanning all areas of livelihood, there is a remarkable transformation in this region; and for people like Kameshwari Devi and her husband, there's now no place like home.