June 2018
Moving from subsistence to surplus
Things began improving for Chhawnkima, a farmer in Mizoram, when he learnt about a new planting system. Receiving support from experts changed the fate of his declining business in no time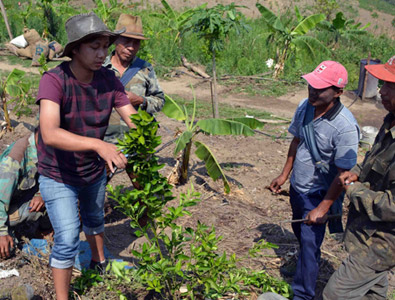 Technical support has helped the farmers in Mizoram to adopt a systematic approach in cultivation
In the state of Mizoram, agricultural production has remained predominantly rainfed at subsistence level. To promote sustainable land management and to improve agricultural practices, the North East Initiative Development Agency (NEIDA), the nodal agency of the Trusts, introduced a simple technology — a new planting system of orange and banana suckers — in 21 villages across three districts in Mizoram. One such village is Mualthuam in Lunglei district. Agriculture is the main livelihood activity for every household of this farming village.

The farmers in Mualthuam faced numerous challenges; their major constraint was the unavailability of quality planting materials and their lack of technical knowledge for crop management. Due to this, they experienced decline in citrus output for decades, and, as a result, many of them abandoned their orchards. Moreover, scarcity of water during the dry season and high transportation cost in hilly areas greatly affected their financial condition. Therefore, they approached NEIDA for technical support and
sought help in acquiring market linkages.

NEIDA began supplying quality planting materials — 100 budded oranges and 60 banana suckers to each farmer in Mualthuam. A total of 13,710 buddings and 9,800 banana suckers were supplied to 163 beneficiaries across 163 acres. Two water harvesting units (10,000 litres each) were also installed for production of orchards. The farmers were exposed to adoption of improved practices for orange and banana cultivation, innovations (including technological interventions in the form of good quality planting materials), training, rejuvenation of old planting and choice of crops according to their needs. Chhawnkima, a farmer benefitting from the intervention, says, "We are already seeing great improvement in the health of our plants and are hoping for a better produce in the years to come". Another farmer, Hmangaihzuala says, "Apart from producing orange and banana, we are also growing vegetables like cabbage, greenchilli, brinjal, etc. With the help of the Mizoram Horticulture Department and Horticulture Mission, we have set up poly houses for vegetables at a subsidised rate and this has really helped us produce more in a scientific manner. We are expecting a boost in production with NEIDA's intervention".

To address the farmers' marketing woes, NEIDA, in collaboration with NABARD, funded a market shed on the outskirts of the village where farmers can sell their produce through this haat. It has improved their livelihood, and a preliminary survey showed that a farmer can earn up to Rs20,000-30,000 per month, depending upon the crops available in the season. Farmers in the surrounding areas are also planting multiple crops and vegetables to deal with market volatility and by doing this, they have turned farming into a lucrative enterprise.
This story has been taken from the Sir Ratan Tata Trust and Allied Trusts Annual Report 2016-17.