June 2018
Learning made easy with technology
The Integrated Approach to Technology in Education has benefitted youth in Tehri Garhwal district of Uttarakhand. Students have shown tremendous growth in academics, and the results are for all to see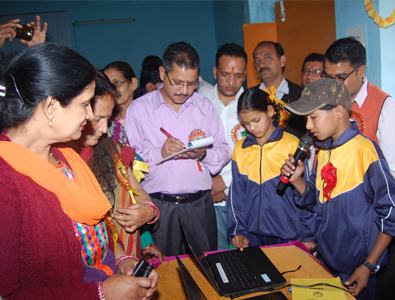 A tech-savvy student of a Tehri Garhwal school confidently explaining his multimedia project
According to the National Sample Survey, 2015, merely 30.5 percent of the youth in Uttarakhand knew how to operate a computer. Of this, only 10 percent used it to type documents. With little or no knowledge about technology, students had limited awareness of things beyond their textbooks. With an objective to bridge the digital divide as well as to improve higher order skills of the youth, Integrated Approach to Technology in Education (ITE) was introduced in five schools of Tehri Garhwal district of Uttarakhand. As part of the intervention, the Trusts' associate organisation – Himmotthan Society – and its implementing partner Mount Valley Development Association began working in these schools.
An exploratory tool
The programme covered 140 children from grades 6-8 and one teacher from each school. Students were trained on the use of computers and encouraged to create technology-based projects on topics from their curriculum. Technology remained majorly in the hands of the children who used it as a creative and explorative tool. In addition to this, they also worked on community-based projects on issues connected to their immediate environment.
Soon, the intervention began generating results. Students and teachers have now become technology savvy and are skilled in practical application rather than simply visualising technology in isolation. The teachers identify topics from the students' curriculum for their project work. The children use their creativity to work with different mediums including the internet, laptop, camera and applications like multimedia, Movie Maker, and so on. The projects created are on varied subjects like geometry, history, biology, etc, which has allowed the students to use technology to deepen their understanding of standard school curriculum.
As stated by Lucky Ramola, a student of grade 7, Upper Primary School, Phalenda, "I had never used computers before and now I use it with ease. I have worked on projects in subjects like Hindi and science. I would continue using technology even after I graduate from the school. It is really interesting and exciting."
A world beyond books
For community-based projects, students interview people from the local governing bodies, people from the community, make field visits and conduct public meetings. So far, children have produced multimedia projects on Garhwali folk culture, Himalayan medicinal plants, and their respective villages. These projects enable the children to explore beyond their textbooks, establish understanding based on real life context as well as global co-existence. Moreover, they have been able to use technology as a tool to speak on local social and cultural issues. The students recently showcased their efforts at the ITE Mela which was organised in April 2018 in their district. Their incredible work was appreciated by all and the attendees were impressed by the students' knowledge and confidence.
Excited about the students' performance at the event, Bhubaneswar Prasad Jadali, Assistant Block Education Officer, of Bilangana block, Tehri Garhwal, shared his view, "I was surprised to see the children presenting so well. I did not expect them to operate the computers so seamlessly. I saw them on stage, articulating their work. Technology can do wonders when used effectively, and this can be seen here. This will definitely help reduce the digital divide in Bilangana Block."
The teachers associated with the programme have also been happy with the way the students are progressing. As mentioned by Laxmi Prasad Bhatt, a language teacher of grade 6, "Technology and its practical use is only seen in mathematics and science. But in this intervention, children use technology to work on subjects like Hindi and social sciences too. When I was trained, I was very skeptical about the response we would receive from children in our deprived areas. But here I am, proudly witnessing my students' presentations. I am a confident teacher now and ready to take the programme forward."