September 2018
Jeewan Jal: Water purification plant in Madhya Pradesh
Tata Trusts and Clinton Health Access Initiative (CHAI) ensure access to purified water in Dhar district of Madhya Pradesh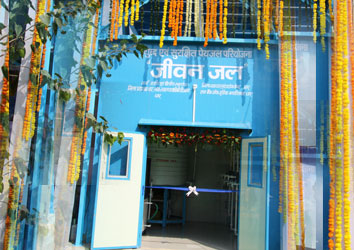 The water plant set up in partnership with CHAI
Tata Trusts, in collaboration with Clinton Health Access Initiative (CHAI), inaugurated the Jeewan Jal project on September 18, 2018 in Dhar district of Madhya Pradesh. As part of the project, a water purification plant has been set up with internationally acclaimed Drinkwell technology to provide fluoride-free water to the local community.

The plant was inaugurated by MP Governor Anandiben Patel in Patdi village of the district. Speaking about the technology used in the water supply system, she stressed upon the importance of consuming pure water and the need to keep water free of contamination all through.

Water sources in Patdi and nearby villages were found to be contaminated with fluoride beyond the maximum permissible limit of 1.5 ppm. A local entrepreneur, Dinesh Maliwad, agreed to take the onus of setting up the purification unit on his land. Jal Jeewan project will provide safe drinking water to 11 villages in five Gram Panchayats. This will reach out to 313 beneficiary households, 15 Angwandi centres and 14 schools. Each family will be eligible for a maximum of 20 litres per day and purified water will be available at the rate of 50 paisa per litre.
The water purification unit has a capacity of providing 6,000 litres per day. Unlike RO technologies, this purification system only leads to 2% of the water getting wasted while providing 98% of water back in pure form. Dinesh has also set up a chilling unit to provide cold water during summer season. He also raised a loan to buy a vehicle to transport purified water to nearby villages in jerry cans. These jerry cans are treated with special nano technology which eliminates the need to sterilise the can before every use.
The inauguration event was attended by the district collector, village sarpanch and residents of adjoining villages who will be the potential beneficiaries for this first water purification system in the region.