Heritage
Foresight to experiment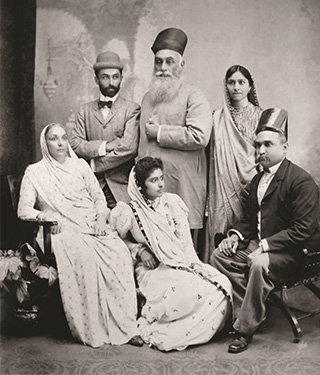 Jamsetji Tata and family
The Founder of the Tata group, Jamsetji Tata, was a true nationalist who foresaw the significance of the industrial revolution for India. He desired to catapult India among the leading industrial nations of the world. Tata Iron and Steel Company Limited, the three hydro companies and the four textile mills which resulted from his vision are considered prime examples of India's industrial development.
Jamsetji launched various schemes such as free medical help, crèches and primary classes for children of women mill workers. He also introduced gratuitous pension fund, provident fund, maternity benefit allowance and a compensation fund for accidents for all employees. These were considered path-breaking at that time, and even today these long-established business practices are regarded as a benchmark of corporate governance in India.

In 1904, Jamsetji Tata passed away, leaving his unfinished work and vision in the hands of his two sons, Dorabji Tata and Ratan Tata. Inspired by the thinking of their father, both the sons sincerely believed that in fulfilling Jamsetji's vision, they were contributing to India's industrial growth.
Both Dorabji Tata and Ratan Tata were knighted by King George V in 1910 and 1916 respectively. Extremely kind hearted and generous, they were always willing to lend a helping hand to any individual or institution in distress. Charity for Dorabji Tata and Ratan Tata meant making the effort to identify a cause they deeply cared about, and then devoting time as well as effort and money.

During their lifetime, they identified several causes, which bear testimony to their munificence. A glance at donations and endowments made, as listed below, typifies their concern for various deserving causes, and is an insightful antecedent to the Trusts' present day efforts to enhance the quality of life of communities.
Supporting innovative causes
Sir Ratan Tata and Gopal Krishna Gokhale
Servants of India Society, the founding of this brotherhood in Poona, on June 12, 1905, was the outcome of Gopal Krishna Gokhale's convictions that if the masses were to be liberated to function as active members of free India, they must have a band of selfless and intelligent workers who would dedicate their lives to the service of the nation. Sir Ratan was deeply interested in the activities of the movement, and decided to provide for the operational costs of the Society for a period of ten years, starting from its inception in 1905.
A total sum of Rs111,000 was disbursed during that period, which in those days was a very large amount. Sir Ratan's involvement in the social movement is evident from his letter to Gokhale, reiterating his support to the Servants of India Society and enquiring about the situation in South Africa, where Mahatma Gandhi was spearheading a movement to highlight the plight of Indians under the prevailing regime. Sir Ratan went on to support the Gandhi-led agitation in South Africa, disbursing a sum of Rs125,000 in the period 1909-1913.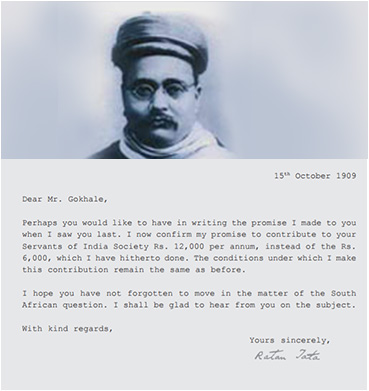 Sir Ratan Tata's letter to Gopal Krishna Gokhale
Sir Ratan's involvement with the Servants of India Society did not end at mere fund disbursals. He took a keen interest in the activities of the Society and was regularly appraised about its operations. He kept in constant touch with Gokhale, in India and in England.
Sir Ratan lent support to Mahatma Gandhi, who was in the midst of his passive resistance campaign in Natal, South Africa, for improving the lot of Indians settled there. Sir Ratan was the first Indian to finance Gandhi's movement and he did so on several occasions with substantial sums, starting from November 1909. Between 1909 and 1913, a total sum of Rs1.25 lakh was disbursed by him, in installments, enabling the Mahatma to continue his fight for the rights of Indians in South Africa.
Overwhelmed by the magnanimity of one such installment made by Sir Ratan, the Mahatma wrote, "That India has been roused is evident from the generous gift of Mr Ratanji Jamshedji Tata. By his big donation of Rs25,000 he has given a powerful impetus to our movement. He will probably be followed by other Indians. Parsis are known the world over for their generous gifts. Mr Tata has been true to that spirit of generosity."
Supporting the brightest minds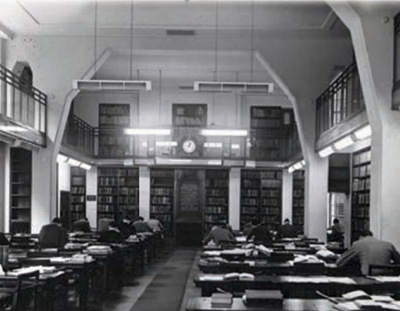 The University of London
In 1912, Sir Ratan made an offer of financial help to the University of London, if they would be willing to institute a Chair in the university for investigation and research into causes of destitution and poverty and for suggestions for relief. Principal Sir William Miera prepared a scheme in conjunction with Professor LT Hobhouse and Professor Urwick. It was approved by Sir Ratan and a Chair was founded in 1913. Sir Ratan agreed to pay £1,400 annually for a period of three years toward the expenses of the Sir Ratan Tata Foundation. This annual grant of £1,400 was extended for a period of five years from 1916.
After his demise in 1919, the trustees of Sir Ratan Tata Trust continued the annual grant till 1931. During the 19 years, several scholars and students of the University of London and the London School of Economics carried out research on the condition of labour in different trades and published their research in different publications. The Sir Ratan Tata Foundation at the London School of Economics is now a permanent institution.
Unearthing the pillared hall of Ashoka's palace at Pataliputra in Patna
Ashoka's palace at Pataliputra in Patna
About the year 1912, Sir Ratan expressed a desire to Sir Harcourt Butler, the then Lieutenant Governor of Bihar and Orissa, to finance any archaeological excavation which the Archaeological Department of the Government of India would undertake to unearth ancient relics having museum value. A sum of Rs75,000 was granted between 1913 and 1917. The excavations unearthed numerous finds such as coins, plaques and terracotta. It also led to the discovery and location of the 'pillared hall' of the palace of Ashoka, now displayed in the museum at Patna.
Source: Extracted from Sir Ratan Tata Trust Annual Reports.
We thank Tata Central Archives, Pune for inputs.
Know more on the legacy of the Trusts at http://tatatrusts.org/article/history

Building institutions
Tata Trusts has pioneered and supported several leading institutions. The centres of excellence have made significant contributions to several fields, particularly medicine, science and education.
1911: Indian Institute of Science, Bengaluru
One of India's most sought-after centres for research and postgraduate education in science and engineering, and home to many of India's Nobel laureates and top scientists.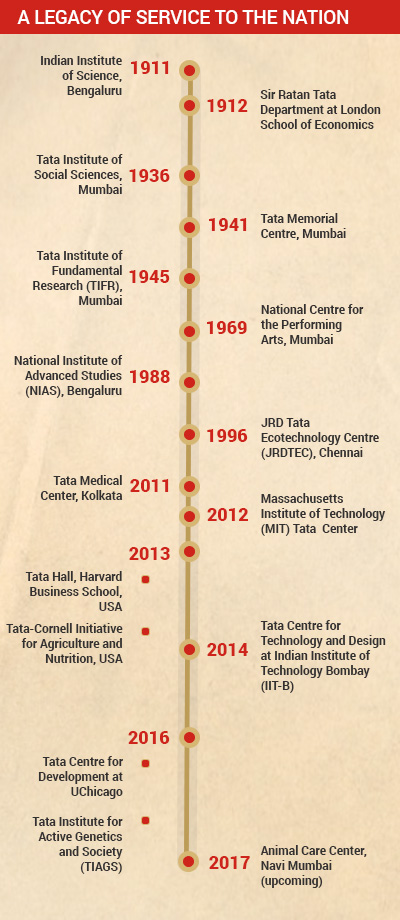 1936: Tata Institute of Social Sciences, Mumbai
A pioneer in the field of social work education in the Asia-Pacific region, the institute is well known for its work in social policy and planning.
1941: Tata Memorial Centre, Mumbai
A global benchmark for cancer research and treatment, where a majority of patients seeking primary care are treated free of charge.
1945: Tata Institute of Fundamental Research (TIFR), Mumbai
The birthplace of India's first digital computer and the nation's atomic energy endeavour, TIFR was set up to strengthen the nation's science infrastructure.
1988: National Institute of Advanced Studies (NIAS), Bengaluru
NIAS explores the intersections between the fields of science and technology, philosophy, leadership and social issues.
1996: JRD Tata Ecotechnology Centre (JRDTEC), Chennai
The flag bearer of the ecotechnology movement in India, JRDTEC is part of the MS Swaminathan Research Foundation, and works to encourage sustainable development.
2011: Tata Medical Center, Kolkata
A state-of-the-art centre set up with the objective of making quality cancer care available to the population of North East India and Bangladesh; half the beds are reserved for the underprivileged.
2012: Massachusetts Institute of Technology (MIT) Tata Center
The Tata Center was founded in 2012 and supports the work of MIT faculty and graduate students whose research aligns with the Center's mission. Numerous disciplines, including mechanical engineering, civil and environmental engineering, architecture, business administration, urban planning, and more, are represented in the Center's diverse portfolio of subjects.
2013: Tata Hall, Harvard Business School, USA
The Hall is part of Harvard Business School's Executive Education portfolio, and a centre for residential education.
2013: Tata-Cornell Initiative for Agriculture and Nutrition, USA
A research initiative that looks at innovative interventions that link agriculture, food systems, human nutrition and poverty in India.
2014: Tata Centre for Technology and Design at Indian Institute of Technology Bombay (IIT-B)
Established in 2014 with support from the Trusts, Tata Centre for Technology and Design at IIT-B closely works with its sister institute at the MIT-Tata Center, USA, and with other partner organisations and stakeholders across India. The Centre acts as a virtual centre for research and academic activities, and draws faculty members and graduate students from various academic units across IIT-B.
2015: Tata Centre for Development at UChicago
The Tata Centre for Development at UChicago is a development accelerator that combines implementation, research and training to support ambitious interventions, evaluate new solutions, and transmit insights to key decision-makers who can translate research findings and lessons from pilots into action for wider impact. This unique, integrated approach builds on the University of Chicago's rich legacy of bringing multi-disciplinary expertise to bear on global issues.
2016: Harvard University South Asia Institute
A research project focused on three key areas: rural livelihood creation (emphasis on the handicrafts and handloom sectors); educational, social and economic empowerment of women; and science and technology-based interventions for poverty alleviation.
2016 Tata Institute for Active Genetics and Society
Tata Trusts and the University of California San Diego are together establishing Tata Institute for Active Genetics and Society (TIAGS) for a collaborative partnership between the university and research in India. The goal of the institute is to push the boundaries of bioscience in support of human needs and society, and to build scientific capacity in India. The institute will advance global science and technology research to find solutions to some of the world's most pressing issues, ranging from healthcare to agriculture. The initiative's inaugural basic research enterprise — A Thrust in Active Genetics — will focus on applications of 'active genetics' to improve human health and agriculture.
2017 (upcoming): Animal Care Center, Navi Mumbai
A state-of-the-art, multi-specialty veterinary hospital and emergency clinic coming up in 2019, which will become a centre of excellence in the treatment of animals and training of veterinary specialists.