December 2015
Food for thought
Tata Trusts support for Action against Malnutrition has been but one weapon in the fight against malnutrition, a slow killer among impoverished populations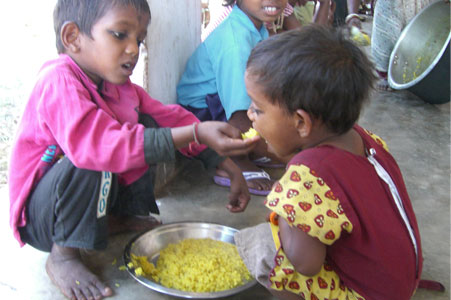 Tata Trusts launched the pilot Action against Malnutrition (AAM) initiative, in partnership with six organisations working in Chhattisgarh, Jharkhand, Odisha and Bihar in 2012. AAM is a package of three key strategies address issues of food, care, and infections by running community daycare centres for children below three years, mobilising and educating mothers on nutrition, health and childcare, and thirdly, by engaging with public systems to strengthen the delivery of the programme.

The initiative is now in its third year, and during this period, many interesting processes and learnings have emerged. While the programme may have been initiated by Trusts and a consortium of experienced organisations, the community has been proactively involved during implementation.

The following is an example of community initiative and contribution towards improving children's nutritional status by a Public Health Resource Society.

The socio-economic background of many families in Ratu Nagri block do not allow mothers to be home for childcare. As a result, children are left at home alone or with older siblings. Since the daycare centres have started, it was observed that due to poverty or the mothers' workload, many children come lightly fed or unfed in the morning. Crèches run for seven to eight hours a day, six days a week, and it was decided that each child should get a minimum of three feeds a day, providing 75% of the nutritional requirement for that age. A meal plan was prepared which would enhance children's growth by providing energy-dense and micronutrient-rich food.

A SAT mix was developed where the main ingredients were 'sattu' or roasted wheat, rice and black gram in the ratio of 1:1:1. The Public Health Resource Society identified a grain roasting shop which would roast the grains, and a flour mill which would grind the roasted grain. Subsequently local youth pack the flour into 1kg airtight polythene packets and provided them to the crèche. When served, it is mixed with sugar and oil.

The Society engaged with an SHG and mother's group (Ayo Samiti) to run the business and make it a sustainable model. It took almost a year to convince the Ayo Samiti of Bada Dumartoli to initiate a start-up with their technical support for producing the sattu mix. A woman from a marginal farmer's family roasts the grain for them. She had the necessary experience because she had been roasting grains for marriages, and used to run a snack shop in the evenings. The SHG is currently producing packets of SAT mix and catering to the crèches in Ratu Nagri block.