March 2012
Cleanliness begins at home
The conviction of Tulsiben that every household should have a toilet has made her a Coastal Salinity Prevention Cell motivator to help Barpatodi village in Gujarat achieve 100 percent 'open defecation free' status
Tulsiben lives in Barpatodi village, Amreli district, Gujarat, with her husband, son and daughter. The family's main occupation is farming and stitching godhadis (blankets). Her home is a pucca two-room dwelling that proudly boasts of both a toilet and bathroom today.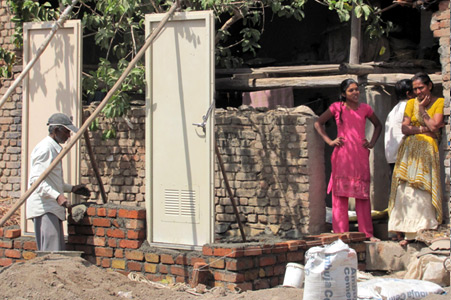 Adoption of proper sanitation to ensure good health
Inadequate water supply and lack of sanitation infrastructure are two enormous problems in most of rural and much of urban India; Tulsiben was no exception and suffered a similar fate when she began a family in her new home in Gujarat, especially as she hailed from Mumbai and was habituated to using a proper toilet before marriage. In fact, her first query about getting married to the man chosen for her and migrating to his village was: "Is there a toilet at home?"
The answer was an emphatic no from the groom's side: "All women in our village go for open defecation, and that's the practice."
Tulsiben just could not conceive of a home without its own toilet. "Initially," she says, "I had no choice but to go for open defecation. However, I could not accept this as I was never habituated to do so. So, I came home to my mother's place in Mumbai after two years and refused to go back unless a toilet was constructed!"
"Men can relieve themselves anywhere!" Tulsiben exclaims. "But we, women, have to wake up at 5 a.m. to go to the fields to defecate. If, for some reason, we are not able to go in the morning, we have to wait till it is dark as how can we leave our housework in the day? And what if men or vehicles pass by? We can't let them see us!"
Due to Tulsiben's unwavering conviction that every household should have a toilet, the Coastal Salinity Prevention Cell (CSPC), Ahmedabad, under the Coastal Area Development Programme, rightfully identified her as a potential motivator, and she is now the prime motivator in the village for CSPC, as well as an Accredited Social Health Activist (ASHA). Her deep desire is to see her village get the Nirmal Gram Puraskar by obtaining a 100 per cent Open Defecation Free status, and Vivekanand Research and Training Institute - a partner of CSPC - has been supporting her in this endeavour. Her husband is now a crusading supporter of the installation of household toilets, always discussing it with the men in the village, to drive the message home and compel it to take shape.
Tulsiben enjoys excellent rapport with the village women, and also happens to be the secretary of her Self Help Group. She is constantly motivating all the women to construct toilets in their respective homes while her husband works on convincing their men folk of the necessity. Dressed in a crisp maroon sari and a big smile, she first asks you if you wish to use her toilet as you have undertaken a long journey to her village; then to see all her neighbours' down the row….. "It's a big improvement," says Tulsiben. And it all started with her.