April 2018
Bettering lives through livestock
Kamlesh explored different avenues before becoming a paravet. His service to the community is benefitting the entire ecosystem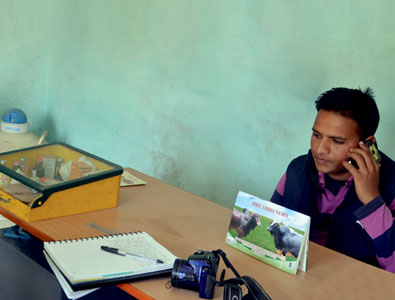 Kamlesh's fellow villagers have begun appreciating his role in serving the community
A mountain agriculture system is a judicious mix of agriculture, horticulture, livestock and non-timber forest products. These factors have shown a gradual decline over the years — making mountain-based agrarian families more vulnerable to the vagaries of nature and of markets.
Himmotthan Society, an associate organisation of the Trusts, has been working with the hill communities for over a decade now and making efforts to make livestock more remunerative for the families. The solutions that have been put in place are multi-pronged, covering needs such as availability of quality fodder, adequate healthcare of animals, and linking up the livestock farmers with milk-based market systems. To cater to a large section of the highly dispersed community, it became necessary to train community members in basic and advanced veterinary services.
Kamlesh Kumar from Seem village in Nainital district moved to the nearby city of Rudrapur after completing his graduation and started working there as a salesman in a mall. The job assured him a monthly income of Rs3,000. Having worked there for three years, Kamlesh realised that despite giving his best, he could barely makes two ends meet due to the high rent he had to pay, and a high cost of living.
While he was contemplating moving back to his village to earn a decent living, Kamlesh's mother informed him about the Himmothan Pariyojana programmes in which she was part of a self-help-group. The society was looking for youths interested in taking up a professional course with the animal husbandry department. Kamlesh grabbed the opportunity and undertook a three-month training programme under the Uttarakhand Livestock Development Board, followed by two months of field training. After completing his training, Kamlesh started working as a paravet with Himmotthan's project partner, Chirag. Even though he treated illnesses ranging from bloating and blocked udders to diarrhoea and birthing complications, the community took time to appreciate his skills.
Today Kamlesh caters to more than 30 villages. "I used to earn Rs2,500 every month when I started working; now my monthly income ranges from Rs15,000 to Rs18,000," he says happily. So far, from 2014 to 2017, Kamlesh has carried out 775 artificial inseminations, of which 430 were on cows; 330 have since calved. Similarly, of the 345 artificial inseminations on buffaloes, 180 have conceived. He has established himself as a paravet, and is happy serving the community in and around his village.
This story has been taken from the Sir Ratan Tata Trust and Allied Trusts Annual Report 2016-17.