Chairman's message in 2011-12 annual report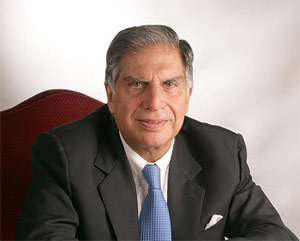 The challenges facing the world today are a complex web of circumstances arising from a few undeniable truths - the continued degradation and loss of natural resources and their insensitive management, coupled with patchy distribution amongst an increasing population. There is but one earth, whose face we are rapidly changing. These issues contribute to a mutated world increasingly facing crop losses, epidemics, floods, forest fires, drought and destruction on an unprecedented scale. The impact of this not only ruins but also eradicates those who cannot bear the risk – the poorest of the poor. Preventive action and rapid adaptation to the changing circumstances are not merely required but are essential to keep poverty levels low and increase growth rates. But, curtailing these regular large scale losses of life and property requires more than small scale efforts and individual commitments.
In an attempt to respond to this need, the Tata Trusts have, over the past 80 years, built a vision of philanthropy into a systematic programme working at a scale across the country, tying in with hundreds of non-profits and governmental organizations, individuals and programme partners. Learnings from business, particularly on issues like scaling up programmes and developing linkages with market access and capital, help develop value in local and regional community-led enterprises.
Currently, the Trusts are working in over 170 districts across the country on issues as varied as water, agriculture, education, health, sanitation and micro-finance. These programmes are aligned to fill gaps and support development needs identified in the country's current 5 year Plan. The ongoing drinking water and sanitation projects, for example, cover over 500 villages, bringing these basic facilities to over 160,000 households across the country, including salinity-affected coastal villages in Gujarat, fluoride-affected areas in Andhra Pradesh, remote Himalayan 'toks' of Uttarakhand and schools in Karnataka. In addition, efforts to enhance food security and livelihoods, quality education and health, and in revitalizing dying art forms, small as they may be, show the potential for large scale replication across different geographies. To develop and grow these programmes the Trusts have, over the past year, disbursed over Rs.1.70 billion (US $ 33.31 million).
The late Mr. J.R.D. Tata believed, "what came from the people must go back to the people, manifold". And that continues to be our vision for the future.