Sir Ratan Tata
Support to nationalistic causes
Sir Ratan Tata furthered the philanthropic vision of the Tata Group's founder by supporting a bevy of benefactions. These ranged from lesser-known public welfare initiatives to high-profile ones like his support to the Servants of India Society founded by Gopal Krishna Gokhale and to Mahatma Gandhi's anti-apartheid movement in South Africa.
The founding of the Servants of India Society brotherhood in Poona (now Pune), on June 12, 1905, was the outcome of Gopal Krishna Gokhale's convictions that if the masses were to be liberated to function as active members of a free India, it was imperative to have a band of selfless and intelligent workers who would dedicate their lives to the service of the nation.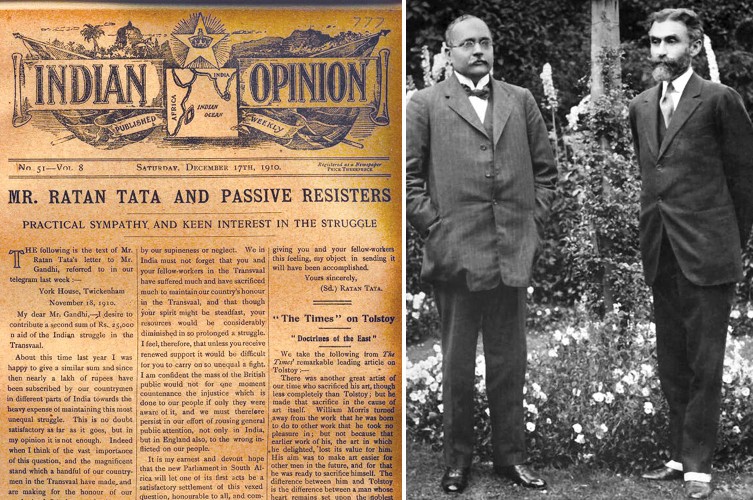 Sir Ratan was deeply interested in the activities of the movement and decided to finance the operational costs of the Society for a period of 10 years, starting from its inception in 1905.
A total sum of Rs111,000 was disbursed: a significantly large amount in those days. Sir Ratan's involvement in the social movement is evident from his letter to Mr Gokhale reiterating his support to the Society and enquiring about the situation in South Africa, where Mahatma Gandhi was spearheading a movement to highlight the plight of Indians under the prevailing regime.
Sir Ratan Tata's letter to Gopal Krishna Gokhale
Sir Ratan's involvement with the Servants of India Society went beyond extending funds. He took a keen interest in the activities of the Society and was regularly appraised about its operations. He kept in constant touch with Mr Gokhale in India and in England.
Sir Ratan supported the Mahatma's movement in Natal, South Africa. Between 1909 and 1913, a total sum of Rs125,000 was disbursed, in installments, which enabled the Mahatma to continue his fight for the rights of Indians in South Africa.
Overwhelmed by the magnanimity of one such installment made by Sir Ratan, the Mahatma wrote, "That India has been roused is evident from the generous gift of Mr Ratanji Jamshedji Tata. By his big donation of Rs25,000 he has given a powerful impetus to our movement. He will probably be followed by other Indians. Parsis are known the world over for their generous gifts. Mr Tata has been true to that spirit of generosity."
Unearthing India's history
Ashoka's palace at Pataliputra in Patna
Sir Ratan was a great connoisseur of art and heritage. Like his support to education and educational institutions, the Tata scion also extended wholehearted support to archaeological excavations and the search for antiquities.
Around the year 1912, Sir Ratan expressed a desire to Sir Harcourt Butler, the then Lieutenant Governor of Bihar and Orissa, to finance any archaeological excavation which the Archaeological Department of the Government of India would undertake to unearth ancient relics having museum value. A sum of Rs75,000 was granted between 1913 and 1917 to support the excavations.
The excavations unearthed numerous finds such as coins, plaques, and terracotta. It also led to the discovery and location of the 'pillared hall' of the palace of Emperor Ashoka from the Maurya dynasty – the Iron Age historical power that ruled a major portion of India. These historical finds are now displayed in the Patna Museum.
Sir Ratan Tata Trust
Sir Ratan supported a wide array of causes throughout his life. Therefore, it was no surprise that he left behind the bulk of his wealth to a charitable Trust. In his will of 1913, he instructed the trustees on the several directions in which they could devote the income from the Trust funds. Though full discretion to interpret these wishes was given, he also left detailed directions in his will about how the money was to be utilised.
The causes to be aided by the funds were to be public in general. The institutions or organisations to be aided had to subject their accounts to periodic audits by the trustees. The ventures to be aided needed to have their schemes carefully prepared by competent personnel. Causes related to "education, learning and industry in all their branches" find prominent place in Sir Ratan's suggestions.
These concepts of charity were considered ahead of their time, and even today, are considered exceptional in the context of philanthropy.
Sir Ratan became very ill around July 1916 and, on his doctor's advice, was taken to England in October 1916. Despite getting the best possible treatment, his condition steadily deteriorated and he died at St. Ives in Cornwall on September 5, 1918, leaving behind his wife, Lady Navajbai.
The Sir Ratan Tata Trust was established in 1919 with a corpus of Rs8 million and today it exists as one of India's oldest grant-bestowing foundations.