About Sir Dorabji Tata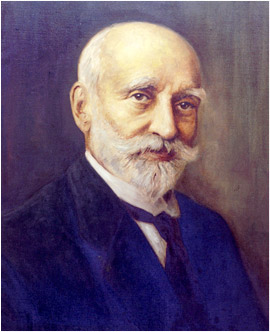 Born on August 27, 1859, Sir Dorabji Tata was the firstborn of the visionary Jamsetji Tata, the Tata group Founder. Sir Dorabji Tata not only inherited his father's business acumen, but also his spirit of selflessness and giving back to the society.
In 1897, Sir Dorabji Tata married Meherbai, daughter of H. J. Bhabha, who was a spirited and sensitive woman with a penchant for English literature and playing the piano. Like her husband, she also strived for social causes during her lifetime, working for issues like higher education for women, and against the purdah system and untouchability. She also introduced India to the International Council of Women.
On May 27, 1909, Sir Dorabji Tata established the Indian Institute of Science, Bangalore, and made a donation to the institute in 1912. A handsome donation to the University of Cambridge and the constitution of a chair for Sanskrit studies at the Bhandarkar Oriental Research Institute, Pune, include some of his other notable contributions.
Sir Dorabji Tata's love for sports reflected through his philanthropic activities. In 1919, he facilitated four athletes and two wrestlers to participate in the Antwerp Games. As president of the Indian Olympic Council, he financed the Indian contingent to the 1924 Paris Olympiad.
Sir Dorabji Tata believed in the constructive application of his wealth and bestowed his entire fortune to the newly founded Sir Dorabji Tata Trust in 1932. This comprised substantial shareholdings in Tata Sons, Indian Hotels and the allied companies, landed properties, and 21 pieces of his wife's jewellery, including the famous Jubilee Diamond. The value of his donation was estimated at Rs. 10 million at the time.
The funds were to be directed towards the advancement of learning and research, relief work and other charitable purposes, "without any distinction of place, nationality or creed". He also donated his collection of paintings, statuary and other art objects to the Prince of Wales Museum in Mumbai.
Sir Dorabji Tata passed away at Bad Kissingen, Germany, on June 3, 1932.
Read more about: Sir Ratan Tata | Lady Navajbai | Tata Trusts' History