Flattening the Covid-19 curve, the Nagpur way
When the Covid-19 began making its way around the globe in March 2020, the Tata Trusts sprang into action. The challenge was to deal with an immediate, and ever-changing health crisis without interfering with ongoing initiatives. The Trusts have always worked with Governments and communities to initiate socio-economic development. Now, the quest was to support local and state administrations to contain the spread of the deadly virus.
On 11 March 2020, the day Covid-19 was recognised as a pandemic, Nagpur recorded its first Covid case. The Nagpur Municipal Corporation (NMC) went into action on a war footing to defenestrate and reduce the effects of this pandemic by organising a team of public health experts, administrators, and organisations; gathering on-ground intelligence; and strengthening the public health system. Working alongside the NMC were the Tata Trusts, whose primary objective was to support and supplement NMC's efforts, and work as NMC's technical partner in implementing its action plan. The NMC adopted a 3T strategy — Tracing (contact tracing), Testing and Treating — to improve the city's Covid-19 recovery rate.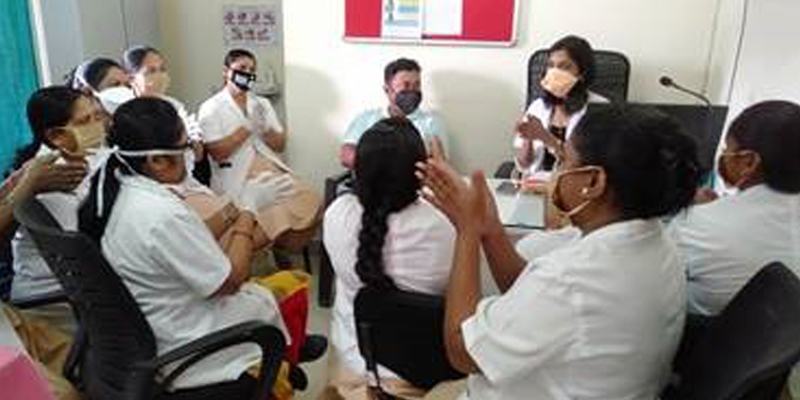 The 3T Strategy
1. (Contact) Tracing
The NMC initiated contact tracing of all possible cases starting 11 March 2020, making the city one of the first adopters of this method. Contact tracing tracks and monitors people in close contact with an individual who is infected, as they are at high risk of being infected themselves and may potentially infect others around them.
The Trusts team created a detailed plan and process flow-charts to help NMC implement this strategy. Every time a person tested positive for COVID-19, a process for tracing the individual's contacts was activated as well as monitored. A central control room became an effective medium to share accurate responses to incoming calls/queries and concerns surrounding Covid-19.
The NMC teams provide immediate medical interventions support to Covid-positive cases. They also made daily calls to ensure that close contacts (immediate family members and close friends) also undergo counselling, home quarantine and regular medical check-up. Since implementation, the control room has handled over 3299 calls, and continues to support 36803 individuals who were/ are in home quarantine.
Alongside, they coordinate with local police to ensure that an identified individual follows strict home quarantine for the next 14 days. Coupled with screening at airports, this proved to be an effective method to arrest the spread of Covid-19 through international travellers. As of 13 December 2020, contact tracing has enabled the NMC in identifying 608638 cases.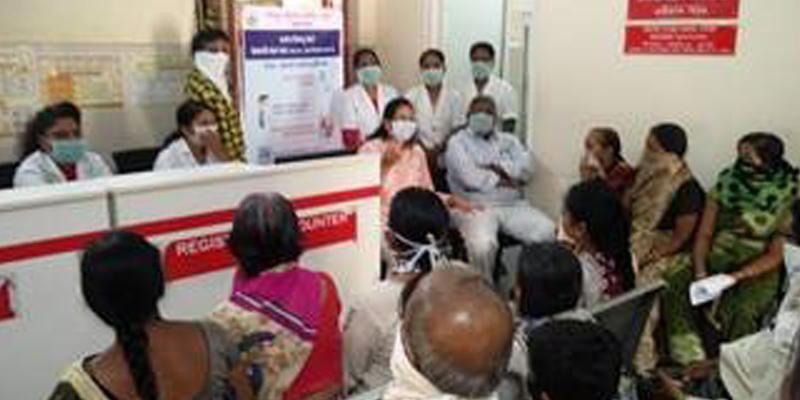 2.Training
Training and Capacity Building of the healthcare staff is one of crucial steps in addressing a pandemic. The Trusts' teams helped NMC's health department to train personnel on epidemic preparedness and treatment, starting with medical officers. The medical officers, in turn, provided training to all medical and para-medical staff, including Auxiliary Nurse Midwives (ANMs) and Accredited Social Health Activists (ASHAs), on an on-going basis. So far, 568 ASHAs, 166 ANMs, 123 GNMs, 22 laboratory technicians, 33 doctors & 10 Zonal Medical Officers have been trained.
3.Testing
The Trusts have been helping NMC to strengthen the city's primary healthcare system since December 2017. This partnership has been able to improve quality of care, assist in providing better supply chain management, and enable access to good quality diagnostics through the establishment of 23 well-equipped Urban Primary Health Centres (UPHCs). The NMC converted these 'model UPHCs' into sample collection sites due to their proximity and connect with the larger community.
The connect was enabled through ASHAs and ANMs, who helped in mobilising people for testing. This enabled the NMC to increase testing capacity from 2500 to 6000 per day during the peak periods of September-October, to promote measures towards prevention and to control the spread of the infection.
Apart from all this, the NMC also worked towards creating a centralised online bed management system. During the initial phases, there were approximately 1,700 beds available in Nagpur. With the cases increasing, the NMC worked to create an additional capacity of more than 6,000 beds. However, the challenge was to ensure the beds were accessible, and to keep track of the usage. The Trusts' team worked with NMC's health officers to create an online platform, which helped to monitor the number of beds available on a timely basis. These timely inputs provided an opportunity to understand the delays in admissions and treatment and helped to provide immediate redressal.
The NMC also set up Rapid Response Teams (RRT), headed by the Health Officer, NMC, and including all zonal officers. The RRTs' action plan helped in decentralising the process for quick turnaround, by screening all high-risk cases, data reporting of all presumptive cases, and coordinating with different departments, like the airport authority, civil surgeon's office, public health department, etc., for effective implementation of epidemic surveillance activities. So far, 44 RRTs with 289 nurses, 22 laboratory technicians and 33 doctors have visited 36,803 people in home quarantine, and have followed up on more than 43,800 cases.
As a result, by the second week of December, the total number of active cases in Nagpur city stood at 3,576, with the cumulative recovery being 90,263 – a recovery rate of 93.59 per cent. Doubling time is 207 days, one of the highest in Maharashtra.
As we write, the Trusts team has just completed the planning for the roll-out of Covid-19 vaccine in partnership with NMC.