Initiated in 2012, the Integrated Approach to Technology in Education (ITE) is a pedagogical framework to improve teaching and learning processes. It fosters 21st century skills and quality learning through projects in middle school children and adolescents in some of the most underprivileged geographies (91% rural). Students, mostly first-time computer users, create learning artifacts like weather charts and comparative charts on jute production or population density to deepen their learning of the subject matter. All the projects assigned are carefully selected by the teachers and matched with the curriculum.
The main objectives of the programme are:
Bridge the digital divide and foster digital citizenship.
Increase interest in learning.
Improve learning and higher order thinking skills.
Improve teaching and learning processes.
Build teacher capacities through professional development.
No new layer of technology is added, rather technology is embedded in the teachers' lesson plans and pedagogy. The teacher designs learning activities and students use technology to construct their own learning. Technology is used as a tool, rather than as an end in itself.
ITE is implemented in eight states, which includes Assam, Gujarat, Jharkhand, Maharashtra, Odisha, Uttarakhand, Uttar Pradesh and West Bengal. It is channelised through NGO partners and associate organisations of Tata Trusts. ITE is also being layered with the education plans directly implemented under the Eastern Uttar Pradesh Initiative and education activities in ashramshalas under the South Odisha Initiative. In 2015, the Trusts formed state and district partnerships with the governments of Assam and West Bengal under ITE, which covers 225 government schools and madrasas in these states. The master teachers' cadre in these schools mentor teachers from approximately 600 schools in their catchment areas in West Bengal and Assam. The capacity building (training and research) of partners, teachers and school administrators is undertaken by the Centre for Education Innovation and Action Research at Tata Institute of Social Sciences. The Centre offers a certificate course for teachers in 'ICT in Education for School Teachers', which has been completed by 100 teachers.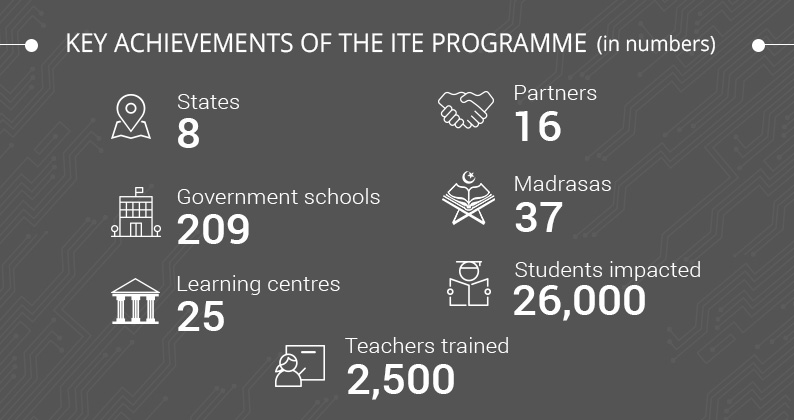 Currently, ITE is practiced in about 275 schools, which includes independent learning centres and madrasas. It reaches out to 22,000 children as on December 2017 and has impacted 26,000 children since inception. Over the years, about 2,500 teachers, which includes community facilitators and teachers training faculty in a cascade model, have been trained in the ITE approach and skills.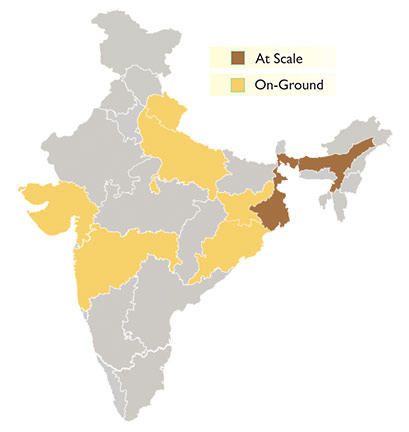 To know about operational areas / states
,
click here