Itishree Sur was born into a family of weavers. Financial constraints forced her to leave school after Std. VIII, and shortly, she was married into another family of weavers. There, she picked up weaving, and was soon managing her husband's small business of Tussar saris and dupattas. With 18 years' experience, Itishree, who has an instinctive sense of design, began innovating with new colour combinations, designs, and textures. Itishree has been associated with the Tata Trusts' Antaran initiative since November 2019, and even co-designed her own collection of sarees and dupattas with the team's designer for the Craft Council of India Exhibition held in Chennai in February 2020.
Association with Antaran had helped Itishree grow her business; her husband, Satyananda Sur, looks after raw material sourcing, while Itishree does production planning and execution for the ten looms that she manages. But then, the lockdown happened.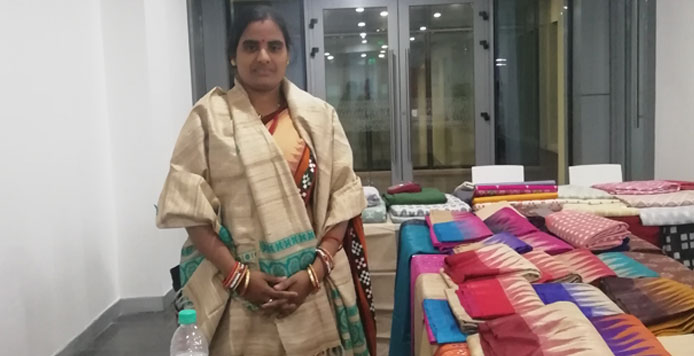 The handloom sector in India, like many others across the globe, was hit badly by the Covid 19 pandemic and the subsequent nationwide lockdown which was in effect from March 23, 2020. Stock was held up, buyers could not pay for purchases, ready orders could not be delivered, and ones in process were either cancelled or deferred. With cash flow blocked, looms idle, and stocks stuck, weavers in desperate need of money were selling their products to middlemen at the lowest price ever.
The Trusts stepped in again – through 'Antaran Artisan Connect' (AAC), a marketplace created by the Trusts, conceived and developed in-house by the Trusts' Crafts team. While the marketing team, quickly initiated promoting 'www.antaranartisanconnect.in' and set up a social media campaign requesting people to buy hand weaves at wholesale prices directly from artisans from Antaran clusters, who had been identified and well-trained by the teams.
Antaran's cluster teams and designers took care of the back end – they connected online with artisan entrepreneurs, assessed each artisan's inventory, guided them on product photography, uploading images, product pricing, communication with customers, payment system invoices, note addresses for delivery, etc. Teams also actively worked to facilitate interacting between customers and artisans where required and kept track of sales. Fortunately, artisans were already exposed to online marketplaces as part of their regular business education processes at IDC.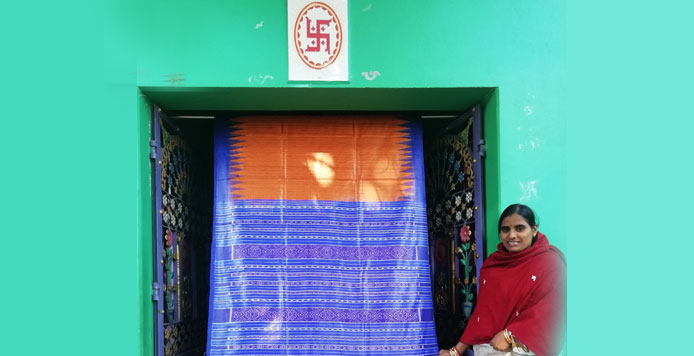 Their education in design and business stood the artisans in good stead in other ways as well. Artisans were able to deal with customers directly through their own social media handles, often using Google Translate to communicate with buyers who spoke different languages. They familiarised themselves with online paying platforms, using the YouTube channel of Antaran Knowledge Centre for a crash course in online selling. Payments were collected in advance and goods delivered as and when postal and courier services would open.
The 'Antaran Artisan Connect' initiative was covered by mainstream media including Times of India, Indian Express, Business Standard, ANI, etc., as well as by many influencers in the craft circles. The campaign also went viral on WhatsApp generating widespread demand. The website recorded more than 2,50,000 sessions within six weeks. 32 artisans and 200 associate artisans from Antaran clusters in Assam (Kamrup, Nalbari), Nagaland (Dimapur), Andhra Pradesh (Venkatagiri) and Odisha (Maniabandh and Gopalpur) sold over Rs5,900,000 worth of stock during this period. Itishree, and other artisans like Chaturbhuja Das (Jr), Jagajeeban Chand, Satrughana Das, Pramod Sur, etc., have seen a four-fold growth of business in less than two months.
There have been tangible successes in other areas as well – each of the clusters and AEs gained visibility; with their education proving so useful, it has reaffirmed the artisans' faith in a so-called 'dying art'; they were exposed to a new set of buyers, genuine craft lovers who engaged with them; their confidence in handling nuances of online marketing has increased manifold; and, they feel confident of competing with the big players in their villages. Itishree registering a sale of 7.96 lakhs quipped "Our looms and artisans would have gone without work in these lockdown months, but for Antaran Artisan Connect", says a grateful Itishree.
Antaran is planning another campaign called Antaran Design Connect to offer products to a select set of customers on a special preview basis. These will encompass exclusive theme designed collections developed by the design team along with the artisans to bring out unique creations from each cluster. The designs will be offered on a pre-booking basis with options for customisation.
And that's not all. Apart from the ongoing Covid campaign and the limited collections (above), plans to showcase exclusive collections from Master Artisans, AE's focussed collections, Natural Dye collections, and expanding the B2B markets of AEs, is on the cards.
An application called 'Craft Xchange' – a B2B platform for artisans and buyers is also being developed. Antaran also intends to increase the outreach of its business and design education to handloom artisans beyond geographies through video modules on the Antaran Knowledge Centre. The channel will host online classes in design and business; conduct sessions on digital literacy and to enhance knowledge of weavers for modern business.
About Antaran: The Trusts' Craft Sector programme 'Antaran'was initiated to bring about seminal changes in the sector, beginning with the handloom sector. Its current focus is on lesser known handloom clusters with sizeable households depending on handloom as their major source of livelihood. Antaran also focuses on retaining and mobilising young talent in the artisan communities, by imparting design and business education which would enable them to build sustainable micro enterprises that ensure better income for themselves and associated artisans. Grooming artisans as individual entrepreneurs and helping them connect directly to markets will eliminate middlemen, thus making their craft remunerative, and ensuring distributive justice across the value chain. Know more about the programme