For patients that need medical care from specialists, telemedicine has come as a boon, especially during the lockdown period. With travel restrictions in place, postponement of treatment for these patients could have long-term consequences. With telemedicine being a new format and method of consulting, it was natural to expect some extent of hesitation on the part of patients. Nevertheless, once they tried the service, it seemed there was no going back to the traditional in-person consultation – mainly because patients realised it saved them time, energy and money, while availing the same quality of interaction and treatment protocols.
The stories of few such patients capture their initial and candid experiences with the technology and the feeling of gratitude they share for receiving quality care in close proximity to their home.
Telemedicine initiative brings physiotherapy just a video call away for Mr. Bashir Shaikh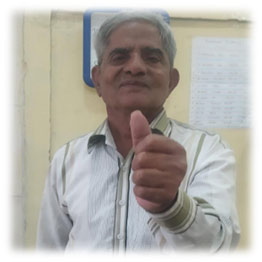 Mr. Bashir Shaikh, a beneficiary from Mangar Basthi slum area, Hyderabad
Mr. Bashir Shaikh, a daily wage earner, residing in Mangar basthi, Hyderabad had a paralysis attack a few months into the lockdown. The attack affected the muscles of his left hand, due to which he lost his gripping ability. He wasn't able to perform his daily labour work. In his words, "I am hypertensive since many years and my economic and physical constraints did not permit me to travel regularly to a specialist at a distant government hospital. The ordeal of long queues at such centres was also a limiting factor. So I was in a spot with respect to consulting a doctor for my current condition."
Mr. Shaikh then heard of the Basti Dawakhana in Mangar Basthi, a Tata Trusts initiative in conjunction with the telemedicine consultation facility of the Government of Telangana. He says, "Initially, I was hesitant about such an arrangement where a doctor can't physically examine me, but when I completed my first telemedicine consultation from the Mangar Basti Dawakhana, it became a regular solution for me. I was able to explain my problems clearly to the specialist over the video call, and hear and understand the advice given by the doctor through the headphones. The medicines which I got from Basti Dawakhana were regularly monitored by the specialist and modified accordingly."
As suggested by the specialist, he attended the virtual physiotherapy consultations, where the physiotherapist counselled him, demonstrated various exercises for regaining his gripping ability and helped him overcome his paralysis.
"Telemedicine technology made this possible without me having to spend a fortune or lose time in travelling. Now, with regular medications and physiotherapy sessions, I have regained the gripping ability in my hand. Currently, I am continuing with my work and am able to support my family", says Mr. Shaikh with a smile.
After he shared his experience, many of his neighbours and relatives also started utilising these services.
A ray of hope for Bannepaka Mallamma – a cancer survivor
"I was diagnosed with cancer of the cervix a few months ago. Initially, we spent a lot of our savings travelling to Hyderabad for availing radiation and other therapies. Over a period of time, it became difficult, as the costs mounted and a considerable amount of money was being spent on travelling to Hyderabad and availing the treatment. The therapy made me weak and I experienced loss of appetite – probably due to the disease and its treatment. All in all, it left me feeling quite drained and weak. One ASHA worker from our village told me that I could talk to a specialist over the phone through teleconsultation, and there was no need to travel to Hyderabad for consultation. That gave me a ray of hope", recalls Bannepaka.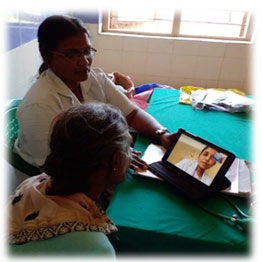 Bannepaka Mallamma from Palakurthy Health and Wellness Centre receiving teleconsultation in her village
The nurse at the Health and Wellness Centre, Palakurthy, connected Bannepaka with a cancer specialist at a cancer hospital in Hyderabad through teleconsultation. "Through the video call, I was able to explain my difficulties and symptoms. Further to this, a diet consultation was arranged for me. I had a similar video consultation with a dietician arranged by the Tata Trusts, and she spent a good amount of time understanding my food habits and my current problems. She not only provided diet suggestions in the local language, but also provided a time schedule for my meals. After following this diet, my food intake increased slowly and my weakness also reduced. I was able to bear the pain of cancer — thanks to the appropriate diet. Now I go regularly to this centre for video consultation, and don't worry about the troubles of travelling. I thank all those behind the development of telemedicine consultations. It's really helpful for cancer patients like me, and brings the specialist consultation within our reach", shares Bannepaka.
A labourer's struggle with type 2 diabetes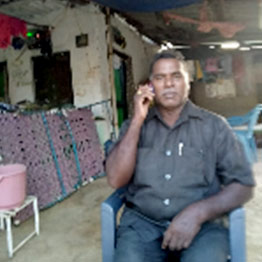 Swarna Lurdhu Kumar bounced back to health after type 2 diabetes
Swarna Lurdhu Kumar is a 55-year old man with type 2 diabetes. He was diagnosed with it two years ago, and his other medical problems include obesity and hypothyroidism. He had a history of heavy alcohol usage, but quit drinking a couple of years ago. He visited the telemedicine centre for a routine follow-up and was noted to have a high blood pressure. He was asymptomatic though, and was not afflicted with retinopathy or an enlarged thyroid. There was no clinical evidence of congestive heart failure or peripheral vascular disease.
"The nurse briefed me about the telemedicine facility and I was surprised to know that the consultation by the MBBS doctor in the clinic would be free", shares Mr. Kumar.
His laboratory evaluation was studied, and a doctor from the hub prescribed him medications. In addition to aggressively managing his blood pressure, attempts were made to counsel him with respect to lifestyle modifications. These included meticulous control of blood glucose, attempts to stop smoking, maintaining optimal body weight, following an appropriate diet, reducing salt in the diet and exercising regularly.
He followed all the lifestyle modifications and started taking medications on time. "Treatment at this telemedicine clinic not only enabled me to continue with my daily labour work again, but also saved me money, which I would have spent on travelling, doctor fees and costly medicines. This is really a blessing for our village", Mr. Kumar says, with a smile on his face.
Timely diagnosis helped K.N. Reddy of Gandipalli village receive treatment for his diabetic leg
Kata Narasimha Reddy from Gandipalli village, Kanchikacherla Mandal visited the Kanchikacherla clinic a year ago when he injured his leg. With the support of the local Medicinal Practitioner, he was given medication for his injury, but all efforts were in vain, since his condition did not improve even after a month. One day, at a bus stand in the village, he saw the banner of Swasthkutumbam clinic—supported by the Tata Trusts, and decided to visit it, with hope for a solution. When he reached the clinic, he was pleasantly surprised looking at the facilities and with the humble welcome he received. He was subsequently briefed about the telemedicine consultation facility and his basic check-up. As part of the routine, the telehealth assistant screened him for diabetes and hypertension. To his astonishment, the results confirmed that he was a diabetic.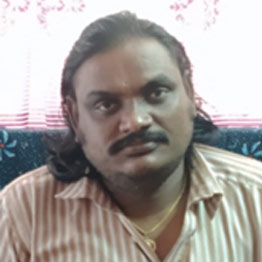 K. N. Reddy was relieved after visiting the Swasthkutumbam clinic
Reddy shares his experience, "Through advanced connected medical devices, an MBBS doctor at the Vijayawada Hub could read my pulse rate, blood pressure and oxygen level – over the telemedicine platform." With renewed confidence in the Swasthkutumbam clinic, he became increasingly amenable, open and frank with the doctor. The doctor explained to him about the probable diagnosis, and prescribed medicines. Reddy says, "I was initially worried about the cost of treatment, but when I got a bill for ₹85 for 10 days, I could hardly believe my eyes, considering that it was equivalent to the two-day cost of buying groceries."
As the government announced a nation-wide lockdown due to the Covid-19 pandemic in March 2020, Reddy became worried about his monthly check-up for diabetes. However, to his surprise, he received a call from the Kanchkacherla clinic, telling him that teleconsulting services were available, and all he had to do was to call them to initiate a consultation. This service from the Tata Trusts has ensured that many individuals like Reddy received their medication even in the lockdown phase, and stayed safe at home.
The Tata Trusts, through the telemedicine initiative, have made health care accessible to the rural and urban population.