A green energy solution: The Community Solar Irrigation Model
Introducing distributed renewable energy solutions in agriculture is a radical idea that can sustainably transform farming communities. One such intervention is visible in rural Karnataka, where the Tata Trusts have introduced a community solar irrigation model (CSIM) programme. The CSIM programme is one of the Trusts' thematic interventions in the area of agricultural livelihoods, and it is implemented by Kalike, an associate organisation of the Trusts, along with the Sustain Plus Foundation.
The CSIM programme is cutting-edge in terms of its service model as well as its technology. It addresses the community's electricity-related challenges by equipping farmers with a 5-horsepower (hp) solar pump. This pump can be used from 7 a.m. to 5 p.m. at a minimum temperature of 21°C, and it has enough water pressure to easily run sprinklers and a drip irrigation system over an area of 10-12 acres. This means that up to three farmers can rely on a single pump to irrigate their lands. The farmer who installs the solar pump is referred to as the lead farmer and (s)he is required to supply water to two or three other farmers. The terms of water sharing are mutually decided by the farmers themselves.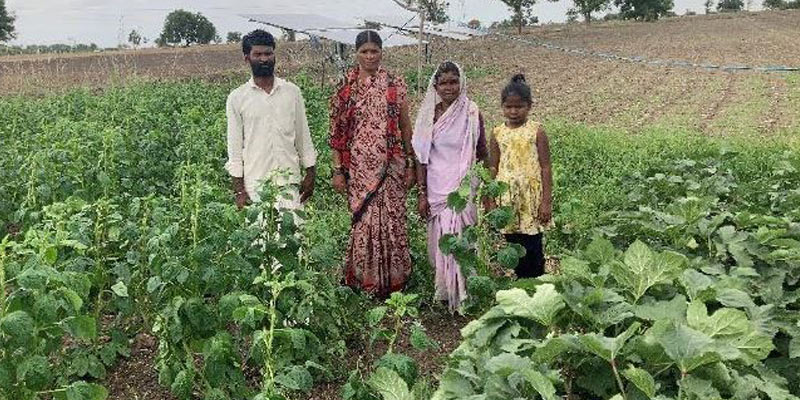 High and dry
Mr Eranna, a resident of Kurkunda village in Karnataka's Yadgir district, owns five acres of farmland. The income from the farm supports his entire family comprising his wife, son, daughter-in-law and two grandchildren. The region's black soil is exceptionally rich and ideal for growing cotton and vegetables. However, a longtime shortage of irrigation water has limited the family's ability to expand their farm.
Some time ago, Mr Eranna got a borewell dug on his land under the state government's Ganga Kalyana scheme. But the cost of getting an electricity connection to the borewell proved beyond his reach. He then built a 1.5km-long diesel generator-powered pipeline to his farm from a nearby stream. The pipeline cost him around Rs87,000. However, this attempt did not succeed either. The low water pressure made it impossible to draw enough water from the stream. Regular breakage of pipes due to harsh weather conditions, leakages, the distance between the stream and Mr Eranna's farm, and the rising cost of generator rentals and diesel also made the pipeline an unviable idea.
Following these two failed attempts, the family was forced to pin their hopes on the annual generosity of the monsoons to irrigate their farm.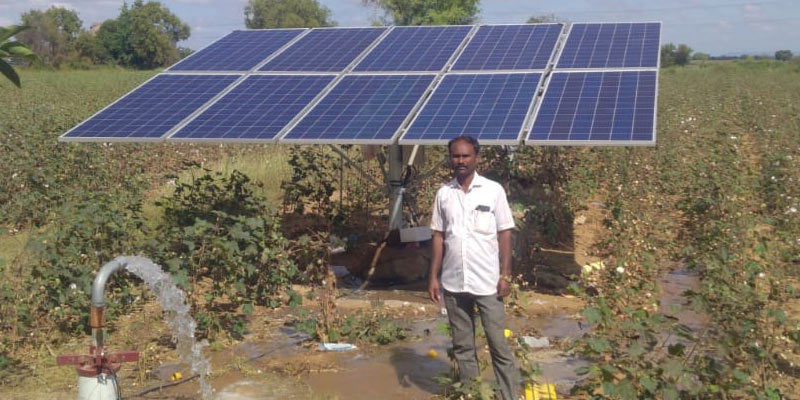 An eco-friendly and farmer-friendly solution
Mr Eranna heard about Kalike's community solar irrigation model from a local banking correspondent. He learnt that the system could assure 10 to 12 hours of irrigation water daily and that the maintenance costs were also low. Filled with hope, Mr Eranna immediately approached Kalike's team. After the mandatory site feasibility survey, documentation check and bank verification formalities, a 5-hp solar-powered irrigation pump was installed on his farm land and connected to the existing borewell (which was lying idle).
Soon after his solar pump unit was installed, Mr Eranna started cultivating a variety of vegetables. Seeing Mr Eranna's interest in vegetable cultivation, as an extension service, Kalike's team provided different varieties of vegetables that could be grown over a one-acre area. Since his entire family (barring his grandchildren) is involved in farming, Mr Eranna did not incur any additional labour expenses. Even better, his water-related costs drastically dropped after installing the new system. "Our irrigation expenditure has reduced to a third of what we used to pay, if not less," he says.
Between March and June 2022, the family cultivated watermelon, vegetables like cucumber, okra, and cluster beans, and green leafy vegetables like coriander, spinach, fenugreek and sorrel. They earned a net profit of Rs49,500 in just four months.
While other farmers in the village were still waiting for the rains, Mr Eranna's family completed sowing cotton, since they were assured of irrigation water thanks to their solar pump. This ensured that their cotton crop was safe from pest and disease attacks, which normally occur due to late sowing. Sowing the crop on time also guaranteed them good yields and better pricing in the market. Thus, the CSIM model has become a boon for Mr Eranna's family. "We are stress-free now, since we are assured of water throughout the year," says the relieved farmer.
Recharging hope
Seeing the good yields from vegetables and watermelon, the family has now decided to cultivate multiple seasonal crops through the year. "The solar pump has helped me realise my goal of growing vegetables continuously without waiting for the rains, which was not possible earlier," says Mr Eranna. That's not all; with Kalike's motivation, Mr Eranna's family is also contemplating building alternative income streams. "I am eager to start keeping goats and chicken on my farm," he says.
Kalike now plans to help the family implement value-added activities like drip and mulching for watermelon, integrated pest management for higher productivity, and organic manures for reducing the cultivation cost. Regular training and technical support as well as marketing linkage support will be provided to them.