At first glance, 18-year-old Vrutik Keni is your typical next-door teenager. What sets him apart is his rousing passion for music. Vrutik is an avid guitarist with a penchant for jazz and Hindustani classical music. But what stands between his talent and his dreams is his background. He's one of the many dreamers from Dharavi, Asia's biggest slum community, home to a million hopes and dreams.
Vrutik, who is a strong influencer among his friends who are keen to pursue their passion for music, is determined not to let his background define him. "I'd like to become a music teacher and change my destiny," he says, determination writ large in his eyes.
The silver lining
Vrutik's passion was not destined to wither in isolation. The young musician became part of a unique grassroots initiative called 'Inspire India' that would help him bridge the gap between his talent and opportunities, and give him the impetus to write his own destiny. Inspire India is a collaboration between the Shankar Mahadevan Academy and the Tata Trusts that offers music training in Hindustani classical music, instruments and popular songs to children and teenagers across marginalised communities across marginalised communities in Mumbai.
The initiative functions on a three-spoke model where training centres in Sion, Govandi and Chembur will offer daily classes to students on a semester based system. It also implements a series of advocacies which look at offering quality training in music at the grassroots. Further, Inspire India builds artistic skills for the employment of young musicians aspiring for a career in music as educators. The programme also engages with women and elders across marginalised communities through music advocacy to offer advice on sanitation, family planning, etc.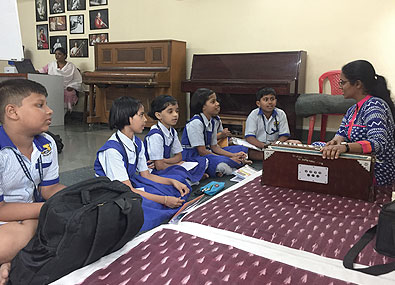 Low notes and high ones
The programme has not always had a smooth ride. "All our initiatives to secure large enrolments were failing," says Ritika Madan, Mumbai city head of Inspire India . "Parents were reluctant to send their children for training." And the project was back to square one. It was then that the teaching colleagues involved in the project developed a strategy to drive communities with music. "This was the origin of the project's music advocacies," admits Ms Madan. "Our students from the current semester performed in communities; this led to large registrations because parents were completely sold on the concept." Music advocacy has now become the programme's go-to plan for enrolment as they continue to build training across the three centres.
But the high notes more than make up for these issues. 2018 was a particularly good year for the programme. Fifteen students appeared for the prestigious Trinity College London qualifications — a globally recognised music grade examination — for western instrumental, comprising guitar and piano.
These students are first generation music enthusiasts who have had no formal music schooling. But they were determined not to let their backgrounds define their destiny. All 15 of them underwent rigorous training for the certification, and every single one of them passed. Eight of these students, including Vrutik, received a distinction.
For Vrutik, and the other 580 children who are part of this programme, Inspire India instils a sense of personal and professional belonging. "It's my life's greatest blessing," says Vrutik, who is determined to continue influencing his friends and to make music his career. "But for now, I need to practice non-stop."