Ravi Jalotiya is a young man from Navi Mumbai. The axiom that 'the moment you realise you deserve more, you become unstoppable' underpins his story of empowerment through skilling. "It is not that I didn't want to or didn't like supporting my father," says Ravi, "but at one point, I decided I have to achieve something on my own."
A path opens up
Two months later, Ravi's uncle, who worked as a watchman, suggested that he enroll in a course of his choice under Tata STRIVE, an initiative supported by Tata Trusts that addresses the pressing need of skilling India's youth for employment, entrepreneurship and community enterprise.
Ravi, hesitant at first, decided to give it a try. "I visited the Airoli centre, because it is close to my residence. I met with the counsellor, did a centre walkthrough and went through the interest inventory procedure. BFSI business development executive [BDE] was the course I wanted to enrol for."
But there was a problem, the BFSI BDE course was already underway. Ravi had to wait for two months before the next course began. It put a dampener on his enthusiasm to do "something on his own". It also meant that he, along with his two brothers, would now have to spend two more months assisting his father in his business of supplying women's footwear. But then, the two months went by fast. In January 2019, Ravi enrolled for the BFSI BDE course at the Airoli centre.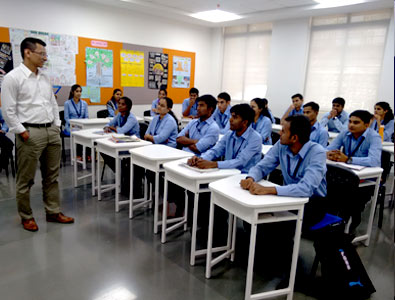 Let the skilling begin
Initially, although Ravi loved attending classes, he was shy and didn't participate proactively. Gradually he gained confidence and started participating enthusiastically in the Youth Development Modules and gained a reputation for being able to "get work done." His facilitator, Lubna Khatib agrees, "I saw him transform. He learnt — and learnt pretty well — all he could about finance, customer relations and assessing needs. He developed leadership skills, excelled at role plays and collaborated with everyone on class activities."
Khatib adds, "You could see his eyes light up when attending various lectures. Ravi listened with rapt attention to stories from the finance field, of demands of the professional world, of having a strong value system, of struggle, of patience and of grit. Stories just like his."
Ravi sums it up succinctly, "I was an introvert, shy boy. I am an open, knowledgeable and confidant man now."
Hello (professional) world
By February end, Ravi and fellow batch mates completed their course and were 'ready' to enter the world of work. Ravi joined BlueChip Corporate Investments as a sales and marketing trainee. BlueChip, Kotak Mahindra Bank, Axis Bank, Tata Capital, Reliance Nippon and India Infoline are some of the reputed brands that onboard trainees from Tata STRIVE. Ravi makes between Rs15,000 to Rs45,000 a month (salary + incentive) in an investment season. From the batch of 2017, the trainee has now become a 'branch manager' in the last 2 years overseeing the company's new branch in Thane.
When asked, 'What does an investment season mean?' Ravi explains: "If you watch consumer behaviour and the investment ecosystem closely, patterns begin to emerge. So generally, before April, there is a rush to invest — which, we loosely refer to as 'investment season'. May-June thoda thanda rehta hai (the months of May and June are a bit 'dry', investment-wise)." Ravi had no background in finance, but his answer to the question seemed like something an industry expert would give.
Tata Trusts' skill development initiative has provided Ravi and thousands like him, from socially and economically disadvantaged backgrounds, with domain and life skills and acclimatisation to changing work environments — reducing unemployment and improving livelihood options. The trainees on their part have built upon their training and forged ahead, crafting better lives for themselves and inspiring others.