When 65-year-old Gunaseelan (name changed to protect privacy), a bike mechanic from Tirupati, was diagnosed with cancer of the lungs in April 2022, it came as a shock. Having heard about the Sri Venkateshwara Institute of Cancer Care and Research (SVICAAR) from newspaper articles and through friends, Gunaseelan had come to the hospital to continue his treatment.
SVICAAR, a unit of the Alamelu Charitable Foundation (ACF), was inaugurated on May 5, 2022. The unit has been set up by ACF, the cancer care implementation arm of Tata Trusts in collaboration with the Tirumala Tirupati Devasthanams (TTD) to address the gap in cancer care infrastructure in Tirupati and to bring comprehensive, affordable and accessible cancer treatment closer home. The state-of-the-art facility offers a complete range of cancer care services from diagnostics to medical oncology, surgical oncology, radiotherapy, nuclear medicine and palliative care.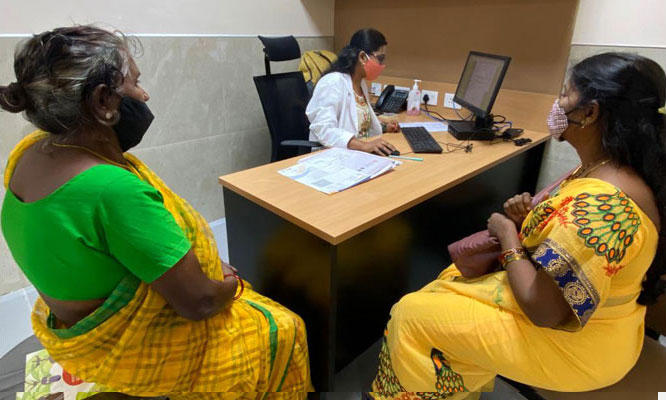 For Gunaseelan, SVICAAR offered hope – and comfort. He was pleasantly surprised by how easy it was to obtain an appointment, how clearly they gave him directions for the consultation and admission process and how quickly the team worked to ensure that there would be no delay in starting his chemotherapy sessions. Not only that, Gunaseelan and his family members were counselled in detail – they were informed about the treatment protocol and the side effects of chemotherapy. Enabled to take a well-informed decision, Gunaseelan has started his first cycle of chemotherapy at SVICAAR. "The treatment and care that I receive here has been excellent," says an emotional Gunaseelan. What's more, the treatment is affordable.
Gunaseelan's story is not unique. Innumerable cancer patients across India do not have access to cancer care, which is predominantly prevalent in more urban regions of the country. Cancer patients from rural areas have to travel long distances, stay away from their families and incur expenditures on travel, stay, living and care. The combination of illness, stress and expenditure compels many patients to stop treatment. But all this changed when Tata Trusts began to reimagine cancer care by putting patients at the centre of compassionate care. The Trusts believe that it is possible to save millions of lives by bringing affordable high-quality cancer care closer to patients' homes.
Extending care
The Trusts' entry into cancer care began more than seven decades ago, when the Tata Memorial Hospital opened its doors in Mumbai in 1941. Since then, the Trusts have been actively involved in cancer research and in setting up cancer care centres across the country. By partnering with central and state governments, public and private corporations, philanthropic trusts, medical colleges, etc., the Trusts are launching a slew of initiatives that encompass the entire range of cancer care from preventive to palliative.
In the north-eastern state of Assam, the Trusts established the Assam Cancer Care Foundation (ACCF) in 2020 in collaboration with the state government. ACCF is rolling out a first-of-its-kind step down model of cancer care infrastructure in Assam. The model comprises a state-wide network of 17 cancer care facilities comprising apex institutes, comprehensive cancer care hospitals, day-care chemotherapy, radiation and diagnostic centres.
Hon'ble Prime Minister, Shri Narendra Modi, inaugurated seven state-of-the-art ACCF cancer hospitals in Assam on April 28, 2022. The seven cancer hospitals are located in - Dibrugarh, Barpeta, Jorhat, Tezpur, Lakhimpur, Darrang and Kokrajhar.
Dibrugarh Cancer Centre's first patient was 43-year-old Sulekha Sonowal (name changed to protect privacy) from Seren Sonowal village, Dhemaji district, who had complained of abdominal pain on and off for two years. Diagnosed with ovarian cancer and having undergone surgery earlier, she was referred to Dibrugarh Cancer Centre. The patient was relieved to be spared the stress and expense of travel as the cancer centre at Dibrugarh was closer to where she lived. The medical team at the centre counselled her and her family members, helping them understand what the treatment protocol would entail. Sulekha is now undergoing chemotherapy at the centre.
The Trusts' comprehensive interventions in the cancer care vertical have helped countless patients like Gunaseelan and Sulekha gain access to cancer care. By building awareness about the disease, encouraging for regular cancer screening and counselling families on ways in which they can support the patient, the Trusts are slowly transforming the entire spectrum of cancer care in the country.