Limidamahalu Pradhan, a 43-year-old widow, lives in Dadumaha village, Ora Gram panchayat, Kotargarh block, Kandhamal district of Odisha. A tribal-dominated block rich in natural resources, Kotargarh is known for traditional crops like turmeric, millet and pigeon peas. But 70 per cent of farmers who engaged in the cultivation of traditional crops were using it mostly for self-consumption.
Millet is a nutrition-dense crop, but low productivity and poor marketing linkages in Kotargarh led to farmers gradually moving away from its cultivation. They typically followed a traditional package of practices (PoP), pest management was obsolete, and they were forced to sell their produce to middlemen who bought it at a lower price. As a result, millet remained a side crop, grown for domestic consumption, instead of a cash crop that could enhance income levels. Ms Pradhan followed the same pattern. On her two-acre holding, she farmed mostly paddy. What she earned was not sufficient to meet the basic needs of her family of four.
Winds of change
All this changed, however, in 2018, when Livolink Foundation, an associate organisation of the Tata Trusts, re-introduced millets, promoting modern methodology for its cultivation. Implemented to promote the production of millets as a cash crop, the programme developed a PoP in consultation with agricultural experts. Improved agronomic practices such as the System of Millet Intensification (SMI) along with organic pest and disease management were also introduced.
Trilochan Sabar, project executive, Livolink Foundation, collaborated with Community Resource Persons (CRP) to mobilise millet farmers to follow better farming practices to improve production, and to provide handholding support for market linkages. Initially, the farmers were indifferent to the new crop, but Mr Sabar's persistent efforts paid off. The established PoP was introduced through field-level demonstrations and farmers were trained in its use.
Modern methods
Ms Pradhan was one of the farmers who, with the support of the Trusts' team, was ready to try millet cultivation. She ploughed a half-acre of land and planted treated Bhairabi variety of ragi seeds. As advised by the CRP, she mulched it with a layer of paddy straw. When the seedlings sprouted and hardened after 21 days, she carefully transplanted the micro-plants into a prepared field, and fertilised them with Jeevambruta, a natural liquid fertiliser. The young seedlings were spaced 25cm apart, with Ms Pradhan using a rope marker to ensure even spacing. She first weeded the field after 15 days of transplantation, using a cycle weeder. Thereafter, she continued to weed at regular intervals. Thirty days after she first transplanted her seedlings, Ms Pradhan was asked to till her field. More plants emerged after the second tilling, much to the surprise of the other farmers.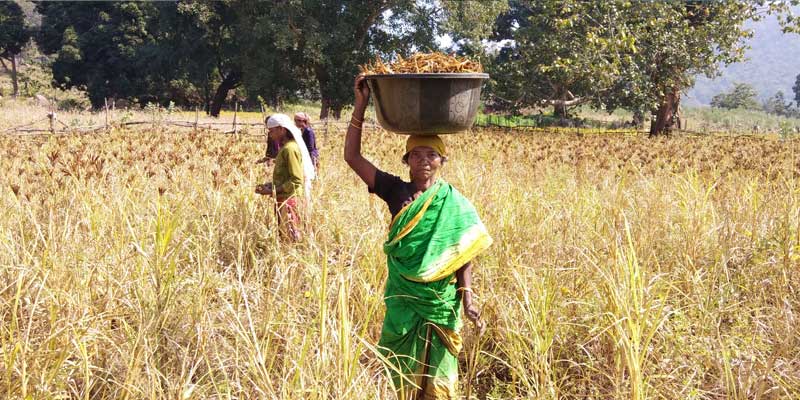 Ms Pradhan has become a role model for other farmers around the block. "I will never leave millet (ragi) cultivation," she says with a smile, as she continues to practice the advanced methods of cultivation that she learnt from the Trusts' team. Farmers in Kotargarh block are now cultivating millet not only for domestic consumption, but also to enhance their income. Till date, with the support of the Tata Trusts, 612 households have cultivated millet on 573 acres of land (cumulatively in three years), and 355 acres of land in 2020. Their success has inspired farmers in neighbouring blocks to cultivate this nutritious grain.