The universe works in mysterious ways — one isn't always quite sure of what lies ahead, what situation one might be confronted with or when people will change their entire perception of themselves, enabling them to evolve and find happiness in the things they already did, by just doing them differently, in different times. Here's a beautiful story of a group of artisans weaving handloom products in a tiny village called Chapathuri on the banks of the massive Brahmaputra River in Assam's Kamrup district, who immersed themselves in finding new meaning in the joy of weaving.
When Tata Trusts commenced with its intervention in this picturesque cluster through the Antaran Programme , the objective was to enable the artisans set up and manage micro-enterprises of their own through intensive education in weaving technique, design, communication, business development and computer literacy. Several women weavers from the village enrolled for the training programme and successfully completed 6 months of learning at the Incubation and Design Centre in Bhagwatipara.
Covering a distance of 7 kilometres from Chapathuri with limited options of conveyance and attending class for five days a week definitely wasn't easy for them — as many of them had to face family issues, being in the age group of 25 to 45 years with responsibilities at home. While many trainees from other villages had to drop out of the programme, these women persevered.
A few artisans like Dipika Kakati and Mamani Kalita attended Antaran-led exhibitions, gaining exposure to new markets and buyers. They shared their learning with others of their village, working in solidarity with other women, in contrast to many others from surrounding villages, who preferred to work individually. They encouraged younger girls like Firoja Begum and Nabanita Kalita from Chapathuri to take up the training programme in the second batch. "Learning to use computers was certainly the cherry on the cake," recounts Nabanita.
Due to the constraints of classroom education, it was soon decided that mobile classrooms in select villages, with smaller batches, would be more effective as it would save a great deal of time that artisans spent commuting. The idea started taking shape when a design internee from the National Institute of Design, Ahmedabad, CT Aditya Kumar Sinha, requested to work with a group of artisans who had gained a certain level of training through the Antaran programme, to help them enhance their design skills. The Chapathuri group was the logical choice.
It was a great learning for Aditya too as a design student. He recalls, "I thought I would be sitting indoors with artisans surrounding me at a table; however, things were quite different! An artisan entrepreneur, Rupali Didi, accommodated everyone at her place, which had a spacious and beautiful courtyard. We decided to spread out a few mats and make ourselves comfortable on the ground on the very first day, and there was no looking back!"
The artisans, on the other hand, were drawn into a different world within their universe — they had never thought of observing their own surroundings and to draw inspiration from nature to create new designs to incorporate in their work. The learning process beginning from colour theory ensured that each artisan could retain their individuality even as they explored collectively. They were asked to list out motifs from memory and try to understand how they might have originated. It was a revelation to them that all these motifs were inspired by elements of nature found abundantly in their surroundings and that it was for them to explore. When 60-year-old Lila with limited literacy, could cope and learn, she came out with renewed confidence and better understanding of her capabilities.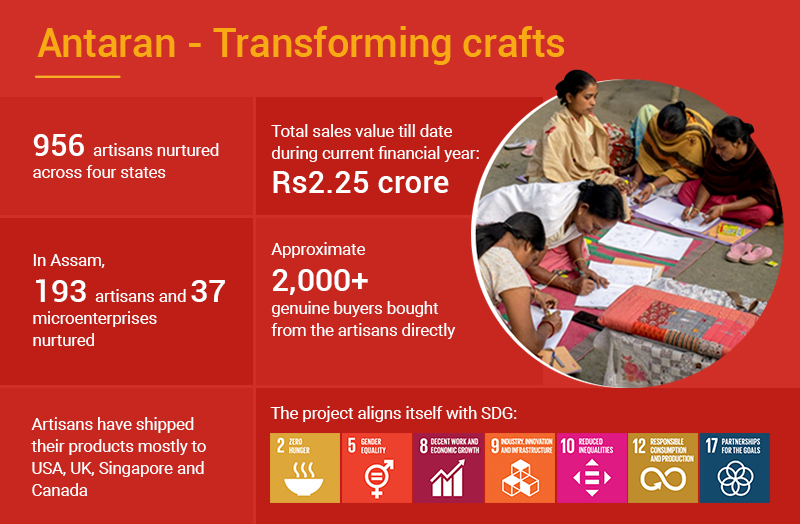 After having chosen a common element — the tulsi flower — it was interesting to see how everyone would sit together, to develop unique designs with their individual perspectives. They also saw magic unfold as they created a sample blanket of 484 checks, made with combinations of 22 shades of cotton yarn — each check having a different colour — as the shades of the warp (yarn placed in the length of the loom) and weft (yarn running across the width of the loom) formed different shades and colours when interwoven.
Motifs developed by the artisans were detailed out and turned into a collection of premium sarees made of Eri silk as part of a curated collection being offered to select customers. Other products of artisans nurtured under the Antaran Programme are available through the Antaran Artisan Connect website – www.antaranartisanconnect.in. These could make beautiful Christmas presents.
The women artisans of Antaran are an inspiration for others and have proved that there is great power in rising together!