Forty-year-old Dhaneshwari's family has six members — two daughters (of menstruating age), a son, her husband and herself. She and her husband are actively involved in all of Collectives for Integrated Livelihood Initiatives' (CInI, an associate organisation of the Tata Trusts) programmes since 2015, including the Lakhpati Kisan programme and Tata Water Mission, focusing on livelihoods and water and sanitation initiatives. She has a tap water connection and has constructed a toilet in her house. Also, she was one of the early adopters of a matka (mud pot) incinerator in her premises with support of the Menstrual Hygiene Management (MHM) teams of CInI and SUPPORT (an NGO partner of CInI).
The frontrunners
In 2019, the MHM programme was initiated in Kajri with self-help group members. During the training sessions, there were discussions regarding methods of safe disposal of used sanitary pads. Matka incinerator was one of the methods advocated. Not many women welcomed the idea of installing one in their backyards, but Dhaneshwari was one among the few who volunteered to do so. Her daughters used sanitary napkins during their periods and were disposing of their used pads by burying them in the mud, near their hand pump, where wastewater collected. However, they did not like their disposal process because during summers, the used pads were exposed and were seen by everyone, including males, and caused them much embarrassment. Additionally, it created a health hazard by being buried near the handpump.
The MHM training enlightened Dhaneshwari about the benefits of the safe disposal of used sanitary pads through a matka incinerator. With the help of the team, she installed an incinerator in front of her house.
While in Maharashtra, thirty-two-year-old Pramila Balwant Padvi of Survani village in Dhadgaon taluk of Nandurbar district, also installed a matka incinerator at her residential premises. Pramila works as an Accredited Social Health Activist (ASHA), while her husband earns his living as a farmer. Sharp-witted Pramila is constantly on the lookout to learn new things with the support of her mother-in-law. Pramila enthusiastically participates in all activities organised by CInI in her area.
Soon after CInI implemented the MHM programme in her village in July 2020, it was followed by a demonstration on the construction and use of matka incinerators. However, no one was ready to give a matka to create an incinerator, or use one. But Pramila's mother-in-law came forward with an old matka and said, "Take this and make one near our house. My daughter-in-law will use it." A matka incinerator was installed and Pramila started using the incinerator. Initially, she was the only one using it. Later on, two of her friends, Jayashree and Vaishali, joined in.
Best practices bring change
The installation of the matka incinerator brought small yet significant changes in the families, and surrounding communities, of Dhaneshwari and Pramila. "One of my daughters is unable to walk long distances and suffers from severe physical discomfort during her menstrual periods. When I came to know about the matka incinerator, I got one installed at my house. Now both my daughters use it and are aware of the importance of menstrual hygiene management," recounts Dhaneshwari.
Her daughters' inhibitions about menstruation have vanished after receiving the MHM training. Earlier they used to use the same pad for prolonged periods, worrying about the disposal. Now, with knowledge about the safe and hygienic management of their periods and having disposal mechanisms at hand, they can manage their periods better. They no longer hesitate to talk to male family members about menstruation and openly ask them to buy them pads.

While in Survani village, Nandurbar, 33 groups, with a total of 289 trainees including Pramila, participated in the MHM sessions. Pramila was a member of the first group. She and other trainees are amazed at the comprehensive information shared during the MHM session. Pramila exclaimed, "We had such trainings as we work as ASHAs, but the information we received through the MHM sessions covers much more and has helped us understand it much better." Pramila and her mother-in-law's enthusiasm has inspired many. Anganwadi (childcare centre) workers passing by their home express their eagerness to see and learn about the incinerator.
Frontrunners become role models
The matka incinerator afforded Dhaneshwari the opportunity to meet bureaucrats, local governing body representatives and other important people, who visited her home to discuss the innovation and its positive impact. "I never thought I would get to meet and network with so many people through this initiative. Many visit my home to see the model and understand the process of making and using one. I'm able to share information about the benefits of matka incinerators with everyone. It has not only been helpful in managing our menstruation, but also boosted my confidence," shares a smiling Dhaneshwari.
Pramila's youngest daughter, studying in the 3rd grade, on a visit to her aunt (Pramila's sister), told her how her mother disposes of pads. Pramila's sister called her up to understand more about the matka incinerator. "I am proud that even my young daughter now understands the importance of disposing of sanitary pads hygienically….and I will soon teach my sister how to make and use a matka incinerator," says Pramila.
The innovative matka incinerator is slowly but surely finding its way among the rural-tribal communities and gaining momentum in the villages – and along the way is helping community members in destigmatising and normalising the period.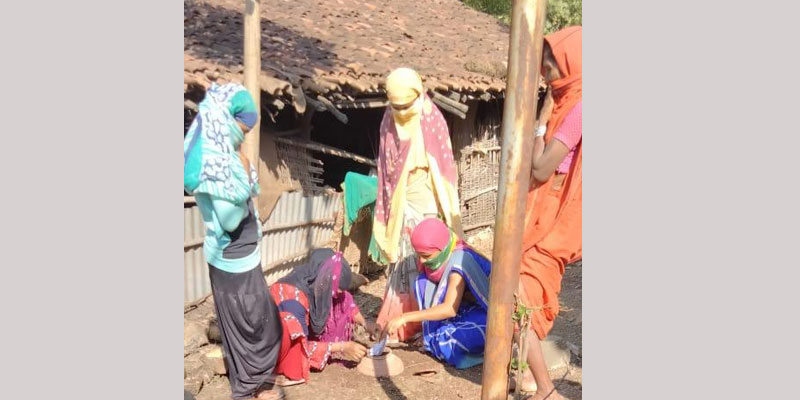 About the programme:
The Tata Water Mission's Menstrual Hygiene Management programme promotes safe and effective menstrual hygiene management in around 900 villages, covering a stakeholder base of over 200,000 women and 45,000 men of all ages, over a period of three years. The programme seeks to build a socio-cultural environment that is conducive for girls and women to manage menstruation with dignity and without any fear, and also involves boys and men in the conversation to make them aware about MHM and create an open ecosystem that can break myths and barriers of taboos and gender stereotypes.
The initiative began with the mapping of existing knowledge, attitude and practices within target communities. It tapped local implementation partners and self-help group networks to disseminate behaviour change communication at school and community level. Field-level activities involving sensitisation workshops and training of frontline health and sanitation workers, women, adolescent girls, couples and other stakeholders have helped achieve demonstration and scale. The aim is to help in de-stigmatising and eradicating social taboos surrounding menstruation, by equipping the beneficiaries with knowledge and facilitating the provision of menstrual management products.