For over a century, the Tata Trusts have come to symbolise humanitarianism at its most basic level. Several of the Trusts' initiatives are focused on rural upliftment through initiatives for improving agricultural income. Through associate organisations such as Collectives for Integrated Livelihood Initiatives (CInI), the Trusts works in the central India tribal belt. Farmer-oriented programmes such as Lakhpati Kisan and Sukhi Baliraja in the west zone aim to empower small and marginalised farmers.
The Trusts' initiatives are active across tribal belt states such as Maharashtra, Jharkhand, Gujarat, Rajasthan, Madhya Pradesh and Chhattisgarh, with interventions that range from livelihoods, education and digital literacy, health care, skill development, migration, water and sanitation.
Here are three stories which show how programmes for water, horticulture and poultry farming helped change lives in Maharashtra.
From penury to lakhpati
Radikalam village in Nandurbar district is home to Alka and Rohidas Pawara, and their young family of three children. Eking out a meagre annual income of approximately Rs20,000 from their land holding, the young couple found it hard to provide two square meals to their family.
In 2015, the family was introduced to CInI, which was conducting training and exposure sessions in agriculture under the Trusts' flagship programme, the Lakhpati Kisan programme (Lakhpati Kisan means a farmer / farming household which earns one lakh ie Rs1,00,000). The programme adopts a multi-layered, multi-thematic approach to augment the resource base of families and communities by strengthening livelihood activities including agriculture, livestock and horticulture. Simultaneously, it encourages community organisations to promote community action and ownership. This is backed by a rigorous regime of training and skill building at all levels of delivery and support, including a very active cadre of community resource persons (CRPs) who provide door-step support to communities. The Lakhpati Kisan initiative also layers interventions on Water & Sanitation and Education within the same clusters of villages.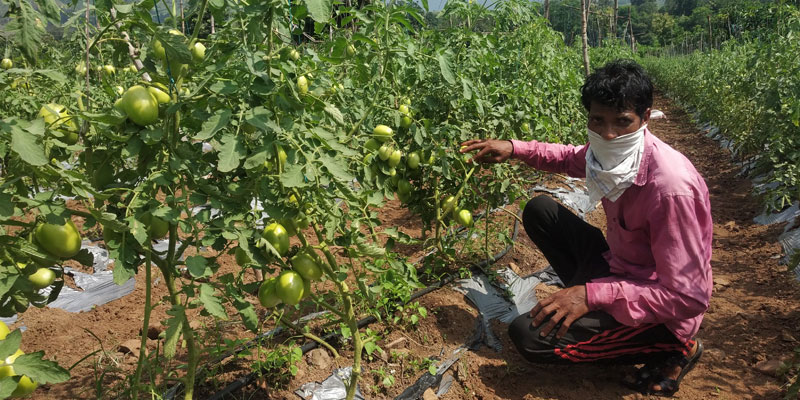 When Alka and Rohidas attended CInI's sessions, they learnt about the benefits of high value agriculture (HVA) crops such as seasonal vegetables, fruits and spices. From the trainers and other successful farmers in the vicinity, the couple also learnt about scientific practices and crop-specific package of practices (PoPs).
By 2016, the young couple were actively following the PoPs for traditional crops like jowar and seasonal vegetables, and for the fruit orchard that they planted on their 2.12 acres of land. The programme co-ordinators supported them on several fronts, addressing their concerns and providing new opportunities.
That same year, Alka and Rohidas became members of the 'Indi Raja Shetkari Water Users Group'. This helped them acquire a diesel genset for assured irrigation. In 2017-18, they engaged with breed improvement and goat farming to improve their returns. By 2019, they had adopted the advanced commercial farming method of 'drip and mulch' for commercial vegetable production.
Over the years, their income has grown steadily. In 2019, for the first time, Alka and Rohidas became 'lakhpati' farmers when their annual income touched Rs1,69,200. This extra income allowed them to invest further in methodical and sustainable farming, which in turn helped increase their annual income.
A secure source of sustainable income has emboldened Alka and Rohidas to practice better farming techniques. From a stage where daily meals were uncertain, they are now in a position where they have been able to buy a two-wheeler with their earnings and continue to move ahead.
Inspiring change
Saraswati Pannalal Dhurve is a housewife residing in Baru village, Dharni block, Amaravati district. Her family consists of her husband, four daughters and a son. They lived off a meagre income from their 2.5-acre holding, and it wasn't sufficient to meet the needs of their family.
Fortunately, Saraswati came into contact with the Tata Trusts' Sukhi Baliraja Initiative (SBI means 'contented farmer'). She became a member of the Sipna Agricity Producer Company Ltd, a Farmer Producer Organisation (FPO) formed and promoted by SBI to support farmers in getting better rates through market linkages.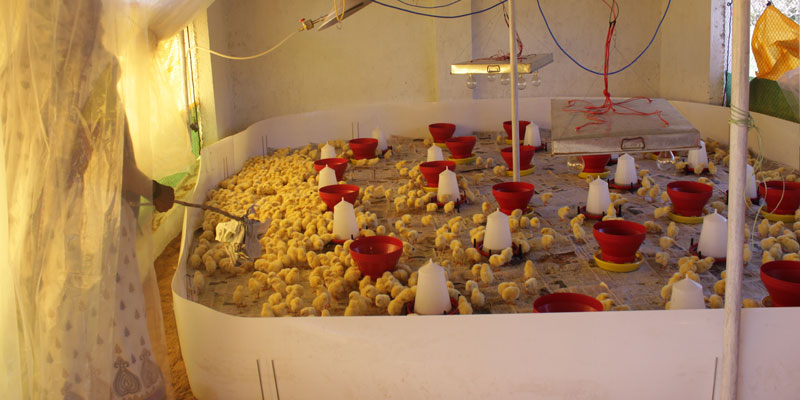 When SBI initiated a poultry rearing project in the region, Saraswati decided to join in. She constructed a poultry shed on her land and began a poultry business with 500 chicks. SBI's team of experts trained the participants on rearing the birds and their upkeep. So far, Saraswati has successfully reared five batches of chicks, while continuing the other farm activities. The income from poultry farming goes towards her children's education. Her ambition is to raise her income even further to about Rs25,000-30,000 a year. Today, Saraswati is a role model in her village as her commitment to progress is an inspiration to others.
Through initiatives like Sukhi Baliraja and Lakhpati Kisan, that address local needs and community challenges, the Trusts aim to empower and transform the most underprivileged communities across the nation, and support them in improving their quality of life.
The power of a collective
Maharashtra has suffered drought conditions for decades, causing untold distress to communities in the state's rural belt. For instance, agriculture and daily-wage labour remain the primary occupations in Kosi, a small tribal village 60km away from Gadchiroli district in Maharashtra.
Kosi is home to about 290 persons belonging to 74 households. The locals depended on a water tank for both agricultural and domestic water, but over the years, the tank's water storage capacity had reduced considerably. The tank, one of many in the district, was originally built by Gond rulers over three centuries ago to serve the needs of their subjects. Over time, these old tanks – called Malgujari tanks – have fallen into a state of disrepair. The Tata Trusts, with the support of Bharat Petroleum Corporation Limited (BPCL) and in collaboration with the Maharashtra government, led an initiative to desilt and improve the water storage capacity of some of these tanks, including the one at Kosi.
When an initial survey of the tank was conducted in February 2020, it led to the discovery of a leak. The villagers were informed that a tank that required repairs couldn't be chosen for desilting. That was when they stepped forward and decided to take up the repairs themselves.
With advice from Tata Trusts, a Water User Group (WUG) named 'Gondawan Shetkari Sewa' was formed with 15 members. With the support of the villagers, the WUG succeeded in getting the government irrigation department's permission to repair the tank. With 'shramdan' – volunteer labour from the villagers – the WUG repaired the tank and cleaned the entire bund area around it. They also worked hard to transport the desilted matter to a dumping site. This silt provides good fertilising inputs for fields.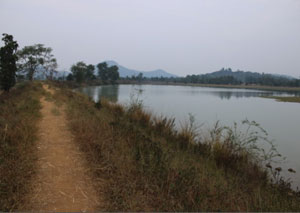 The tank in Kosi, Maharashtra, needed repairs and desilting
With a command area of 263 hectares, the tank has the capacity to provide irrigation water to 82 farmers. The WUG members had unanimously decided on a contribution of Rs500 from each farmer. So far, Rs9000 has been collected. Members of the WUG have been trained in the proper maintenance of the tank, use of water and water charges. After being desilted, the storage capacity will increase from 178 thousand cubic metres (TCM) to 196 TCM, thus serving more households.
The efforts of the Water User Group have not just benefitted the entire village, it has helped bind the community and bring people together for a common cause. This is a prime example of what a community can achieve together when provided with an impetus to do so.