When Nirmalaben completed her graduation in 2011, she was married off to Sureshbhai Bariya, a resident of Goriya village of Dahod district in Gujarat. Both Nirmalaben and her husband are differently-abled. At the time of their marriage, Sureshbhai was unemployed. The newly-married couple lived in a joint family with 14 other members.
Between 2011 and 2013, despite his physical challenges, Sureshbhai managed to find employment as a daily-wage labourer in the nearby forest. He sold stones and scrounged enough money for two square meals. Harsh poverty and lack of resources limited their social and personal aspirations, and the couple decided to migrate to the nearest metro city in search of employment. However, their physical challenges restricted their options, and they were forced to seek soft labour at construction sites. The remuneration was pitiful, and like many other migrants, they found themselves trapped in the clutches of money lenders, diving deeper into debt with each passing day.
The impetus to change
In 2015, however, the Collectives for Integrated Livelihood Initiatives (CInI), a nodal agency of the Tata Trusts, launched the 'Mission 2020 – Lakhpati Kisan: Smart Villages' programme in Dohad, Gujarat. The objective was to bring resilience and economic empowerment to tribal communities, and nurture associated households to rise out of poverty through layered livelihood activities. The programme also focusses on food security and livelihood issues of these rural communities, as well on improving their overall quality of life and is being implemented in 17 blocks across Maharashtra, Gujarat, Jharkhand and Odisha.
Learning about the programme, Nirmalaben decided to join it. She possessed one acre of ancestral land on which she had practiced traditional agriculture for one single season. Now, however, the initiative designed a systematic livelihood prototype specifically for Nirmalaben, and provided her with various capacity building initiatives that empowered her to maximise income from that small parcel of land. She was trained to incorporate high-yielding, high-return crops into the crop basket. She learnt to adopt scientific practices such as seed treatment, crop geometry, split nutrition, preventive pest and disease measures, timely irrigation and harvesting, etc. She also learned to intercrop maize with pigeon pea and paddy with vegetables during the Kharif season, and to plant gram, maize, vegetables, ginger and turmeric during the Rabi season. That first year, she netted Rs65,000 during the Kharif season and an additional Rs78,000 during the Rabi season.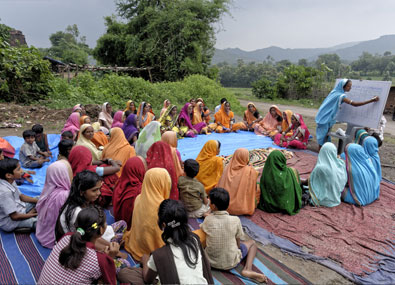 The future beckons
Nirmalaben was then introduced to dairy as an option for additional income. It would help her to diversify her risk. The apex community institution facilitated her visit to Sheara and Mehasana to visit the Panchmahal Dairy and to meet progressive dairy entrepreneurs. She stayed there, learning to identify potential milch animals by extracting milk. When she gained enough confidence, she took out a loan of Rs60,000 from the apex body to buy a buffalo. She also motivated 30 other farmers to take advantage of loan-based initiatives to purchase cattle. Her efforts led to a local entrepreneurial revolution – she and the group supplied milk to a newly established dairy cooperative in Goriya village. In her very first year as dairy farmer, she earned Rs28,000. With market-linked agriculture and dairy farming, Nirmalaben was now a 'lakhpati kisan', earning Rs1.71 lakh a year.
Gaining confidence from these experiences, Nirmalaben invested Rs30,000 in deepening an existing well and Rs60,000 in digging a new tube well. With this infrastructure in place, she was able to cultivate vegetables in the summer as well, adding Rs12,000 to her annual income.
The next Kharif season saw her adding maize, pigeon pea, open field vegetables and seasonal floriculture, and during the Rabi season, she cultivated wheat and vegetables. In the third year with this programme, Nirmalaben added two buffaloes to her herd. She sold the milk to the dairy cooperative which gave her an additional income of Rs75,000, raising her annual income to Rs2.5 lakh.
Joining CInI has proved to be a boon for the Bariyas. Despite her physical limitations, Nirmalaben has been able to dig her way out of poverty. As a 'lakhpati kisan', she is a motivational leader who dreams of a better life for her community and herself.