Through the early days of the pandemic and the mandatory lockdown, one segment of society struggled hard to cope – the elderly. "I don't have a ration card and all other shops are closed. I don't have any groceries. I don't know how I will survive." This anxiety was expressed by Laxmibai Waghmare, 66, residing in Bamanvada village of Maharashtra's Chandrapur district.
The lockdown aggravated all the existing problems faced by senior citizens – such as lack of access to groceries, items for daily needs and health care, isolation, loneliness and financial insecurity. Curfews and health scares meant senior citizens faced loss of work and income, and family tensions, besides restricted mobility. Many of them could not even access their pension accounts for funds.
All of these combined to create new psycho-social issues among the elderly. Laxmibai's anxiety, which she shared with a field coordinator of the rural eldercare team, was a common experience for many. Throughout the pandemic, the rural eldercare team was engaged in supporting the elderly with the help of gram panchayats, public health staff and local volunteers.
The Tata Trusts' Rural Elder Care programme is implemented through on-ground partner Janseva Gramin Vikas Va Shikshan Pratisthan at Chandrapur in Maharashtra, with support from the Trusts' associate organisations in different geographies, such as Kalike in Yadgir, Karnataka, and Collectives for Integrated Livelihood Initiatives (CInI) in Nandurbar, Maharashtra.
When access to treatment and medications was needed, the elderly were connected to government medical staff, such as ANMs (auxiliary nurse midwife) and ASHAs (local health workers). To ensure access to pensions, groceries and essential goods at their doorsteps, gram panchayat field volunteers stepped in to help the elderly. The programme reached out to about 23,500 senior citizens via outbound calls, volunteers and field visits.
Health support
Medical support was one of the bigger challenges. Local transportation had stopped, there was fear of infection, and misinformation related to Covid-19. This led to seniors missing out on their regular doses of medications for chronic diseases such as hypertension and diabetes.
"My sugar levels were persistently high during the last month (referring to March 2020). The PHC doctor asked me to go to the hospital, but I didn't want to go to crowded areas. What if I catch the infection?" said a distressed 70-year-old Sitabai, referring to the first month of the lockdown.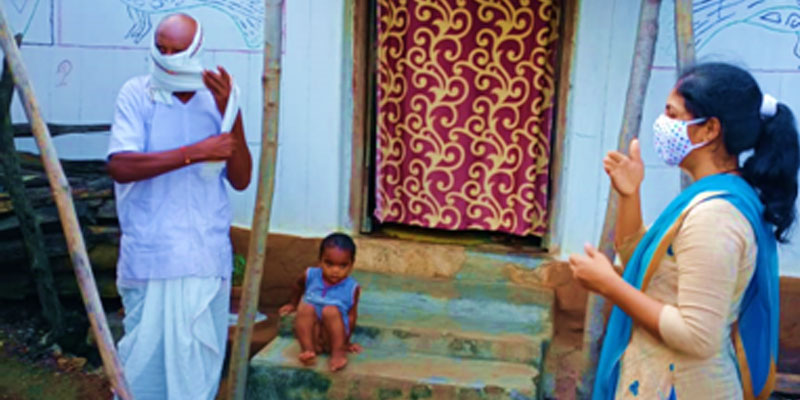 Like Sitabai, many of the elderly stopped visiting health facilities – in the fear that it would expose them to the virus. Bhagwan Singh, a 63-year old from Fatehpur village in Nandurbar, shared his concern, "The ASHA taai told me not to move out of the house because of the pandemic. I am a patient of hypertension. When my stock of medicines got over, I was very worried. I called up the cluster coordinator and he arranged for the medicines, and that was how I received my medication at home."
The rural eldercare team reached out to hundreds of such seniors to guide and support them in continuing their treatments and managing their pre-existing health conditions. Home visits were arranged with the help of local ASHAs and ANMs for their check-ups and medication.
Helping hands
When fear and misinformation was at its peak during the pandemic, the Trusts' eldercare team worked to reassure the seniors through authentic sources of information. The team ensured they received the right information about the pandemic, its risks and mitigation measures. Senior citizens facing anxiety, fear and loneliness, and the ones that required emotional support, were counselled and checked regularly by the team.
Financial issues were a huge challenge for hundreds of households. A survey conducted by the team showed that about a quarter of the elders needed financial support. Nearly 8 percent of the elders who worked as farm or daily wage labour had lost their livelihoods. Lockdown restrictions meant elders could not collect cash or pension funds from their banks. This adversely affected households that ran on the income of the elderly.
Over 9,300 elderly beneficiaries were assisted with access to health services, day-to-day groceries and other items, besides pensions by the rural eldercare team during March-October 2020.
These stories draw attention to the issues faced by seniors during crises and the need for continuity of comprehensive care. As per the 2011 Census, India has about 104 million people aged above 60 years and over 70 percent of them live in rural areas. Rural elderly with comorbidities are more vulnerable than most – they are at higher risk of contracting Covid-19 and have poorer access to healthcare facilities. Building community engagement and sensitising the community towards elderly care is a key objective of the Tata Trusts' Rural Elderly Care Programme. The intent is to help the elderly to stay connected, feel involved and purposeful and to be socially supported.