ASHA worker Ms Lalita Pawar lives with her farmer husband, four daughters and a son in Ashnal tanda, a hamlet in Yadgir district in Karnataka. Since Ashnal tanda depended on three-four public taps for its water supply, and since there were no taps in her lane, Lalita had to walk daily to the next lane to fetch water for her domestic and drinking needs.
The water supply was irregular, however, and the motor of the source bore well too would break down two to three times a year, causing great hardship to the entire community.
As an ASHA health worker, Lalita had numerous responsibilities, including attending to women in emergencies. But she and her daughters had to spend a majority of their time fetching water each day. Quarrels would frequently erupt at the public taps, and the family would have to run from pillar to post to meet their water needs. This often cut into Lalita's working hours, affecting her performance.
Lalita and her hamlet's water woes persisted till the Government of India's Jal Jeevan Mission (JJM) provided a ray of asha or hope. The JJM's Har Ghar Jal scheme envisions the provision of safe and adequate drinking water through functional household tap connections (FCHT) to all households in rural India by 2024.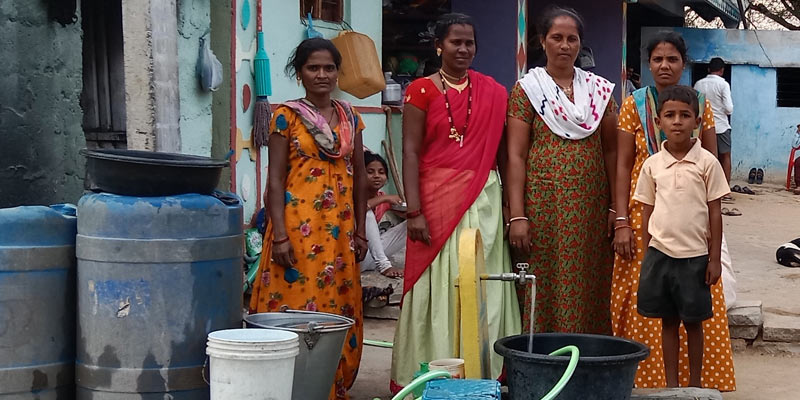 As soon as the JJM was extended to Ashnal tanda, Tata Trusts stepped in through its associate organisation, Kalike, to facilitate the same. Kalike played a critical role in ensuring community engagement in the planning and execution of the drinking water scheme.
As a result, an overhead tank (OHT) for providing water to the village was built recently. This is also connected to a tube well.
Mr Mahesh, Water man, worked hard to ensure that the tank received water supply, which is closely monitored by Village Water and Sanitation Committee (VWSC) President, Mr Dhanasing, and its members.
On her part, Lalita, actively participated in all the Implementation Support Agency (ISA) activities conducted in the village. This included meetings of the Gram Sabha, Participatory Rural Appraisal (PRA) and women's group, and Social Behavioural Change Communication (SBCC) events.
Along with the Kalike team, she also monitors drinking water quality of the water sources in the village.
Today, Ashnal village gets water supply for two hours in the morning and one hour in the evening. Lalita could not be happier as she now has a Function Household Tap Connection (FHTC) with sufficient water supply inside her home.
She says: "I am very happy because I don't have to run from street to street to fetch water anymore. The FHTC under the JJM has reduced my drudgery and I can now devote my time to my duties as an ASHA worker. My daughters too are no longer worried about missing school. Thanks to the JJM programme for fulfilling our 'asha'.