'Children come to school every day because of Medha milk,' says Ms AK Minj, a teacher at Krist Raj School in Chandwa block, Latehar district in Jharkhand. Medha Milk is milk fortified with Vitamins A and D, and is being provided in an initiative by the Tata Trusts to address the very grave issue of India's nutritional deficiency.
Longstanding problems
India has a very high burden of micronutrient deficiency, especially Vitamins A and D, iodine, folic acid and zinc. This costs the country nearly one per cent of its GDP – nearly Rs27,720 crore per annum due to illness, increased health care costs, and loss of productivity. According to the National Family Health (NFSH4) survey, Women and children are at higher risk, with nearly 53.1 per cent of women and 58.4 per cent of children from the ages of 6 months to 5 years suffering from anaemia. The consequences are dire – pregnancy complications, increased risk of maternal deaths, and higher instances of delayed mental and physical development in children.
Another survey suggests that more than 70 per cent of the people – whether affluent, middle-income or poor/marginalised – suffer from Vitamin D deficiency; 57 per cent of pre-school children have sub-clinical Vitamin A deficiency as well. While diet diversity can do much to alleviate these issues, the high cost of food and reduced nutrients in available food makes it nearly impossible to get required nutrition from a person's daily diet.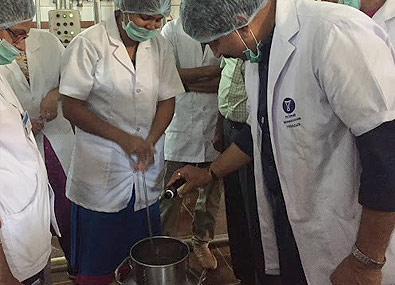 Call to action
Based on evidence-based studies and best practices, the Trusts strongly advocated for the release of fortification standards for staples so as to use it as a medium to deliver necessary micronutrients to the population.
'Food Fortification', or the addition of necessary vitamins and minerals to daily staples has been long considered a successful means of controlling deficiencies of Vitamins A and D, several B vitamins such as thiamine, riboflavin and niacin, iodine and iron in developed nations. Food fortification has also been identified by the World Health Organization, the Copenhagen Consensus, and the Food and Agricultural Organization as one of the four top strategies to combat micronutrient malnutrition. Staple food fortification is a simple, cost effective, scalable and sustainable solution since it requires minimal change in existing dietary habits.
The fortification of salt with iodine to counter cases of widespread goitre is one of the earliest examples of successful micronutrient interventions. Since 1953, it had also been mandatory to fortify Vanaspati with Vitamin A to address night blindness. Unfortunately, over the decades, Vanaspati had fallen out of favour – more and more people were using edible oils instead, and these weren't fortified.
The Trusts, therefore, put in a lot effort into hosting scientific panel discussions, and collating evidence garnered from pilot projects to make a pitch for a concerted plan of action. Finally, in 2016, the Food Safety and Standards Authority of India (FFSAI) released fortification standards for five staples – milk, salt, oil, rice and wheat flour.
In order to tackle these issues at ground level and to create an enabling environment for the nutritional security of the nation, the Trusts established the Food Fortification Resource Centre (FFRC) in collaboration with FFSAI. "FFRC has become the one source of information about the promotion of fortification efforts in India," says Mr Pawan Agarwal, CEO, FFSAI.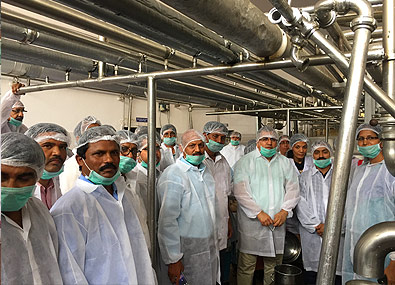 Surmounting barriers
FFRC's fortification strategy aims to target both manufacturers and consumers at the same time by building an efficient technical capacity for industries and creating consumer awareness and demand generation for fortified products. FFRC also aims to address the lack of micronutrients through the fortification of milk and oils to ward off Vitamin A and D deficiency. The efforts of the Trusts have succeeded in providing 123 lakh litres of milk per day to 82 million people in 15 states. "Medha milk is fortified with Vitamins A and D," says Mr Suhail Akhtar, concessionaire, Medha Milk Booth, Ranchi. "The demand for this milk has increased ever since people became aware of the fortified milk."
The Trusts also fortify oils which are used in more than 90 per cent of households in India. Around 3.836 million metric tonnes of edible oils fortified with the necessary vitamins reaches 321 million people in eight states each year.
Apart from this, directives from central ministries mandate the use of fortified oil, salt and wheat flour in the ICDS and mid-day meal programmes – this has encouraged states and union territories to adopt fortification of foods, which directly benefits children under these programmes. Since the adoption of these standards from 2016 onwards, many leading brands of fortified staples have achieved prominent visibility in the market. According to FFSAI, today, 110 brands of fortified staples from 62 top food and agri-companies are available in markets pan-India.
Millions of children in India under age five are not achieving their full developmental potential due to nutritional deficiencies and inadequate stimulation. Tata Trusts' major focus is in the first one thousand days, the window of opportunity for action and to take to scale proven interventions to make a difference.
- Dr Rajan

Shankar