Bihar is one of the least developed states in India with a significant gender disparity in access to financial services. Several initiatives have been undertaken across the country to ensure that all men and women, in particular the poor and the vulnerable, have equal rights to economic resources. Self-Employed Women's Association (SEWA) is one such initiative that aims to build solidarity and self-reliance among women in order to empower some of the most marginalised populations. With over two million active members across fifteen states, this grassroots movement is among India's largest and oldest nonprofit organisations.
In 2012, the national federation of this organisation, SEWA Bharat, formed a state-level thrift and credit cooperative society named 'Bihar Mahila Sewa Bachat Evam Sakh Swavalambi Sahkari Samiti'. This was done to realise the need for collective bargaining, greater outreach and a larger portfolio in Bihar. However, the cooperative needed to continuously build capacity of its grassroots leaders and staff in order to cater to the financial needs of increasing women in the community and realise higher standards of customer service for all its members. To address this, Tata Trusts made a grant to SEWA Bharat for a period of one year (June 2018 – May 2019) under the project 'Livelihoods, Capacity Building and Financial Inclusion – SEWA Bharat'.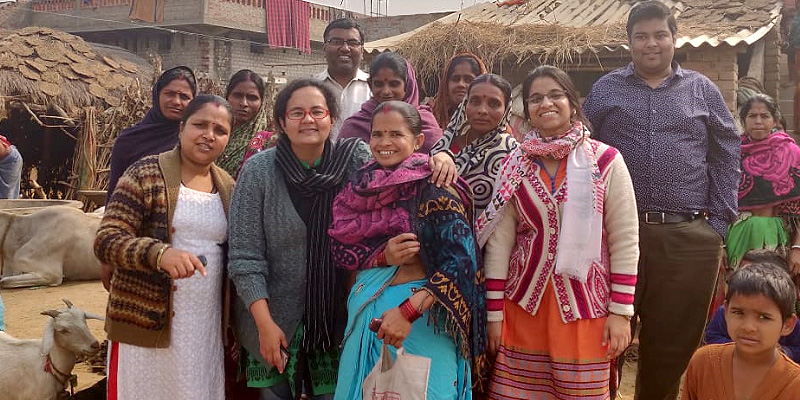 The project team conducted training sessions for building capacity of the board members, core executives, in-charge of the branches, supervisors, data entry operators and financial intermediaries (Vitta Saathis) of SEWA Bharat so that they could lead the institution and enhance the livelihoods of women in their community. Beena Ben, Baby Ben and Sangita Ben are among those who have received training under the programme. Beena Ben is a branch in-charge at Bariarpur branch of Munger district. She would often get overwhelmed during reporting and say, "System se darr lagta hai (The system terrifies me)". However, the trainings helped her with technical aspects of her work like cash management and book-keeping. The sessions on Google Sheets have made reporting a hassle-free process for her and alleviate her fear of using technology for day-to-day operations. The training sessions have also helped her inculcate team spirit among the field staff which has resulted in an improved loan recovery.
Similarly, Baby Ben, a Vitta Saathi, had been facing challenges in managing the records at her branch in Khadagpur. According to her, "Loan register kyun banana chahiye, yeh training lekar samajh aaya (The training has made me understand the need to maintain a loan register)". After attending the capacity building sessions, she is now able to manage field operations using a smartphone or a tablet which has helped her scale up operations and handle approximately 3,200 ledgers on a daily basis. With the help of these trainings, Sangita Ben, the in-charge of the Munger head office, has significantly improved her people management skills and is now capable of simultaneously managing her desk job as well as the field operations due to preparation of a daily work plan. She shares, "Kayi baar morale down ho jaata hai, lekin fir training mein jab achche se samjhaate hain toh haunsla badhta hai (There are times when my morale goes down, but things get better after they properly explain to me during the training)".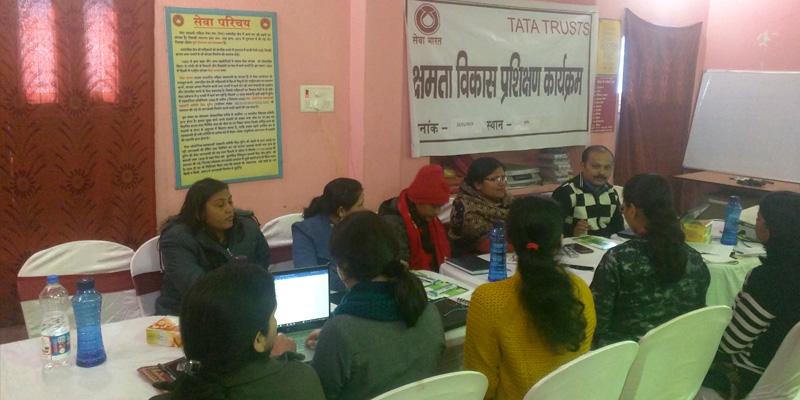 This intervention has enhanced the technical and functional capabilities of teams at SEWA Bharat and facilitated them in reaching out to more women from the vulnerable and poor sections of the society, thereby providing them access to various financial services, including microfinance. Under this initiative, the Vitta Saathis have been trained to encourage members to focus on savings rather than depending heavily on credit. The emphasis is on creating a shift from loan recovery to different types of savings products to provide the members with a diverse portfolio. It is now important that the teams across all area offices move beyond operations to strategic thinking in order to make themselves profitable.
From a broader perspective, this intervention has brought us closer in achieving the SDG 1 that aims at ending poverty by 2030 and SDG 8 that calls for strengthening the capacity of domestic financial institutions to encourage and expand access to banking, insurance and financial services for all.