The eastern Uttar Pradesh region lies low on the development index. Some of the main reasons behind its poor rank include underdevelopment, inferior infrastructure and limited natural resources. Around 30-40% families in Bahraich, one of the most backward districts of the state, fall in the below poverty line category. Taking note of the situation in 2017, Tata Trusts began working on improving the education situation along with livelihood, migration, health and public distribution system (PDS). In Bahraich district the Trusts started implementing Integrated Technology in Education (ITE) in 20 centres across 17 locations.
The initiative focusses on upgrading the status of education as it is directly related to the development index. Through this, the Trusts are directly reaching out to more than 2,700 first generation learners from grades 6 to 8. The programme aims to foster 21st century skills and quality learning through a project-based approach using technology. Students are encouraged to create artifacts aligned to curriculum with the help of teachers and facilitators.
Since the implementation of the programme, the attendance levels of students in schools have tremendously gone up. For instance, the average attendance in Madrasa Gausiya Israul Uloom has risen from 25% to 90%. According to Satya Varan Singh, Principal at Baghiya Upper Primary School, "The number of students enrolled this year is higher than the previous year and the dropout rate has also come down, thanks to ITE." Since the commencement of the programme, the learning levels of students have significantly improved and they are now actively engaged in project-based learning. They have created projects on crop cycle of the local crops, analysis of water consumption, etc. Students in the region have started applying the scientific concepts learnt by creating science models watching videos.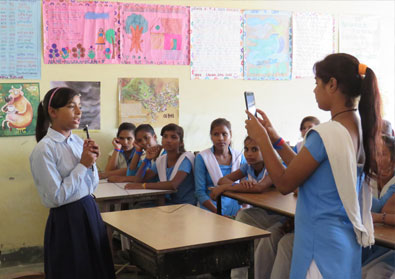 The ITE centres have also been instrumental in overall development of the students. Children got an opportunity to enhance their creative skills by making wall paintings and paper mache art works, during beautification of the school campus. Similarly, over 1,700 students were mobilised during summer camps and were trained in basic digital skills, along with various other activities, such as tailoring, craft making, mehendi designs, etc. Annual events have also been conducted at the centres for children to showcase their various projects. These events help the students become self-confident and encourage peer learning.
Recently, with support received from Sumitomo Mitsui Banking Corporation (SMBC), a Japan-based bank, the infrastructure in ITE centres has been upgraded. An ITE mela was also organised to showcase the possible outcomes of ITE. Students from the various centres came together and presented their projects, all of which were greatly appreciated by the attendees. The dignitaries expressed satisfaction with the progress made and encouraged the project team to continue the efforts.
With inputs from Aryadev and Panchalee Tamulee.