Empowering the disadvantaged sections of society with skilling opportunities is imperative for India's economic growth and social development. Developing skills of informal sector workers has emerged as a key area of intervention to improve the quality of life.
The Tata Trusts' skill development initiative aims to address the challenges associated with developing skills and micro-enterprise development among informal sector workers, especially those with low literacy. Sheela Soni (17) and Tersaram Garasiya (20) from Rajasthan's Sirohi district, who enrolled in the skill development initiative, have been successful in increasing their incomes and dream of a better future.
Sheela, from Bhavari Panchayat in Pindwara block, wanted to start earning to contribute to her family's income after she passed the 12th standard. On learning about the Trusts' skill initiative, she contacted the Swaroopganj branch of the Centre for microFinance, an associate organisation of the Tata Trusts.
The counselling helped her understand the advantages of skill training, and the employment opportunities that were available post-training. She joined the Rural Self Employment Training Institute at Sirohi for a month-long tailoring course. The training helped her learn various aspects of tailoring and also develop her personality.
Sheela has now become an entrepreneur, providing employment to eight widows and earns around Rs15,000 a month. She has been certified as Udyog Mitra, qualified to train girls and impart entrepreneurial skills. As a Menstrual Hygiene Entrepreneur, Sheela also educates rural women about menstrual hygiene and the usage of sanitary pads. To date, she has impacted the lives of more than 1,800 women.
Sheela was awarded the Vijay Lakshmi Das Award 2022 for her contribution in the micro-enterprise category and was also awarded a cash price of Rs one lakh.
Like Sheela, Tersaram, from Panchdeval panchayat in Rajasthan's Sirohi district, leads a better life thanks to the skill training he received. The 20-year-old studied only until the eighth standard and started working as a farmhand to assist his family financially.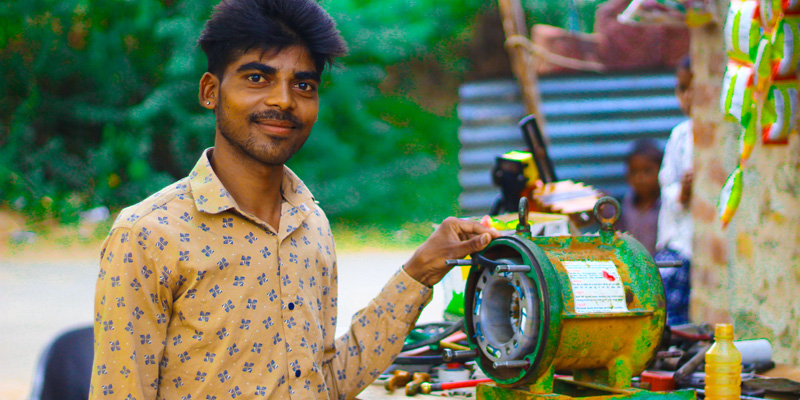 His search for better employment opportunities helped him discover the skill training initiative and how it had helped scores of youth change their destinies. Tersaram decided to enrol for the residential training programme in electric motor winding in Udaipur. He received knowledge specific to the work role and also in soft skills and entrepreneurship, safe work practices, self-development, etc.
Today, Tersaram runs an electric motor-winding business and earns close to Rs12,000. The success of his business has encouraged him to expand business.
The Tata Trusts' skills training initiative has increased the employability quotient of youth from underprivileged backgrounds. The transformational change also helps India accelerate its sustainable development goals.