Around 320 million students across India were hit by school closures in pandemic-ravaged 2020. And as teachers struggled to prevent disruptions to their pupils' progress, shifting the learning process online was the only option for the schooling system. However, this transition from offline to online education and back was a major roadblock for marginalised students outside the mainstream educational system. Bringing them back to the classroom was no easy task.
Enter ITE, which stands for the Integrated Approach to Technology in Education. A Tata Trusts initiative, ITE uses a multi-faceted approach that involves both, students from economically weaker households, and the communities to which they belong, in the learning process. Sessions are conducted in schools and at community centres close to the students' homes.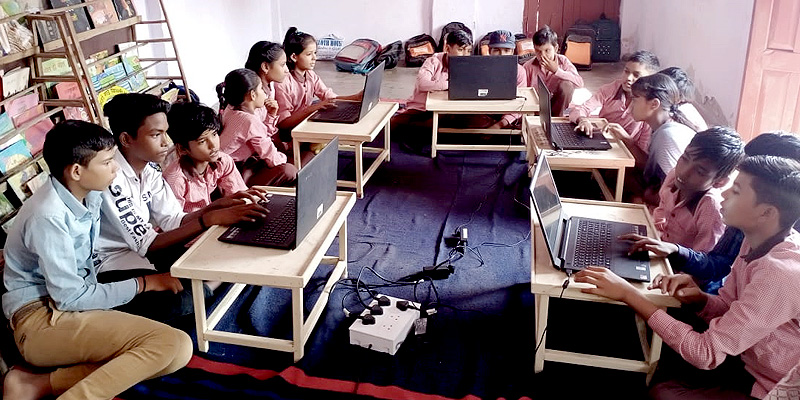 Here is the story of one such ITE community centre in Uttar Pradesh which overcame all odds to help local students continue their education after the end of the lockdown.
Rising above the odds
Risia Bazar, a part of the Risia Nagar panchayat, Bahraich, Uttar Pradesh, is home to people from various communities. It was here that Trusts' ITE intervention was introduced in a madrassa at Risia Bazaar, a community learning centre for students from economically weaker families. However, when the country went into lockdown on March 20, 2020, the madrassa had to be closed. Rizwan Ahmad, the centre's teacher, tried to help students continue their learning by visiting them at home as well as by sharing resources through WhatsApp.
Once lockdown restrictions were removed in July 2021, attempts were made to revive the centre and get students back to learning offline. However, this was easier said than done, the entry to the school complex was restricted due to the lockdown and the centre had to be moved. Mr Ahmad and the ITE team needed to find an alternative space in which to run the learning centre.
With much effort, they managed to find space within a private property, which was being used as a private coaching centre. The owner allowed ITE to use the property as a community centre during the day. Renting a similar space in the area would have cost around Rs7,000 per month, while electricity bills would have been another Rs700. However, on learning about the proposed use of the space, the owner gave them the space rent-free and did not charge ITE for electricity either. Community members also pitched in, providing seating arrangements like desks and benches worth Rs10,000.
Encouraging community participation
Once the physical infrastructure was in place, Mr Ahmad visited local community members and encouraged them to send their children back to the learning centre. He also visited local panchayat members and sought their help to encourage parents to send their children to the ITE community centre. At the meeting, he highlighted the importance of continued learning for children and the necessity of active parent engagement in this process. In July 2021, he held eight meetings with parents and community members. As a result, more than 150 students enrolled in standards 5 through 8 at the community centre. Students from three different schools nearby also enrolled in the community centre to restart their learning process.
What's heartening to see is that community members continue to engage with the centre. They provide masks and sanitisers to students at regular intervals free of cost. Given the increase in students from different grades enrolling at the centre, two additional teachers were appointed to help Mr Ahmad.
"Today, the ITE community centre still provides remedial classes for science, maths, social science, as well as English. A library was recently added to help students cultivate an interest in reading. As on date, the centre runs from 8am to 2pm daily. Students arrive in different batches to ensure social distancing. And after 2pm, the building is handed over to another entity that conducts private coaching classes." explained Mr Ahmad.
Post September 2021, the centre also began a separate programme with targeted outcomes. This multi-faceted and targeted approach is ensuring equitable educational access and uninterrupted learning process for students in rural and marginalised communities.
About the Tata Trusts' ITE initiative
ITE is a multi-faceted initiative seeded by the Tata Trusts, and resourced by the Centre for Excellence in Teacher Education (CETE), and the Tata Institute of Social Sciences (TISS). It is a pedagogical approach that uses technology in the curriculum for adolescents to create learning artifacts with technology. and in the process, it helps high school students build 21st century skills and construct deep knowledge in subjects relevant to their lives.
Teacher Professional Development (TPD), a central component of the programme, is conducted by TISS in the form of a four-month certificate course and Continuous Professional Development (CPD) activities. With these sessions, teachers can help students with inquiry-based and project-based learning. The objective of this programme is to provide opportunities for students to be producers of knowledge and not just consumers of pre-created knowledge.
As part of ITE, master trainers (teachers who have completed the ITE certificate course) were already implementing project and problem-based learning using technology in their classrooms. Their years of experience, along with the CPD activities conducted by TISS at different levels, helped these teachers shift to online mode and seamlessly continue the learning process for their students.
A recent study by ITE is published in the British Journal of Educational Technology documents that the increase in ITE engagement prior to the lockdown period significantly predicted teachers' and students' use and adaptation of distance technologies for project-based learning during the lockdown period (Charania, et al., 2021).