Life came to a standstill when Baby Raja, a resident of Bhadora village in Lalitpur district of Uttar Pradesh, lost her husband in an accident. She belonged to a community where women of the household did not venture out for work. With no exposure to education and a working environment, Baby faced many challenges in bearing the responsibility of the entire household on her shoulders.
The situation improved after the Trusts intervened and inspired her to learn and become independent. Teachers from Tata Trusts' supported Sahbhagi Shikshan Kendra (SSK), educated her and helped in building her confidence. Her literacy skills and confidence, in turn, encouraged her to move out of the limiting confines of her home and exercise her freedom to pursue fruitful opportunities that benefited her and her family members.
The project aims to developing literacy skills of women in Lalitpur district of Uttar Pradesh with a view to increasing their social status and for Nirantar to work as a resource agency and develop the capacity of partners to implement literacy programs in other regions of Trusts interest.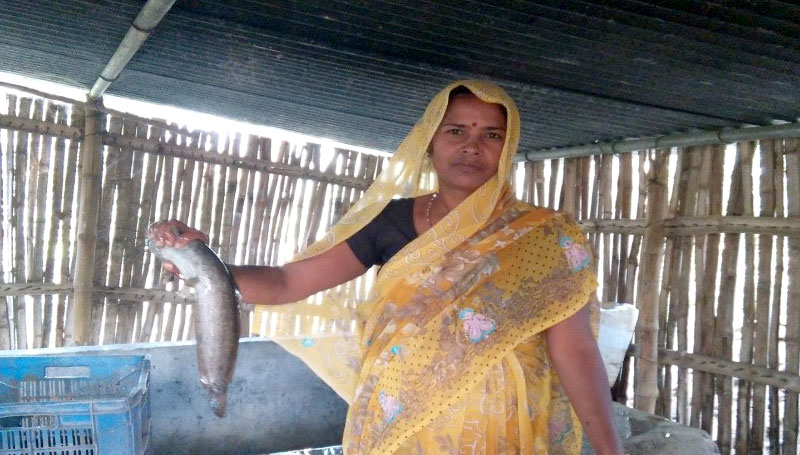 According to Baby, "I began heading out for work to raise my children and for the family's wellbeing. Since the time I have been associated with SSK, I have found a new direction in life." She currently works as a community mobiliser, travels to four nearby villages, and interacts with the villagers to resolve their problems. She happily shares, "I was questioned a lot about the kind of work I do, but now the questions have stopped bothering me. Education has helped me make a good living."
I began heading out for work to raise my children and for the family's wellbeing. Since the time I have been associated with SSK, I have found a new direction in life."
- Baby Raja