Seema Lohar is a resident of Peepal Khoont village in Pratapgarh district of Rajasthan. Her husband, Durgesh, works in a welding workshop and their kids study in a government school nearby. Both Seema and Durgesh dream of a good future for their children. However, unavailability of quality education in their area is a big deterrent. Therefore, they explored the potential of digital learning to fill the gap and installed the Druv box in September 2017. Druv is a Tata Trusts' initiative, which aims at bridging the diverse needs of unconnected rural communities, not only by disseminating knowledge and information, but also by providing electronic transaction facilities at a fingertip.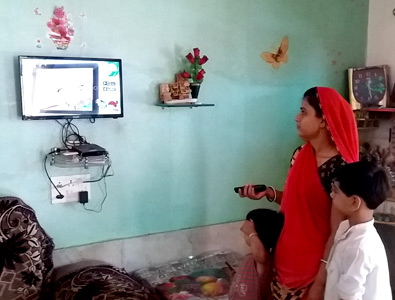 Using the audio-visual medium, Seema's kids have begun learning faster and better. They enjoy all the services, specially 'Fun Dooda', 'Toon Masti' and 'Pictionary', which are both entertaining and informative. Through this medium, they are also getting to learn more about the Indian culture. Regular user guidance through Druv Mitra has helped the family in learning the functionalities of the platform and taught them how to effectively use Druv's various services to make the most of the information available. Seema genuinely feels that due to the content on 'Kids Rhyme', 'Book Box' and 'e-Pathshala', her children have become smarter than other kids in their school.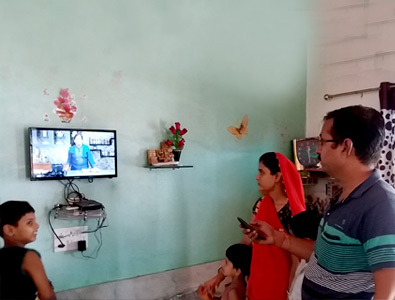 Seems adds, "While my kids have gained knowledge from the educational content, my husband and I have benefitted from the channels that provide information on skill enhancement. Druv's services on current affairs and government schemes are very useful." Seema's family is one of the 45 subscribers of Druv in her village. Overall, more than 800 households in Pratapgarh district have benefitted from Druv, which has been implemented in the region by the Trusts in partnership with the Gramin Vikas Trust.
Until March 2018, the initiative had covered around 10,000 households, spanning 30 blocks of 11 districts in Rajasthan. In addition, 32 schools in Rajasthan and 34 community centres in Maharashtra have also benefitted from the programme. Druv has taken the Government of India's 'Digital India' initiative a step further to bring digital connectivity to television screens and provide easy access to information in the country's unconnected communities.