India has the second-largest internet-savvy population in the world — over 3 million — however, only one in three internet users in urban areas are women, and only three out of ten users in the rural areas, are women. Internet Saathi is a joint initiative of Tata Trusts and Google India to reduce the digital gender divide in India by empowering rural women through awareness of the internet and its benefits. It was piloted in August 2015 across eight blocks in Rajasthan, in the districts of Alwar, Dausa and Dholpur, and subsequently expanded across 13 states. Centre for Microfinance, an associate organisation of Tata Trusts has been a key partner in implementing the program in the state of Rajasthan.
Gayathri, an internet saathi in Dholpur, Rajasthan, teaches her community to look for educational material online. Her proud son has followed her example and has now started using the internet to download books to learn English.
Gayathri is a member of the growing community of young, enterprising women in rural areas who are inducted as internet saathis and positioned as digital agents of change. The saathis deliver internet literacy to women in their community for six months and graduate to take up digital based livelihoods opportunities as behaviour change communication agents, entrepreneurs and data collecting agents earning a sustainable income.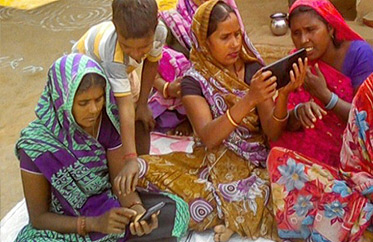 The eligible candidates for the Internet Saathi Initiative are young women who have completed education typically up to their tenth grade. Other criteria includes family approval, willingness to travel to three villages in the vicinity, and an eagerness to learn and transfer knowledge. The candidates undergo two days of training and orientation about the initiative. Detailed lessons on PowerPoint presentations and demo classes train them on them how to use mobiles and tablets, and to access the internet on the devices. The training also touches upon safety aspects related to the use of internet.
The saathis teach 600-700 individuals — women and young girls aged 14+ — across three neighbouring villages over a period of six months. They teach women in groups of 4-5 and the training is conducted over multiple sessions. Each group typically undergoes a training of about 7 to 10 hours over these sessions.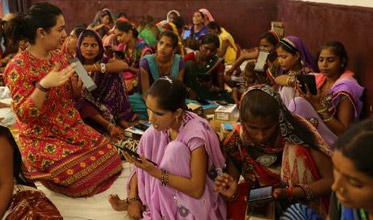 Implementation was not without its challenges. "Cultural barriers were huge challenges. The saathis dropped out during training and some even after training due to family pressure. Educated women in most villages were either young unmarried girls or newly married. The families did not want their marriageable daughters or new bahus [daughters-in-law] to travel to nearby villages — 20% trainees dropped out in the pilot stage," says Vijiyalaxmi Sharma, Senor Programme Associate, Centre for MicroFinance, an associate organisation of Tata Trusts. "Connectivity and sometimes the distance between villages proved to be other roadblocks. Despite the challenges, we exceeded our target."
The women have put to good use their newly-gained internet knowledge. For example Munni in Dholpur uses the internet to learn new designs for sarees and blouses and is able to earn additional income from her tailoring outfit by offering the latest in design to her clients.
The saathis have also gone out of their way to ensure that their knowledge benefits communities in other ways. Phoolwati, an internet saathi from Alwar taught her community to report social issues through the internet. They lobbied to have an alcohol shop closed, and the village is a much safer place now. "Photos of bad roads and rundown classrooms were uploaded online and has led to prompt action from the respective authorities," says Ms Sharma.
Over 2,000 saathis have been trained till March 2017 through various implementing partners — Centre for MicroFinance, Sakh Se Vikas and Rajasthan Grameen Aajeevika Vikas Parishad — and about 500,000 individuals have been trained by these 2,000 saathis.
Now that the digital literacy programme has gathered momentum, the next step is to empower the saathis with a digital livelihood. Currently, the saathis advise villagers on government schemes, create their profiles to avail government benefits, help them with documentation required to access government programmes and deliver other such services, and charge a nominal premium for it.
The first phase of the Internet Saathi programme has delivered digital literacy to close to 2 crore women in rural communities across 100,000 villages in 13 states, and has successfully created 31,000 internet saathis across India till September 2017.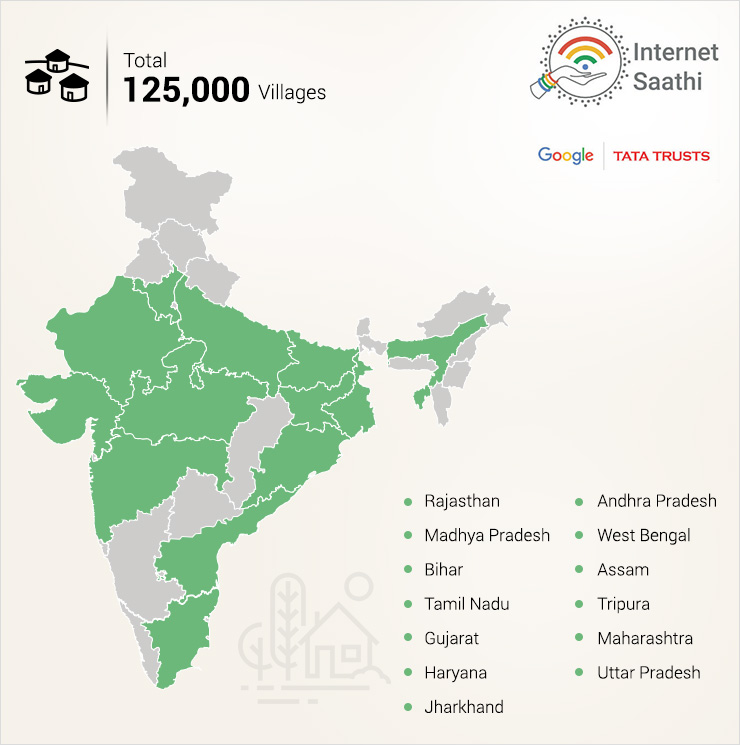 The second phase of the initiative, Internet Saathi 2.0, aims to promote digital livelihoods along with promoting awareness of the internet. The initiative envisions an average annual income of Rs.100,000 for 100,000 digital entrepreneurs over the next five years. The internet saathis created during the ongoing phase of the Internet Saathi programme will evolve into digital entrepreneurs, as they hone their internet knowledge.