Akshara KV, Artistic Director of Nilakanteshwara Natyaseva Sangha or Ninasam, finds it hard to stop applauding his team's efforts. On a phone call from Heggodu in Shimoga, Central Karnataka, Akshara briefly chronicles Ninasam's success, "Over the past three years, Ninasam has touched over 1.5 lakh people through our performances across Karnataka. The entire credit deservingly goes to our programme and outreach colleagues, who, with their consistent on-ground research and network of culture partners, have worked towards excelling in the audience development strategy through the delivery of high quality content."
Ninasam – A legacy spanning seven decades
Ninasam is a cultural institution with a history of propagating regional theatre spanning seven decades. Ninasam Tirugata, the itinerant theatre repertory was established in 1985. This theatre troupe was introduced as a project to address the gradual decline of professional theatre and the limited achievements of amateur theatre in the post-independence era in Karnataka. Their operating model is simple -- each year, 20 alumni students of Ninasam's Theatre Training Institute convene to develop the season's selected plays and then tour across the state for a period of four-five months. One of the key reasons for initiating the repertory was to prototype a model for testing the overall theatre activity in the state by presenting productions at a wide variety of centres, combining best elements of professional and amateur performance. Since its inception, 80% of the shows have covered audiences in talukas and/or tier three/four cities and towns covering all districts across the state.
Revitalising its operational model
In 2016, the Tata Trusts embarked on a three-year partnership with Ninasam, jointly creating a 'Fellowships for Cultural Activists' scheme offering facilitation to 11 fellows a year under a fellowship programme designed for senior and junior performers. This came at a time when Ninasam seemed to be staring at a socio-cultural crossroad despite having set-up high quality localised cultural initiatives. The widespread recognition from across the region for the cultural institute resulted in an increase in expectations from the local community, theatre aspirants and artists alike. Whilst this was a warm welcome, the prospect posed challenges for the institution. With a mission to revitalise its operating model, Ninasam began to identify key gaps in its practice, such as lack of access to contemporary theatre theories and training, absence of a competitive environment, creative challenges and even probable stagnation.
The fellowship for senior performers enables established theatre directors and artistes to engage with the institution's theatre school and repertory for a specific period of time whilst the fellowship for junior performers empowers younger theatre practitioners with access to theatre academics and production accountabilities comprising music, movement, lights and costume.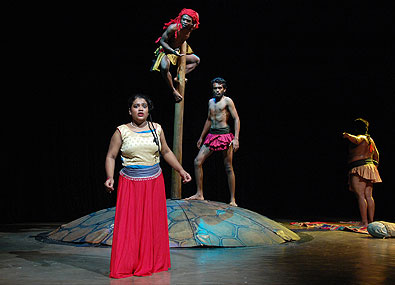 Programme impact
While programme support from the Tata Trusts is nearing completion, it is gratifying to see the immediate impact of the partnership scheme. During the tenure of the partnership, 33 fellows have been engaged with Ninasam, a significant number of whom are alumni members — both established and emerging. Students and staff members have received access to training and mentorship on contemporary theatre standards and the significant change in productions emerging from the repertory — both artistic and technical, which have boosted the regional touring programme over the years.
This year alone, the audience reach peaked to 45,000 people who were witness to productions like 'Ashchariya Chudamani' a Kalarippayattu-inspired drama on Ramayana developed by a senior fellow from the theatre's fellowships programme. Newer plays and fresh production ideas have aided the programme and outreach team to build an extensive touring plan, identify appropriate venue partners and engage in intense marketing to ensure the curtains come down in style when facing the regional theatre audience.