An initiative of the School of Music in Ahmedabad, Saptak Archives is a name to reckon with in propagating Hindustani classical music with a difference in India. Considered to be one of the largest repositories of recordings for Hindustani classical music in India, the purpose of setting up the archives was to introduce innovation within the practice and sustainability of Indian classical music that currently lives vibrantly among the knowing few.
Set up in 2004, the Saptak Archives, through its years of acquisition, had identified a broad range of ragas and bandishes in danger of being lost forever owing to a decline of exponents who practised. The practices were found stored in the memory of gurus and shishyas of authentic lineages and not performed or recorded regularly owing to lack of interest or commercial value. However, none of the innovations are being recorded for archival purposes. Since recording technology has undergone generational changes, to retrieve recordings, hardware of all generations, in working conditon, was required to render them; this would mitigate the concerns around what source material would be available for coming generations to disseminate and access.
The Tata Trusts instituted a partnership with Saptak Archives through the Trusts' portfolio preserving intangible cultural heritage, enabling the institution to digitise and document languishing recordings that were rapidly lost, and add to the archives by continually recording new concerts, sessions, pedagogy and innovations.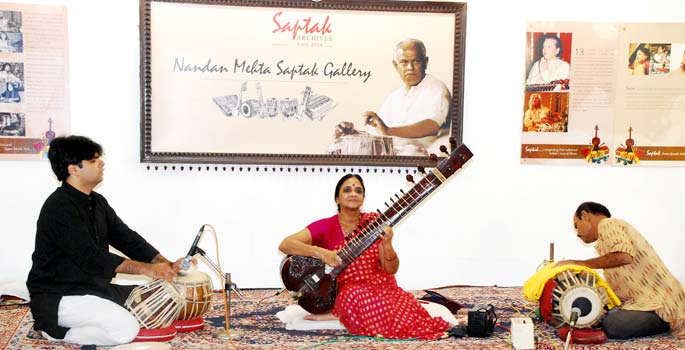 Senior sector experts and personnel working in the areas of archiving Indian classical music and outreach guided Saptak on its archival initiative. Rushi Shastri (former honorary curator) and subsequently Kashyap Dave (the current honorary curator) identified critical gaps within Saptak's music acquisition, particularly the lack of physical footage of ragas and bandishes across all Hindustani classical practices of India. This they identified by going through over 50,000 music recordings from the archives' collection. The archives devised a multi-tiered set-up of activities to augment the authentic renderings or recordings through a series of pedagogical interventions such as baithaks, listening sessions, focussed recordings of traditional compositions and curated lecture demonstrations. These activities were devised to engage students and young artist practitioners with high-quality composers and exponents of Hindustani classical music, to develop an understanding of how bandishes could be practiced within the framework of old and new ragas. All interventions were recorded as podcasts, adding to Saptak's new archival footage collection.
Whilst its approach of using live recordings contained in the archives as pedagogical resources was innovative, the archives did experience a programmatic setback. Saptak couldn't cascade its archives digitally owing to complex copyright issues involving the rights (of bandishes) owned by several gharanas, who donated their recordings for exclusive use and access of material within the physical space of the institution. The listening sessions that were quite novel in the realm of Indian classical music (considered rare as opposed to their western counterparts of classical, jazz and blues) did not draw in the desired number of students and learners subscribing to the initiatives, owing to perhaps the pattern of their curation or limited content availability. Sessions involving lecdems of legendary musicians, hymns and chants also saw a similar drop in terms of engagement, thereby questioning their immediate sustainability; the archives has affirmed to restart the sessions with rigour in the coming times.
Saptak's baithaks or 'musical meetings' have been very well received since the archives' inception. The success lay in the curation and choice of rare ragas being performed by top-graded classical music exponents from across India in multiple institutions in Ahmedabad.
Taking a cue from the baithaks and its engagement, the archives developed the Saptak Outreach – an initiative that has reached out to an even wider audience across Gujarat whilst hoping to set up a pan-India and global narrative soon. So far, over 1,200 students and musicians have directly engaged across Gujarat with the archives' outreach initiatives.
Introduction of sector experts in the archives' curatorial team has helped Saptak scale up its outputs. Ms Hetal is one of the deputy curators leading the photo digitisation and video archiving of all Saptak programmes, including its annual festival. Srijan Deshpande, deputy curator for bringing new linkages in the archives, has contributed across the pedagogical platforms in Ahmedabad and across Gujarat allied with the recordings.
In the last four years over 12,000 students were able to access the archives, also adding to the 10,000+ hours of recordings, featuring 8,500 followers on its YouTube channel with over 18 lakh video viewership.
Whilst the Saptak Archives serve as a reservoir of music resources, it strives to overcome hurdles around digital dissemination of material and content, and developing an understanding of the legal processes of IPR held by the musical gharanas, in order to facilitate a wider access to a diverse audience. The Tata Trusts' intervention has helped Saptak Archives attempt a reversal of the lost musical heritage in the Indian classical music domain, the impact of which will be measured in the years to come.
— Arnab Banerjee