Most packaged food available in rural markets do not provide adequate nutrition for regular consumption. However, the consumption of such packaged foods is a well-entrenched habit in such areas. As rural populations are more vulnerable to malnutrition risks, it was imperative to devise solutions to improve nutrition outcomes in such geographies, while being cognisant of existing habits. This was the case in Uttar Pradesh, one of the project areas of the Tata Trusts.
The India Nutrition Initiative, in a collaborative effort between the Trusts, MARS Inc. Ltd., and the Rajiv Gandhi Mahila Vikas Pariyojana (RGMVP) is focused on delivering affordable nutrition in a sustainable way. The goal is to create a portfolio of highly nutritious products that address the nutrition need gaps of various vulnerable population segments.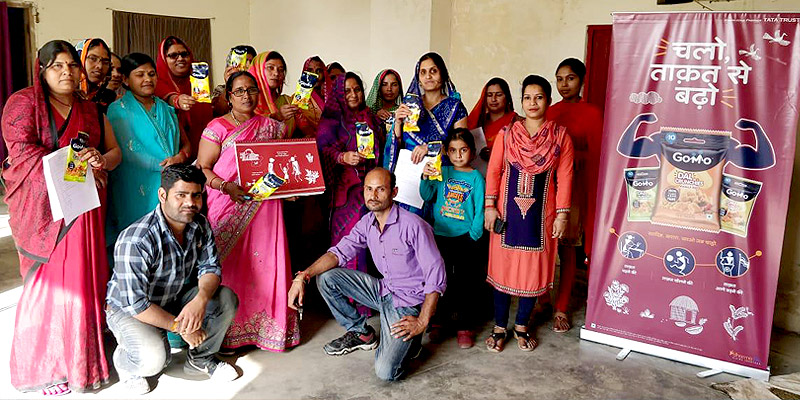 The twin-pronged approach
The initiative offers a two-fold approach. It not only makes affordable nutrition accessible to the rural masses but also creates a way of generating livelihoods by enabling rural women entrepreneurs.
Tata Trusts and MARS Inc. Ltd., have together launched 'GoMo', an affordable dal (lentil)-based nutritious snack in Uttar Pradesh and Maharashtra. GoMo, rich in protein and fortified with key nutrients, is available for Rs.5 and Rs.10 in three exciting flavours.
The Trusts-Mars collaboration also partnered with RGMVP, one of the largest social mobilisation programmes for women's empowerment, serving over 1.7 million poor households across 49 districts of Uttar Pradesh. This collaboration resulted in the introduction of 'GoMo Sakhis' – an initiative to empower women and offer them livelihood opportunities. "This has not only given me financial independence," says Savitri Rawat, a GoMo Sakhi from one of the self-help groups in Uttar Pradesh, "but also recognition and respect in the society."
GoMo has a presence in 50 blocks of Uttar Pradesh, and can be found in many village shops. Women entrepreneurs like Savitri take these packets full of nutritional bites to the remotest villages and schools. The sakhis engage in nutritional activities in schools, communities and government offices. They have become nutrition educators in community meetings and other public gatherings.
Making an impact
The biggest achievement of the India Nutrition Initiative is its success in making nutrition both affordable and accessible to the most vulnerable. The project has been crucial in addressing United Nations Sustainable Development Goals (SDG) 3 (Good Health and Well-being); SDG 4 (Quality Education), and SDG 5 (Gender Equality) since it focuses on:
Empowerment/income generation for women entrepreneurs
Improved nutrition seeking behaviour/eating habits of target populations
Supporting sustainability of last-mile organisations
Developing affordable accessible nutritious solutions at scale, and expanding to other target groups including pregnant and lactating women
Working with farmer groups for good safety and improving yields to make their produce a sustainable source of raw material for MARS
Enabling SHG members and groups to play the role of 'nutrition educators' to the community
Good health and well-being: Investments in nutrition are critical to the achievement of SDG 3 - "ensure healthy lives and promote well-being for all at all ages"- and especially the targets on reducing national rates of neonatal and child mortality and global maternal mortality.
Quality education: Improved nutrition can help to maximise investments aimed at achievement of SDG 4 -"ensure inclusive and equitable quality education and promote lifelong learning opportunities for all." Education platforms can also be nutrition-focused, to reach children with nutrition messages and services as they grow.
Gender equality: The empowerment of women and girls is a key entry point to improving nutrition outcomes at household, community and national levels.
Delivering on SDG 5 - "achieving gender equality and empowering all women and girls"- will also support efforts to achieve the nutrition centric SDG targets.