The agricultural scenario in Perambalur district of Tamil Nadu was plagued by several problems — fragmented land holding, erratic rainfall, monopoly of inputs traders, lack of awareness about latest technologies and recommended practices, to name a few. From sowing to produce marketing, the issues that small and marginal farmers faced were many. To address these issues, the Trusts started a regional centre of its flagship agricultural associate organisation, Reviving Green Revolution (RGR) Cell, in Coimbatore. RGR Cell and Trusts entered into a partnership with Tamil Nadu Agricultural University to find localised solutions through quality scientific research.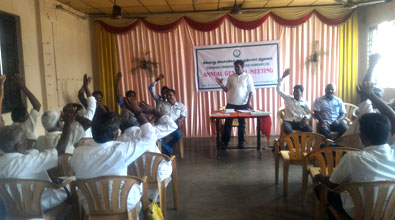 The RGR Cell has been focusing on improving agricultural productivity and profitability for small and marginal farmers across the state. A set of pilot projects were implemented in Coimbatore to identify suitable technologies which could significantly impact the quality of lives of farmers in hilly, drought-prone regions of the state. With its continued success through integrated pest management (IPM) technology and mKRISHI information service programme, the Trusts have promoted Chinnaru Farmer Producer Company (CFPC), which is a farmer producer group (FPG) registered in Perambalur.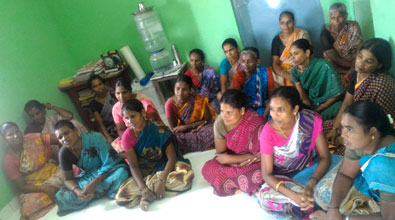 CFPC aims at providing enhanced services, building relationships and providing agro products through an inclusive approach. It has taken the initiative to form FPGs in all its project villages. Regular interactions with farmers have been conducted to explain about the importance of FPG and its collective bargaining power. So far 21 FPGs have been formed with 521 producer members across 108 villages. The primary objective of mobilising farmers into member-owned producer organisations, or FPGs, was to enhance productivity and profitability of agriculturists in the district.
The Trusts, through their RGR Cell, have been supporting CFPC to ensure sustainable income in the agriculture sector for uplifting small and marginal farmers. The aim is to motivate them to work towards excellence and inspire them to pursue agribusiness through innovation. The RGR Cell has partnered with the state's agricultural universities, department of agriculture, as well as international agencies such as the World Wildlife Fund and ICRISAT for both implementation and funding support. Currently, the Trusts have over 45,000 direct beneficiaries in the state.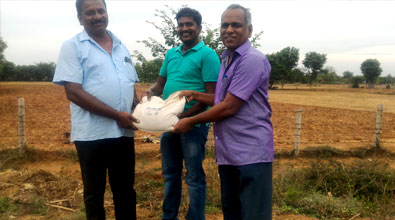 According to Mr Karunanithi, a beneficiary farmer from Aaikudi village, "I am a member of the FPG in my village. We planned our cropping pattern and purchased the seeds and pesticides through CFPC, and as a result I could purchase the inputs at a wholesale rate. The joint purchase has reduced my cost of cultivation to a great extent, thanks to the RGR initiative of Tata Trusts."
Under the initiative, producer farmers were given the necessary support to identify appropriate crops relevant to their context, provided with access to modern technology through community-based processes including farmer field schools, and their capacities were strengthened through the Tata Trusts' IPM project. CFPC has also established public-private partnerships for networking and linkage. The idea is to develop the agricultural value chain such as revamp marketing infrastructure, value addition, cold storage, strengthening seed production, soil testing, micro irrigation and custom hiring of farm implements and machinery.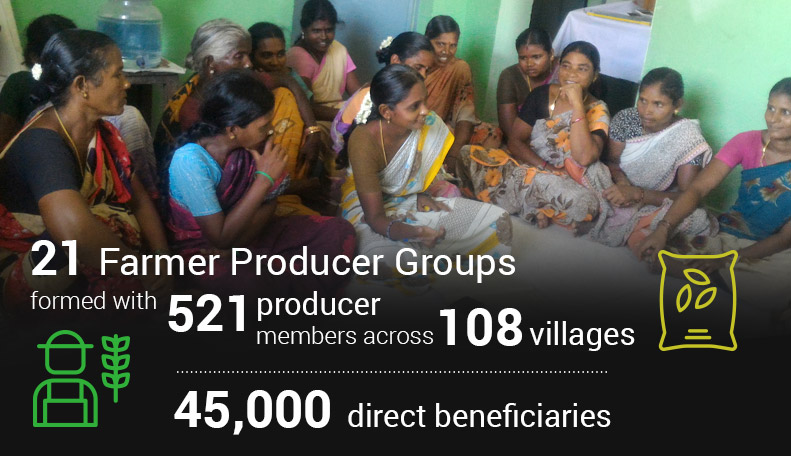 Through these efforts, farmers in the region have adopted the recommended agricultural practices which have brought down their cost of cultivation. CFPC has ensured that the commodities reach the farmers directly from the market without any intermediary. It has facilitated their linkage with the mandis which has helped the farmers increase their profits. As stated by Mrs Sakthi, a farmer from Venbavur village, "Due to the increased cost of cultivation, I had earlier given my land on lease. But after attending FPG meetings I started cultivating my land again with the technical support and guidance from the RGR initiative. I am now selling my onion produce with a greater profit. I can't thank the programme enough for the timely intervention".