"It feels good when people call me doctor saab," says Pooni Bai of Pindwara village, her face aglow with pride. Pooni Bai is one of the pashu sakhis or animal friends in Rajasthan — a group of women who have been trained to treat cattle.
Livestock is a source of wealth and livelihood in many villages in Rajasthan where agricultural returns are meagre. A goat or calf is a prized commodity as they can be sold in case of an emergency, and milk and meat bring in good returns.
Caregivers on call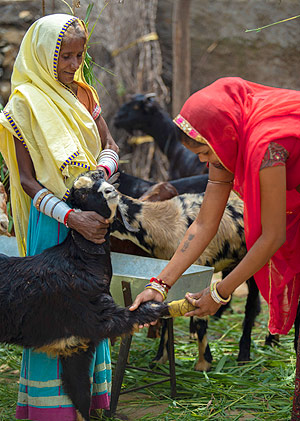 Many of the villages in remote regions of Rajasthan are far away from veterinary hospitals and veterinarians. Even if veterinarians were available, often it was too late by the time they respond to a call. Mortality rates are high and diseases rampant among cattle. In such a scenario, the pashu sakhis have become invaluable assets to their villages.
The pashu sakhi programme is part of an initiative that empowers women farmers through agriculture-based livelihoods. Mahila Kisan Sashaktikaran Pariyojana in collaboration with the Centre for microFinance, an associate organisation of Tata Trusts, implements the programme across seven districts in 306 villages in Rajasthan.
Pooni Bai and other pashu sakhis like her have barely completed their schooling. However, the various training programmes they undergo and the exposure they get equips them with skills in preventive animal health care and animal management practices. They further get on-field support from paravets, livestock assistants and doctors associated with the programme.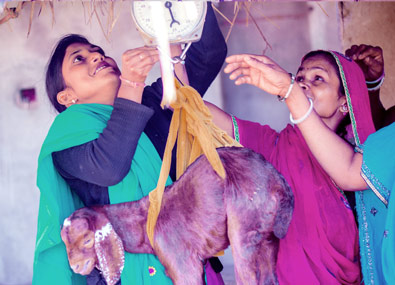 Numbers tell the story
It has been a win-win situation for the villagers and the pashu sakhis. The pashu sakhis have gained tremendous respect and appreciation from the community. They are fondly called 'doctors'. As bread-winners, women have found their voice and confidence in the family, and community. "Earlier, as an untouchable, I was not allowed inside homes. Now when their goats fall ill, they request my services and I am seated inside homes with respect. They even know my name," says a thrilled Vimla of Bali village in Rajasthan.
Thanks to Pooni Bai and her pashu sakhi friends, veterinary services are now available at the doorstep in the villages. The sakhis are a boon to many poor farming households, which cannot access the vet care services at right time and afford the high fees of the veterinarians. Each sakhi caters to 60-80 farmers.
The pashu sakhis build capacity of farmers on improved animal management practices and hand-hold them through home visits. Focus on deworming, vaccination, nutritious fodder and hygienic has resulted in a significant reduction in animal mortality and prevalence of disease. The mortality rate of goats has reduced from 35-40 percent to 5-10 percent, and calf mortality has reduced from 50 percent to 5 percent across the seven districts that the programme operates.
Introduction of better species like has resulted in goats delivering kids twice a year as opposed to once a year earlier, and the weight of kids has also increased, bringing in high profits when they are sold.
The icing on the cake for Naval Dei of Alwar is that, "My husband does the cooking when I am away — a big change from the past when he was against me training under the pashu sakhi programme or stepping out of the house."