Tata Trusts launched 'Gaanth Pe Dhyaan', an innovative event in Ranchi, to build awareness around early detection of breast cancer.
Ranchi, October 13, 2023: In a first-of-its-kind initiative, Tata Trusts launched 'Gaanth Pe Dhyaan' a unique event in Ranchi, for Breast Cancer Awareness Month, observed the world over, in October every year. A part of the larger 'Kaise Ka Cancer' campaign, 'Gaanth Pe Dhyaan' aims to build awareness, encourage open conversations, and drive community action towards breast cancer by building the importance of breast self-examination among women at the grassroots through the insightful metaphor of 'lumps in food'.
Breast cancer disproportionately affects women in India, with over 50 percent of breast cancer cases in the country being diagnosed in the late stages. This delay in diagnosis and treatment comes from a lack of awareness and can be fatal, if not detected early. Tata Trusts is dedicated to turning the tide on the issue by engaging with women directly to educate them on the importance of early detection. Cooking up a meal for their families forms an integral part of most women's daily lives, especially in rural India. Drawing inspiration from the meticulous care women put into cooking, especially in order to prevent the formation of lumps in their food, the 'Gaanth Pe Dhyaan' campaign brilliantly sows the seed of an idea, urging women to apply the same diligence to their health and self-examine their breasts regularly for any signs of a "gaanth" (lump), which could be related to cancer.
The launch event for the 'Gaanth Pe Dhyaan' initiative was held at Ranchi Cancer Hospital and Research Center (RCHRC) in partnership with leading Jamshedpur chef and entrepreneur Priya Gupta. It witnessed an all-women audience from local communities and featured an interactive culinary demonstration where chef Gupta prepared delectable festive dishes. Throughout the demonstration, she discussed how lumps in food preparation can ruin the taste and texture of a dish and highlighted that the same applies to breast cancer lumps as well. This metaphor formed the central pillar of the 'Gaanth Pe Dhyaan' initiative, encouraging women to give their bodies the same care and attention through breast self-examination, as they give to preventing lumps in their favorite festive dishes. After the close of the demonstration, over 400 women were given the opportunity of being screened for Breast Cancer at the RCHRC facility.
Chef Gupta was also joined by chef Laiba Ashraf from the Vivanta, DN Square, Bhubaneswar, who not only reiterated the need for checking for lumps in breast but also shared her story of hope from her grandmother's survival of breast cancer due to early detection.
Apart from the two chefs, the event saw the presence of Dr. Sujata Mitra, Director, Meherbai Tata Memorial Hospital and HOD Department of Nuclear Medicine, Tata Main Hospital, Jamshedpur, as Chief Guest.
Speaking at the event, Dr. Rajanigandha Tudu, Medical Oncologist, Ranchi Cancer Hospital and Research Centre (RCHRC) said, "Self-examination is an essential step to early detection and treatment of breast cancer, which is the primary focus of the Gaanth Pe Dhyaan initiative. India currently suffers from a grim ratio of 30:70 when it comes to lives saved to lives lost to cancer, due to late detection. This especially affects women in rural populations due to a lack of awareness about cancer and the benefits of its early detection. Through this event, we engaged directly with women from local communities to empower them with the knowledge they need, to take charge of their own health and detect breast cancer in its earliest stages. We're grateful to Chef Priya and Chef Laeba for joining us and engaging with the attendees and supporting this vital initiative."
Dr. Sujata Mitra, Director, Meherbai Tata Memorial Hospital and HOD Department of Nuclear Medicine, Tata Main Hospital, Jamshedpur, said "Thank you for giving me a chance to be part of such an innovative opportunity, who would have thought you would be able to communicate the message of early detection through something as simple and universal as cooking techniques. We, as doctors often struggle to explain these concepts to people and bring about awareness for cancer, but this singular event will ensure that everybody who attended will not forget the important message discussed today, "Gaanth Pe Dhyan". Awareness and regular screening help identify the problem before the first stage, even before symptoms are visible. At this stage a cure is approximately 80% likely, it falls to 60-80% at stage 1 and 2 and 20-40% at stage 3 and 4. The lack of awareness and the lack of timely treatment is often the difference between life and death. It is important for us to be aware and spread awareness about screening and treatment throughout our communities. Whether it's in Ranchi or Jamshedpur, Tata Trusts is doing so much, the responsibility of acting on this knowledge is now yours."
Tata Trusts has always been committed to driving cancer care interventions and further strengthened its support with the launch of a comprehensive Cancer Care Programme in 2017. The core aim of the Trusts' Distributed Cancer Care Model, being implemented through Tata Cancer Care Foundation, is to provide access to screening, uniform high-quality care, affordable treatment, and palliative care.
The 'Kaise Ka Cancer' campaign is a national level undertaking from Tata Trusts and is a part of its continuous efforts towards reducing India's immense burden of cancer cases. The campaign comprising 3 compelling films, was launched in Feb this year, garnering over 20 mn views across social and digital media.
Ranchi is a key region of focus in this effort, where RCHRC, a unit of Tata Cancer Care Foundation, supported by Tata Trusts, was inaugurated earlier this year by the Hon'ble Chief Minister of Jharkhand, Shri. Hemant Soren in the presence of Mr Noel N. Tata, Trustee, Tata Trusts and Mr. Siddharth Sharma, CEO, Tata Trusts. The hospital is committed to providing compassionate, quality and affordable cancer care in the region.
For the next leg of the 'Gaanth Pe Dhyaan' initiative, Tata Trusts will be partnering with celebrity chefs Shipra Khanna and Parul Gupta to take forward this unique concept and drive home the importance of early detection through breast self-examination amongst the large set of followers across their digital channels and on social media.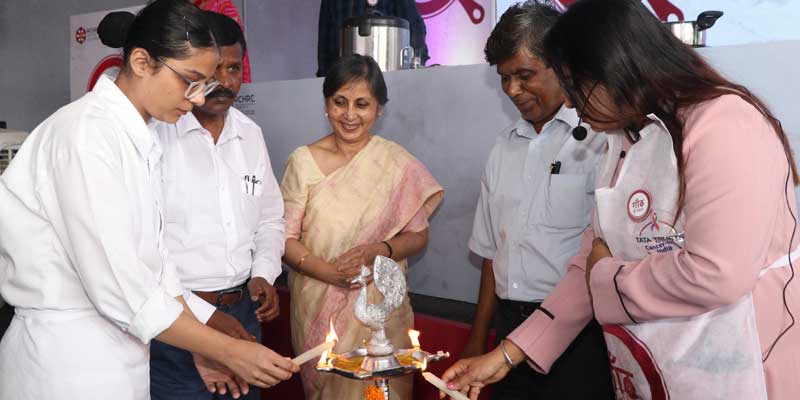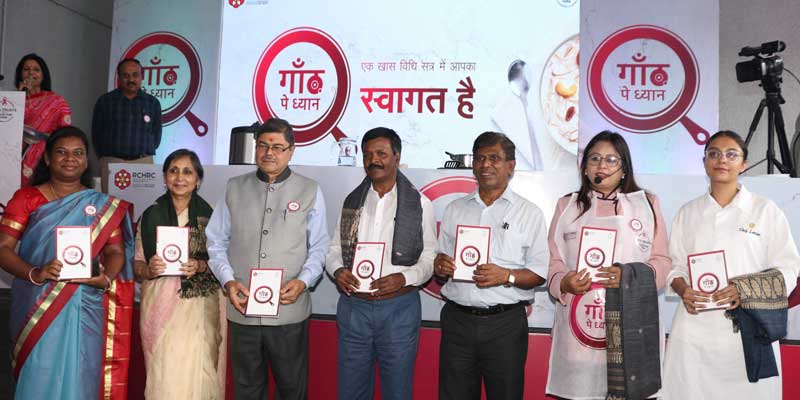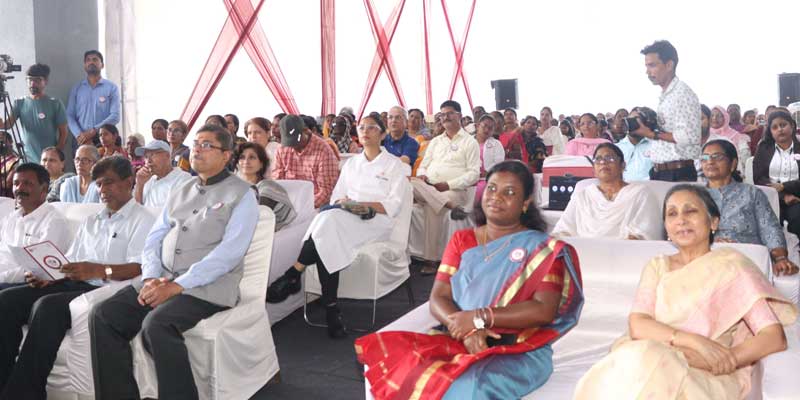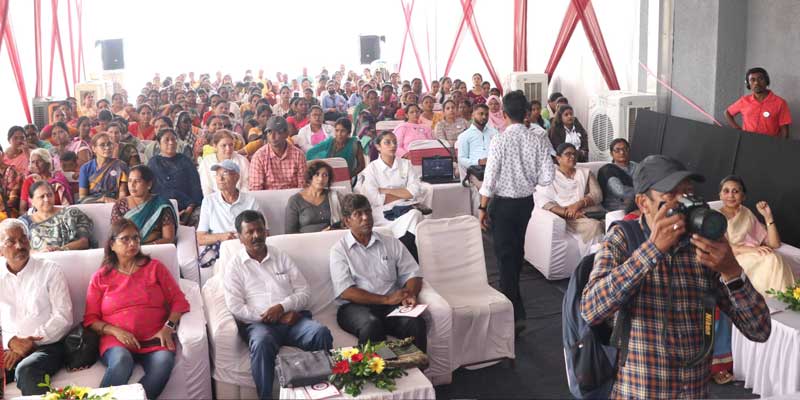 Since its inception in 1892, Tata Trusts, India's oldest philanthropic organization, has played a pioneering role in bringing about an enduring difference in the lives of the communities it serves. Guided by the principles and the vision of proactive philanthropy of the Founder, Jamsetji Tata, the Trusts' purpose is to catalyze development in the areas of health, education, nutrition, water, sanitation, hygiene, and livelihoods among others. The Trusts have pioneered efforts in the field of cancer care since the inception of the Tata Memorial Hospital in 1941. In 2017, Tata Trusts established a Tata Cancer Care Foundation (formerly known as Alamelu Charitable Foundation) to implement its comprehensive Cancer Care Programme, based on the four pillars of access, affordability, quality, and awareness. Through its efforts, over 20 facilities across six states- Andhra Pradesh, Assam, Jharkhand, Maharashtra, Uttar Pradesh, and Karnataka — have been developed and augmented through collaborations with state governments and like-minded organizations. The Trusts are committed to downstaging the impact of cancer by flipping the ratio of early to late detection through increased awareness and screening while improving the quality of life of patients and their families.
For further details, please contact: