About 800 million people reside in rural India. With growing aspirations, they are focusing on improving their overall quality of life. Towards meeting these aspirations and building confidence among the rural communities, one of the most impactful approaches is to link the rural communities with productive solutions, relevant to their context.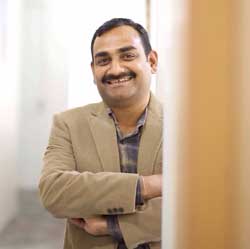 Ganesh Neelam, Head, Central and East Zone and Energy Portfolio, Tata Trusts and Executive Director, CInI.
As a philanthropy working among such communities, we have been witnessing what irreversible change empowerment and motivation can bring about. In our aspirational programmes for small and marginal farmers in the central Indian Tribal belt that focus on agriculture-based livelihoods, integrated with strong community institutions, technology, financial inclusion interventions, and creation of market linkages, we have seen that we can make the families Lakhpatis in an irreversible and sustainable manner.
Tripling incomes of the communities of Jharkhand, Odisha, Gujarat and Maharashtra were possible by training them in scientific ways of agricultural practices; bringing them together through focused women-led community institutions; linking them to markets for better pricing; and ensuring they engage with their stakeholders for quality inputs, services and market linkages.
In the north-eastern states of Nagaland, Arunachal Pradesh, and Mizoram, a systematic backyard activity of raising pigs is an opportunity for economic advancements — with the setting up of piggery units, health camps, training in animal care, doorstep veterinary services, linking with govt. schemes, and better cost for produce through improved retailing product aggregation. These critical linkages and ecosystem support has ensured good returns to the families along with the same being taken ahead by them.
We need to scale up this approach of building local ecosystems, led by the communities, to address other interconnected, grassroots challenges that affect rural India. And much of it can be addressed with accurate data, data-driven tools, and regional expertise. Data-driven tools, in particular, can enable social enterprises, philanthropies, businesses to define the existing socio-economic parameters of a village or a cluster of them.
They can make informed decisions, identify relevant solutions and business models, and maximise social impact, basis this information.
Meeting the aspirations of the rural youth
According to NITI Aayog, India's rural economy constitutes nearly half of the nation's income, therefore, its growth and development are key to the overall growth of the country. Better employment opportunities, facilities for higher education, and a quality standard of living are the major factors, rural India aspires for.
There is an immediate need to design and implement grassroots interventions in a way that ensures next-generation rural youth engage and scale these in a sustainable manner. The rural economy needs the support/growth of micro-enterprises in all the livelihood opportunities available within the rural clusters.
Quality services and products, through the micro enterprises, could be provided to the community along with ensuring good products from rural areas reach the urban geographies.
Upskilling the rural youth and encouraging them to become entrepreneurs in the value chain will bring in more meaningful results and, subsequently, financial inclusion may prove to be the key to unlocking the potential for micro and small enterprises to grow, reducing the vulnerabilities of rural communities to income shocks, and promoting more sustainable and equitable development.
Rural entrepreneurship can address many socio-economic challenges, through easy and secure access to patient capital, employment growth, improved standard of living, reduction of population migration, increase in per capita income, and equitable distribution of economic power. To fructify this vision, the key stakeholders, i.e. the state, the market, and the civil society, would have to collaborate efficiently. A well-defined partnership among the three cohorts can pave the way to improved livelihood opportunities. It can support communities to independently recognize solutions for local challenges. If rural aspirations are treated the same way as urban aspirations, India will be able to connect rural India to the global market; thereby widening the contribution to our economy.
Source: Ganesh Neelam, Head, Central and East Zone and Energy Portfolio, Tata Trusts and Executive Director, CInI in Voices, TOI