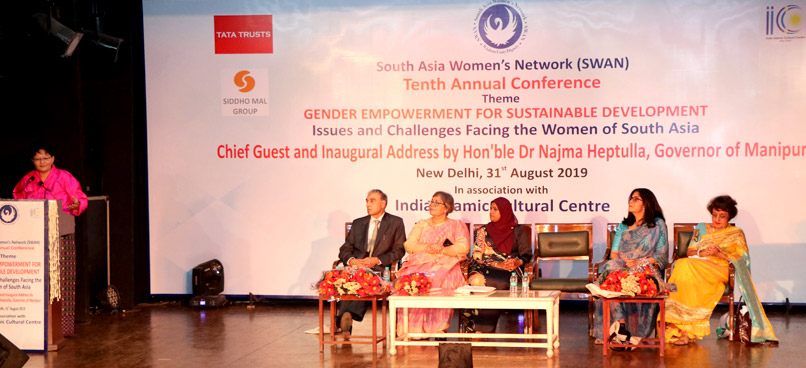 Tata Trusts supports the tenth annual conference of the South Asia Women's Network
With the support and participation of Tata Trusts, the South Asia Women's Network (SWAN) convened its landmark tenth annual conference in New Delhi from August 31 to September 2, 2019, on the theme 'Gender Empowerment for Sustainable Development: Issues and Challenges Facing the Women of South Asia'.
Shireen Vakil, Head, Policy and Advocacy, Tata Trusts, speaking at the inaugural session on August 31, 2019, highlighted the shared issues confronting the women of South Asia, especially the gender gap in terms of equal pay for equal work, ownership of land, and access to technology and resources, as well as the decreasing female labour force participation rate. Tata Trusts is partnering the Government of India in the Poshan Abhiyan (National Nutrition Mission), and in this context, Shireen Vakil particularly welcomed the proposed discussions on South Asia's malnutrition challenge, seeking a women-led strategy for fast-tracking improvement.
SWAN brings together women leaders — parliamentarians, media representatives, domain experts, NGO leaders, creative individuals and grass-roots workers — from nine South Asian countries: Afghanistan, Bangladesh, Bhutan, India, Maldives, Myanmar, Nepal, Pakistan and Sri Lanka.
SWAN's key focus is overcoming the serious challenges facing the women of South Asia, irrespective of their religious beliefs and ethnicities. SWAN emphasises that gender equality and gender empowerment are vital to overcome these challenges, and to achieve the Sustainable Development Goals. SWAN's vision is to achieve sustainable development for South Asia through an integrated approach, incorporating the centrality of women's agency, voice, participation and leadership. Sustainability becomes achievable when women are placed at the centre of every solution, as stakeholders, leaders and dynamic participants, not merely as 'objects' of the developmental process.
SWAN's tenth annual conference brought together on one platform over 60 leading women and men from South Asia, and another twenty from India. This included two Cabinet Ministers, respectively from Bhutan and the Maldives; six Members of Parliament, from Afghanistan, Bangladesh, Bhutan and India; a member of the Human Rights Commission, the Information Commissioner and the former Election Commissioner, all from Nepal; and distinguished academicians and NGO heads from Myanmar and Sri Lanka.
In discussions and exchange of experiences during SWAN's tenth annual conference and the series of specialised conferences convened over the last ten years, the most consistent issue identified as the crux of the problem is the firmly entrenched mindset towards women, a mindset that mitigates respect, equality and empowerment for the women of South Asia. The need for changing mindsets is the most significant common thread that SWAN encounters in the feedback from all its activities. Essentially, the patriarchal system, as it has evolved, has brought in a mindset that ensures women's subordinate role within family and society. As a result, women are exposed to violence in its worst forms; the girl child has seriously reduced access to educational facilities and mothers to healthcare, including maternal healthcare. Patriarchy and violence, including threats of violence, erode the very foundations of gender justice. They undermine and negate the objectives of constitutional and legal provisions favouring gender equality, and obstruct the advancement and empowerment of women in social, political and economic spheres of activity.
Vital aspects identified for changing mindsets include first, bringing men on board to participate in the process, in recognition that this is not an 'us versus them' issue, but one that impacts society as a whole. Secondly, since the process of creating mindsets starts among young children, boys and girls, equally, the process of changing mindsets must begin through the value systems imparted to children within the family and through the educational curriculum, at primary and secondary levels.
Two critical issues facing the women of South Asia discussed among the experts participating in SWAN's tenth annual conference are South Asia's malnutrition challenge and women's unpaid work and their empowerment. Both these have their roots in the unequal mindset against women.
Across South Asia, according to figures quoted by participating experts, there are 65 million children under the age of 5 who are stunted, 50 percent or half of all adolescent girls are underweight and anaemic, while 40 percent of women of reproductive age are anaemic. Across South Asia, 45 percent of deaths of children under the age of 5 are due to malnutrition. The estimated impact of malnutrition on GDP is 11 percent each year.
The valedictory session began with the South Asia Women Parliamentarians' Round Table, with the participation of six Members of Parliament, one Cabinet Minister and two former Members of Parliament. Each described their experiences and best practices on gender issues. They lauded the value of SWAN as the forum bringing women leaders from nine countries of South Asia together on one platform to address the critical issues of gender empowerment and sustainable development.
SWAN held its first annual conference in March 2009, at Jamia Millia Islamia University, New Delhi, on the theme 'Women of South Asia: Partners in Development'. Ambassador Veena Sikri, who at that time held the Ford Foundation endowed Professorial Chair at Jamia Millia Islamia, is the Founding Trustee and Convener of SWAN. At its fifth annual conference in 2013, SWAN adopted its own Roadmap for Sustainable Development for the Women of South Asia, Subsequently, SWAN has moved into implementation of this roadmap through collectively formulated projects. The methodology and objectives are agreed upon collectively at the annual conferences, but groundwork and implementation is by participating institutions in each country. Details can be accessed through SWAN's website https://swaninterface.net.