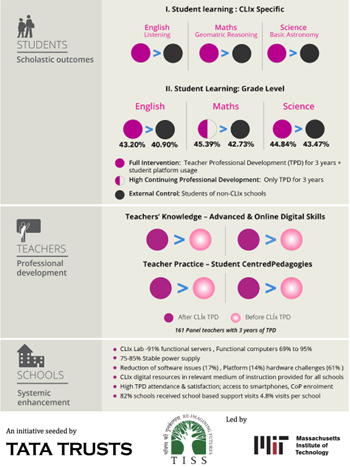 CLIx phase 1 (2015-2020) seeded by the Tata Trusts and led by Tata Institute of Social Sciences in India, and Massachusetts Institute of Technology in USA, was implemented in the states of Chhattisgarh, Mizoram, Rajasthan and Telangana. The programme ran across 548 schools, reaching 76,226 students, 3,509 teachers and 244 teacher educators. While CLIx in phase 1 aimed at proof-of-concept, CLIx in phase 2 is focussing on promoting sustainable practices for interactive ICT OER adoption within state systems, and by teachers and teacher educators.
This report presents findings from three major research studies conducted on CLIx on matters of Adoption and Impact of CLIx in phase 1: (i) Monitoring and Evaluation of CLIx Design and Intervention Study, (ii) Baseline-Endline Study and (iii) Innovation Diffusion and Process Documentation Study. These were conducted over a three-year period involving mixed methods design.
Some of the key findings highlighted in the report include:
Conditions for successful implementation of CLIx i.e., lab functionality, availability of CLIx digital resources, continuous onsite support etc., were met to a highly satisfactory level.
Long-term CLIx Teacher Professional Development produced change in teacher knowledge, attitudes and practice of meaningful integration of ICT in education in English, Maths and Science.
Student learning in CLIx-specific subject topics in English, Mathematics and Science were significantly higher than their counterparts in non-CLIx schools when taught using CLIx digital resources with a high degree of design fidelity.
Students in CLIx schools, when taught by teachers with high levels of TPD and with access to use of CLIx digital resources, perform better across grade-level subject areas, particularly in English and Science.
Young women and students performed significantly better in Science with high CLIx inputs, viz., having a high TPD CLIx teacher and lab access compared to those that did not. Students from SC & ST categories perform better in scholastic and non-scholastic areas with the benefit of high CLIx input.