The Tata Trusts, in collaboration with CBSE, launched online experiential learning course for educators to help them adapt classroom learning to real life experiences
The Trusts' Education Portfolio aims to enhance the quality of education by addressing critical gaps in the sector. Quality Teacher Professional Development (TPD) is one such gap area. In 2019, the Central Board of Secondary Education (CBSE) mooted an idea of having an interactive online course in Experiential Learning Pedagogy for its 1 million teachers. In August that year, Ms Anita Karwal, Secretary, Department of Education (formerly Chairperson, CBSE) shared the text module on Experiential Learning with the Tata Trusts. The Trusts' task was to develop a high-quality course for all CBSE teachers.
However, the Trusts' team knew that merely digitising the text-based module would not translate into quality teaching and learning in the classroom. Keeping in mind the complexity of learning, the instructional design of an online course for teachers needed to incorporate attributes like interactivity, opportunities to engage with real classroom scenarios, ample scope for reflection, promotes communities of practice, and ease of learning through technological platforms.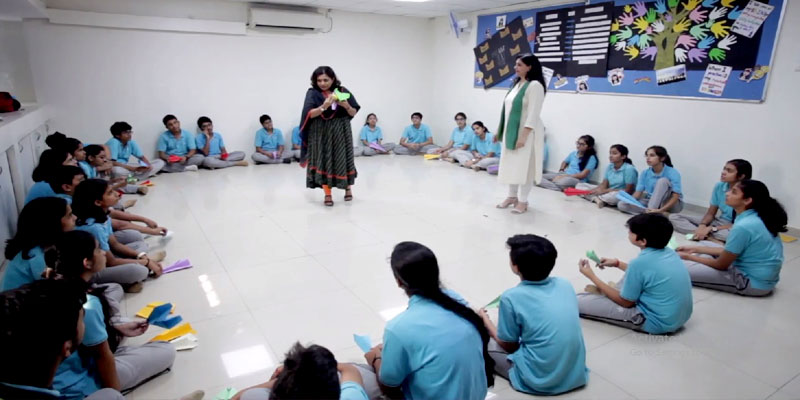 Beyond the classroom
Therefore, the Trusts collaborated with the CBSE, Tata Institute of Social Sciences (TISS), and Mahatma Gandhi International School (MGIS) to create an online experiential learning course for educators to incorporate theoretical and practitioner perspectives of experiential learning for teachers. The course, hosted on the DIKSHA platform, is designed to sensitise teachers to adopt experiential learning pedagogy in their teaching, so as to ultimately improve students' understanding of concepts through multisensory education. The course was launched country-wide in July 2020 through a virtual webinar attended by 6000 CBSE principals and teachers. The Honourable Education Minister Shri Ramesh Pohriyal motivated the teachers to join the course through a Twitter Post. .
"True irreversible learning happens when the intellect is pulled into a deep engagement with real life experiences," says Satyajit Salian, Head – Education, Tata Trusts, "We, as teachers, need to create those experiences for our children in a systematic/organised manner. This course on experiential learning is a big step in gearing up to do exactly that."
The objective of this 4-hour online course is to contextualise ideas of experiential learning in the current education discourses in India and take learning venues beyond the classroom. "The purpose of education is to prepare students for life and not for examinations. Experiential Learning opens the door to prepare students for life," said Vividh Gupta, Principal, Bal Bhavan Public School.
Given the diversity of classroom contexts and scale of CBSE teachers across the country, educators are encouraged to ideate about the pedagogy in their respective contexts as an important skillset to gain relevance, especially in the current scenario. Some key features of the course include:
Building 21st century skills among children
High-quality classroom videos to understand classroom application
Step-by-step approach to experiential learning
Incorporate core values of joyful learning, student voice, active learning, and teacher facilitation
Created on the principles of adult learning i.e., build on prior knowledge, learning through reflection and practice.
Teachers can explore additional resources and exemplar lesson plans.
Immediate impact
Within a month of the launch of the course, promising trends have been noticed. The completion rate for this course on experiential learning stands at 40%, much higher than the average rate of 15% for online courses. Connecting directly with 3000 Hub Leaders through hybrid mode and indirectly with 10 lakh CBSE teachers through the DIKSHA application, this online learning course is crafted to encourage reflections on What, How and Why of Experiential Learning.
"Experiential Learning creates a joyful teaching-learning environment, which is conducive for students to imbibe 21st century skills and become successful in their chosen fields," said Suma Paul, Principal, Assisi Vidyaniketan Public School.
Disclaimer: The 'Experiential Learning Course for Teachers' was developed before the Covid-19 pandemic. All educators pursuing the course have been guided to adapt the learning activities, demonstrated in the course, while maintaining social distancing and taking necessary preventive measures, as directed by the government of India.
A few quotes from the learning journey (as published on CBSE's blogpost):
"As educators prepare students for this new global society, teaching core content subjects — maths, social studies, the arts — must be enhanced by incorporating critical thinking, communication, collaboration, and creativity. We need new tools to support classroom teachers and education support professionals in their profession, even as they implement new strategies in their classrooms. In this way, experiential learning is far more effective to impart 4Cs than conventional methods of imparting skills." - Dr Rajeev R Singh, CBSE teacher
"Just completed experiential learning training through the Diksha app. Felt glad. Rote memorisation should be stopped completely. The parents also need to take part in this. Many a times parents compare marks and insist on marks to be scored, that too by rote learning. It is high time we think about a change in our education system. Learning outcomes give a perfect solution. A child should be able to apply knowledge to real life situations. This will surely help us instil 21st century skills. Teachers need guidance and hands-on experience to raise the thinking level of the students. [I'm] Very happy that we are on the right path now. Let us adopt experiential learning and remember that every child is unique. Given space, they will grow to be creative, self-dependent, competent and good human beings." - Anonymous
"Amazing to see the scope of experiential learning in a classroom situation by going through the training course on Diksha app. Learning happens by connecting the dots of past experiences in context to the present. The role of a teacher is to create a space for providing the situations leading to the exposure and experience. A teacher's role is very critical and not limited to the subject or a topic. Experiential learning is a collaborative way to look forward to gaining 21st century skill sets in which every stakeholder has a major role to play in imparting quality education." - Anonymous